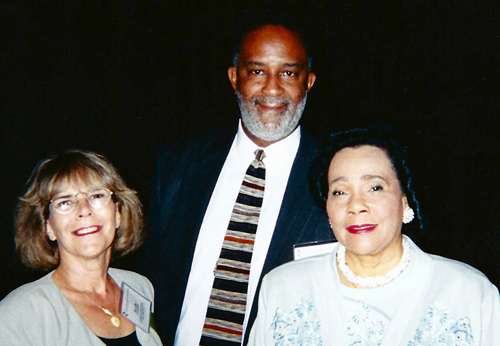 Friday night I attended a service at Congregation Ner Tamid, a Reform temple. The congregation was paying tribute to the Rev. Dr. Martin Luther King, Jr., with what they billed as a "gospel" service. It was a lovely event and, for me, awakened memories precious and dear, as they were a huge part of my growing up years. They are memories of what I was raised to believe is the close and natural affinity between black people and Jews in this country. They are memories especially pertinent today, the day we celebrate Dr. Martin Luther King, Jr's. birthday. This is, in fact, the 25th anniversary of that national holiday and, for the occasion, I am making a rare exception and writing on a very personal level.
So, Friday night, I was sitting in the sanctuary just outside of Las Vegas, hundreds and hundreds of miles and light years away from the Freedom Marches in Selma, Montgomery and other southern cities in the mid-1960s. It was as Ner Tamid's spiritual leader, Rabbi Sanford Akselrad, delivered his sermon, that the memories came sharply into focus, along with the realization that where one is born can be as important as the other circumstances of one's birth. Much of what follows came about because I was born in the northeast to parents who inculcated their beliefs in their children. Of course, elsewhere, with different parents, it may likely have been different.
Rabbi Akselrad spoke of his father, Rabbi Sidney Akselrad, who led a congregation in northern California in the 60s. A continent away, I attended Hebrew school at Temple Emanuel in Great Neck, N.Y. Our spiritual leader then was Rabbi Walter H. Plaut.
When the civil rights movement caught fire across the nation, it seemed to me that every rabbi I knew of went to Selma or Montgomery to march. Rabbis Plaut and Akselrad were among them. Friday night, the current Rabbi Akselrad spoke of how honored his father was when, after the March, he was invited to introduce Dr. King in San Francisco. He did so, calling him a "modern Moses."
As far back as I can remember, African Americans were an important, beloved part of my world. I went to a progressive pre-school where we had "colored" teachers and the children of Roy Campanella and Jackie Robinson also attended. One of my classmates there was a girl named Barbara Singer. He father, Lou, co-wrote a group of songs with lyricist Hy Zaret called Little Songs On Big Subjects. The one I remember to this day goes:
"You can get good milk from a brown-skinned cow. The color of the skin don't matter no how."
Living in the north on Long Island, we always had help in the house. Yes, these wonderful women -- whose stories are told so movingly in Kathryn Stockett's The Help -- were referred to in those pre-politically correct days as "maids" or "girls" or, yes, "the help." But that was then. When I think back, they were as important to us children as were our parents and other relatives. We loved them. We valued them. We didn't notice the color of their skin.
I clearly remember when my mother refused to sign a petition to bar black people from the neighborhood and how black actor Canada Lee (Cry, the Beloved Country) came to dinner at our house or when a relative's marriage to a black man made news in New York, how he was welcomed by my parents.
I was raised on tolerance and to this day believe in the Rogers and Hammerstein lyric that holds, "You've got to be taught to be afraid of people whose eyes are oddly made and people whose skin is a different shade. You've got to be carefully taught."
I was taught that civil rights are for everyone. I was taught that, just as it was wrong that the Jews had been enslaved in Egypt, it is wrong that blacks in our country were (and are) too often ill-treated just because of the color of their skin, even after their formal period of enslavement ended. My friends and I held sit-ins at the Woolworth's in Great Neck. We wrote letters and signed petitions. We tried to do our parts. We do like to think we had some miniscule impact.
A few years ago I had the opportunity to visit the 16th Street Baptist Church in Birmingham and the Birmingham Civil Rights Institute across the street from it. I was with someone in her 70s who had grown up in Birmingham. She knew about the church bombing that killed four little girls in 1963 but, upon watching some of the news videos from the civil rights era, was stunned at the behavior of many of her fellow citizens. Sheriff Bull Connor particularly shocked her. She said she knew nothing of this. As she was intelligent, I couldn't imagine how she couldn't know. Still can't imagine that.
Clearly, the news coverage we saw in the north, the stories we read, the film and photos used by media then were not always shown in the south. She just kept saying she "didn't know." It was kind of sad. But, on reflection, it wasn't really surprising.
In the 1990s, I had the opportunity to visit Atlanta and went to the Martin Luther King, Jr. National Historic site. On that trip, educator Ron Manning, my friend and co-worker, and I had the opportunity to meet Coretta Scott King. It was like meeting history come-to-life.
Mrs. King was most gracious and she spoke with a memorable urgency as, clearly, the work moved forward so far and so forcefully by her husband was not yet finished -- in the United States or around the world. The photo of those moments (above) is a precious memento.
So, when Rabbi Akselrad spoke the other night, all those memories came rushing back. Things have gotten better. Here in Las Vegas, for example, the city is no longer referred to as "the Mississippi of the west" as it was in the mid-20th century. But have things gotten good enough?
As Rabbi Akselrad said, there is much yet to be done. He correctly noted that the historic and natural alliance between American blacks and Jews has weakened over the decades.
Hopefully, the bridge between the two groups will be strengthened and as we move forward we will work together to achieve our common goals. Looking at the history of our two people, it is only natural that we do so. Then, perhaps, we can lead the way for the recognition by everyone in every sort of group that we should focus on all we have in common rather than focus on those things that separate us.
I look forward to the 2012 MLK gospel service at Rabbi Akselrad's temple and to hearing that things have improved.
SUBSCRIBE TO & FOLLOW THE MORNING EMAIL
The Morning Email helps you start your workday with everything you need to know: breaking news, entertainment and a dash of fun. Learn more