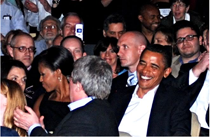 When you see as many shows as I do as a reviewer, you naturally become aware of all sorts of facets of shows that others may not. This particular facet goes back to my high school days when I was assigned to see a Broadway play at every performance for a week and, then, interview the actors and talk about audience differences.
As I recall, what I learned is that matinee audiences are generally chattier and more willing to enjoy the show (the actors attributed that to the fact they were -- especially on Wednesdays -- women) and audiences on Friday or Saturday nights were more well-oiled than at other times. Since then, I've always checked out the audience at any show. It's become a habit.
Of course, when you go to see any entertainment, you never know (like the people in the photo above) who you will see there and what surprises it may hold for you.
In Las Vegas, audiences can be divided roughly into three groups: First: "I had nothing else to do tonight, so I thought I'd pass a little time seeing this show." Second are the members of the Comp Crowd, those high rollers who are given show tickets by the casino housing the venue. Finally, there are the fans. These are people who travel from literally around the world to see a particular performer. But the latter group is always mixed in with the other two and this tends to temper many high spirits.
(The only show I've ever seen in Las Vegas that was all fans was when I went to review Engelbert Humperdinck recently. I think, with the exception of me and the friend who came with, everyone in the crowd was there to worship at the alter of Enge. It was clearly an over-55 crowd. And to them it didn't matter that the poor guy had bronchitis and had canceled his show the previous night. It didn't matter that he had to occasionally use a cheat sheet for the lyrics to even familiar songs. Nor did it matter to those people that the most up-tempo number was Cuando, Cuando, Cuando. They were there in the presence of their guy and that's all that mattered.
At any rate, last night I went to see Tom Jones on Long Island at the Capital One Theatre at Westbury (formerly and, still, familiarly just "Westbury.")
Now, Jones takes up residence five times each year for two weeks at a time in the intimate Hollywood Theatre at the MGM Grand in Las Vegas. In Las Vegas his audience -- like the audience for just about every entertainment -- is a mixed one, as described above. Yes, people come from as far away as Australia and, of course, Wales, specifically to see him. These are clearly fans. Many in the audience are just curious. Many are simply passing 90 minutes on a break from the tables. Whatever, they all seem to have a good time and, in the end, that's what counts.
But the Westbury audience was different crowd altogether. They were there to see Tom Jones. Not to pass time. Not because anyone gave them a comp. Some did travel from New Jersey and the boroughs, but most were from Long Island. They were of all ages -- eight up to 80+ -- and were there for only one reason. The older ones remembered Jones from decades ago when he played Westbury twice each year for a nine shows (two each on Friday and Saturday nights) at a time and tickets were $12. They'd come to every show and treat each as if it were their first and they were just discovering this talent they grew to love.
So, after many years of not being at Westbury last night was a reminder and a revelation. I'd forgotten the Long Island I'd known so well -- the big hair and the local accents -- no one wanted "coffee;" they all asked for "caw-fee." Like anything one doesn't see or hear for awhile, it hits you hard when you do and it's like aural comfort food.
In Las Vegas chance has put me in a seat next to a movie star or musician or I've shared a table with record producers and authors, last night, the only thing that might have made someone in the audience stand out would have been the fact that that person was there for a reason other than to see Tom Jones -- in fact, the ambiance reminded me of standing amidst all the fans in the ellipse at a U2 concert. It can be intimidating to the non-fan.
But, whether it's Tom Jones, U2, a Shakespearean play or Twisted Sister, it can be the audience that makes the show because the audience can be a show in itself.
Photo: Daily Kos.