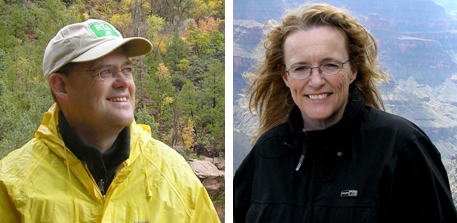 Name a place in North America, and it's a good bet that Megan Edwards and Mark Sedenquist have been there. Or, if they haven't, it's an equally good bet they know someone who has. That's because, 15 years ago, the couple turned their love of road tripping into RoadTrip America, a thriving website that's a valuable resource for those planning this form of travel or for armchair travelers who can journey vicariously.
When a wildfire destroyed their Pasadena home, they decided to use the insurance settlement to begin a new life. So, they paid some bills, gave up their home-based business, put a down payment on a motor home and, in March 1994, accompanied by Marvin the Road Dog (who died in August 2004), they were off.
Traveling was nothing new to either of them. Sedenquist took his first road trip after high school, logging 10,000 miles in a Fiat 18 on a cross-country trip. Edwards lived in several places, including Europe, and was raised by parents who took her exploring on road trips. So, clearly, they used that wildfire to begin a life many only dream about and have been living that dream life ever since.
The website grew out of the monthly newsletters they'd send family detailing their travels. At the time, Edwards was writing for a newspaper that had, she says, "an editor who was ahead of his time. He told me I could file my column by fax or by email. Remember, email was in its infancy and the web, back then, was not generally there for the public but was mostly in universities."
"Once we became aware of the internet, our idea was to do what today we'd call a 'blog,'" Sedenquist adds. "When we started, we had to do everything by phone."
"Yes," Edwards added, "our cell bills for the first two years were about $3,000 a month."
Armed with a digital camera that cost them $1,000 and could, set at the highest resolution, hold up to seven images on its memory stick, they devised a method of projecting slides they'd taken the previous two years onto a screen and then using them to illustrate their travel tales. Edwards and Sedenquist launched their site on February 14, 1996.
In the 15 years since ("It's like dog years on the internet," Edwards says. "In web terms, we're old.") traffic has grown steadily heavier but the trip has been a smooth and interesting one.
"For the first six months after launch, we spent a lot of time talking about the web and how it works," Sedenquist recalls. "People were suspicious. In fact, libraries -- which ultimately led the way in bringing the internet to the public -- were, too. I'd go into libraries and leave a stack of postcard-sized notices about the site, and in Arizona a librarian threatened to call the cops on me."
But, as we know, the web took off and so did their website. RoadTrip America was featured on Cool Site of the Day, the first to troll the web looking for the best sites and, each day, sending its subscribers a link to that site. In December of 1996, RoadTrip America was featured on People magazine's now-defunct "Bytes" page, which also wrote about the best websites.
"There were stories about us on a lot of TV shows and in newspapers because, at the time, we were so unusual," Edwards recalls.
The site has grown to have moderators or, as Edwards calls them, "information-givers" from outside the USA; from -- in this order -- Canada, the UK, Germany, Australia, France and India. What draws these people and thousands of others is most likely the combination of information and the responsive community of road trippers that the site draws.
"We have a very active forum. It's an enthusiast organization," Sedenquist says, giving an example of a site visitor who asked a question about a hotel. "The question was posted and, within five minutes, someone not only answered it, but wrote that the owner of the hotel was expecting the person who had posed the question. That's the kind of community this is."
The newest site feature is a mapping program that allows a person to draw a route and then suggests places along the way that people familiar with the trip recommend as worth a visit. There are also tools to create side trips with attractions up to 100 miles off the route so, if the traveler desires, a day trip can be easily planned.
They say the popularity of road trips has gone up since 9/11. "People have more control over a road trip than they do traveling by plane," Sedenquist says. But, he notes, things have changed since their site was started. For example, they say, there are more "solo" women taking road trips than there are men. Often, the women will bring their children along.
Although the economy and gas prices have impacted many facets of daily life, Sedenquist says the effect on road trips hasn't been too great. "The difference in cost today equals about the cost of a motel room for a single night. Most people can manage that amount of extra money."
Edwards advises looking for a truck stop when buying gas, as it's usually less expensive that a regular gas station.
A planned six-week visit to Las Vegas 11 years ago turned into a permanent residency. "I was working on a novel and one of the characters grew up in Las Vegas. I wanted to see what it was like. In the best 'parachute journalist' tradition," she says, "I planned to come to the city, ride buses, and tried to emulate the lifestyle of the character. We liked it so much we decided to stay."
"Las Vegas is tops the list of road trip hubs," Sedenquist adds. "Within seven hours you can be in nine national parks, in ghost towns and at the coast."
What advice would they give someone setting out on a trip? Edwards advises, "Take paper maps. Electronic devices fail too often. Always have a back-up." Sedenquist says, "Bring your own pillow."
The couple is still traveling and still discovering. When asked to cite their favorite journeys, they couldn't pick one destination and noted Rhode Island is "beautiful. Texas has so many amazing small towns. It's a great state to go road tripping in." Sedenquist recommends people planning a trip to that state utilize the information on TexasEscapes. His all-time favorite national park is Death Valley. Hers is Yosemite, where she longs to see the frazil ice that forms there every March and April. As the video below illustrates, it is a beautiful phenomenon that can be deadly.
He talks about the pleasure of stumbling on unexpected roadside art and, because he enjoys it so much, there a section on their website about it. She really likes coming upon "shoe trees," the result of people tying their shoes together and tossing them up into a tree.
They enjoyed their trip to Arkansas a great deal, discovering places and things they hadn't expected. But, looking back on all their travels, Mark Sedenquist says, "The thing about road trips and all the places we've been for me is that, even though we've been to every state and most of the provinces, when I think of the trips, I don't think of the places we've been, I think of people we've met."