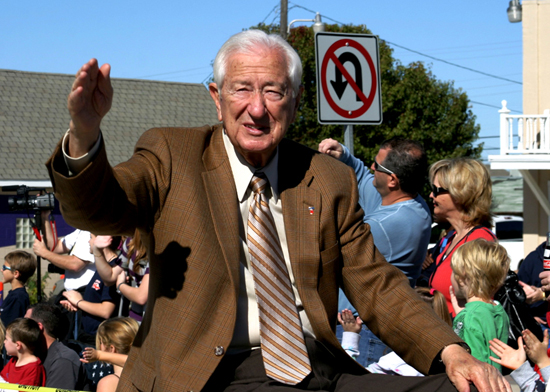 Rep. Ralph Hall quashes plans to create a national climate service while his state burns.
________________________________________________________________________
Congress passed a slimmer budget bill for five federal agencies late last week. Given the deficit, slimmer is better, right? At $130.4 billion, however, it was smaller than last year's budget by only $700 million, a measly 0.5 percent reduction. More important, some of the cuts were pennywise and pound-foolish, at least when it comes to protecting the environment, public health and the economy.
For example, the bill sliced millions of dollars for farmers to prevent pollution from running off their fields into local waterways. It also cut back funding for the Federal Aviation Administration's plan to switch from radar to a satellite-based navigation system, which would reduce delays and cancellations, cut flight times, increase safety, and slash fuel costs and carbon emissions. Perhaps even more shortsighted, the bill blocked a National Oceanic and Atmospheric Administration proposal to establish a national climate service, akin to its National Weather Service, to consolidate data from its various programs monitoring climate information. That move didn't even save money. Centralizing NOAA's ongoing climate work wouldn't have cost a dime.
Given what scientists now know about the link between climate change and heat waves, floods, droughts and heavy downpours, the time for a national climate service is now. As if to put an exclamation point on that sentiment, the day after Congress killed the NOAA proposal, the U.N. Intergovernmental Panel on Climate Change issued a special report concluding that many of the types of extreme weather events we've been experiencing lately will become the norm.
This year has been bad enough. So far, there have been a record-breaking 14 weather disasters across the country that each caused more than $1 billion in damage, according to data compiled by Weather Underground. Jeff Masters, Weather Underground's chief meteorologist, estimates the cost of the 14 events at more than $53 billion, making 2011 the fifth worst year since 1980.
"Mother Nature has made it abundantly clear this year the gloves are off," Masters said during a recent telephone press briefing on global warming and extreme weather sponsored by the Union of Concerned Scientists (UCS). "And, with climate change likely to boost the destructive power of storms, heat waves and droughts, we can expect an increasing number of these bare-knuckle years in the decades to come."
This summer, 42 states experienced above-normal temperatures and four states--Louisiana, New Mexico, Oklahoma and Texas--broke heat records, according to NOAA's National Climatic Data Center. Meanwhile, flooding on both the Missouri and Mississippi rivers caused $4 billion to $6 billion in damage, and Kentucky, Louisiana and Tennessee were declared federal flood disaster areas.
While Congress is gridlocked over curbing carbon emissions, state and local governments--which bear the brunt of extreme weather events--are stepping up to prepare for the worst. For example, Chicago, which likely will feel more like Baton Rouge before the end of the century if emissions trends continue, is a pacesetter. Among other initiatives, the city is putting vegetation on roofs and replacing concrete alleyways with permeable pavement to help soak up heavier precipitation. And Chicago is not alone. Nearly 60 percent of the 298 U.S. members of ICLEI-Local Governments for Sustainability (formerly the International Council for Local Environmental Initiatives) have launched climate preparedness efforts. A one-stop shop for climate information at NOAA certainly could help financially strapped state and local governments struggling to adapt.
The national climate service idea, which would consolidate the National Climatic Data Center, the Geophysical Fluid Dynamics Laboratory, the National Weather Service's Historical Climate Network, and other NOAA programs, has some notable fans. When the Obama administration first announced the proposal in April 2010, NOAA released a long list of testimonials from supporters, including Duke Energy's CEO and president, President George W. Bush's NOAA administrator, and two former Republican Environmental Protection Agency administrators.
But it also has some powerful foes. One of its most outspoken critics is Ralph Hall, chairman of the House Science, Space and Technology Committee, which oversees federal funding in those fields. The 88-year-old Hall, who switched from the Democratic Party to the GOP in 2004, questions the reality of climate change, and says he is worried the proposed service would detract from NOAA's mission. "The current fiscal climate demands greater prioritization of agency resources," he said in September, " and it would be irresponsible to dramatically cut NOAA's core research activities including those aimed at protecting lives and property in order to stand up a new operational service prone to politicization and policy advocacy." Never mind that the climate service would not replace any of NOAA's other work and would enhance, not hinder, the agency's ability to protect people and property.
Given that members of Congress presumably represent the interests of their constituents, you would never guess that Hall is from Texas. That's right, Texas, one of the four states that experienced record-breaking heat this summer. Texas, which endured more than a month of consecutive 100-plus degree days. Texas, which is suffering from a devastating year-long drought that is expected to stretch through at least next summer.
Unchecked climate change is bound to make withering heat, extended drought and deadly wildfires in the Lone Star state routine. Hall may never see that day, but if his three sons and five grandchildren live in Texas, they should consider moving to Montana.
Elliott Negin is the director of news and commentary at the Union of Concerned Scientists in Washington, D.C.
SUBSCRIBE TO & FOLLOW THE MORNING EMAIL
The Morning Email helps you start your workday with everything you need to know: breaking news, entertainment and a dash of fun. Learn more