A year into the recession, Americans are cutting costs wherever possible. We're using fewer lights, driving less and eating more meals at home. Many of those meals are being made with the budget-friendly standby, pasta.
According to the U.S. division of Italy-based Barilla Group--the world's largest pasta manufacturer--the industry saw a 22 percent increase in sales in 2008. Though the price of wheat has gone up, a box of pasta can still be purchased for less than two dollars.
Dr. Atkins would roll over in his grave at the idea of us subsisting on noodles. But when a whole-wheat or high-fiber version is mixed with anti-oxidant-rich greens like kale and a few kitchen staples, a box of pasta can easily feed an entire family for less than ten dollars.
Having grown up in a place where most of my green vegetables came from a can, however, I only recently started eating kale. I thought it was a freak accident of global warming when it appeared at my local greenmarket last January. I was so excited by how fresh and green and bountiful it was--a welcome change from the root vegetables I'd been drenching in butter and salt--I bought six bunches.
I continued to visit the greenmarket and lived off of kale for the next month or so, until it went up to nearly five dollars a bunch in the early spring. Turns out kale is a winter green--it's in season December to February--which is why it can be found for under two dollars a bunch right now.
While I am far from being vegan--I wear a "cheese" nameplate necklace and consume more hamburgers than any human being should--I eat this kale and whole-wheat pasta dish at least three times a week during the coldest months. It takes about fifteen minutes to prepare and will delight your vegan friends as well as satisfy even the hungriest carnivores (until they get drunk and decide to go to the diner at 3 a.m. for a hamburger, anyway).
The recipe below serves four, though I often make this for myself with one cup of cooked pasta, an entire bunch of kale and a whole onion because, well, I really love kale and onions.
Kale and Whole Wheat Pasta Sauté
Ingredients
1 pound whole wheat or high fiber elbow pasta (I prefer Barilla Plus or Ronzoni Smart Taste)
approximately 1/3 cup olive oil (you might use a little more or less depending on your preference)
1 large white onion, coarsely chopped
2-3 cloves garlic, coarsely chopped
2 bunches fresh kale, rinsed, stems removed, torn into approximately half-inch pieces (there's no need to dry the kale, the leftover water will help steam it in the pan)
sea salt
freshly ground pepper
Directions
In a large pot of salted water, boil pasta to al dente, drain and set aside.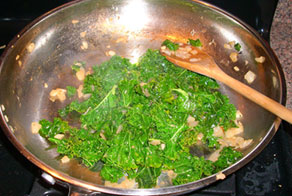 In the same large pot or in a deep sauté pan, over medium heat, sauté the onions in a few tablespoons of olive oil until they are translucent. Add the garlic and stir. When onions begin to brown around the edges, add the kale, stir. After a few minutes on the heat, the kale will turn a deep green. At this point, turn down the heat to low and stir occasionally until the kale is cooked through and wilted. Add a few pinches of sea salt and some freshly ground pepper to taste.
Add the cooked pasta and a drizzle or two of olive oil to the pot or pan, stir and turn the heat back up to medium. Lightly mix with a wooden spoon or spatula for about one to two more minutes. Add more sea salt and freshly ground pepper to taste.
Let sit 2 to 3 minutes before serving.
Emily Farris is the author of Casserole Crazy: Hot Stuff for Your Oven and edits Nerve.com's culture blog, Scanner.
SUBSCRIBE TO & FOLLOW LIFESTYLE
We're basically your best friend… with better taste. Learn more