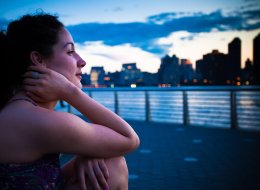 A couple of weeks ago, I read Why I'm Glad I Quit New York at Age 24 by Ann Friedman, and am surprised to find myself still thinking about it even after I've exhausted the game of city-to-crush-prototypes sparked by my first perusal. Well, I guess it's not so surprising. I'm 24. I live in New York. I wonder about whether that's right or not.
The piece chiefly rests on a light-hearted comparison between living in a city and being in a relationship (the sense of belonging, the conflation of identity, transitive properties of self-esteem, etc.), and that those people who stick it out in New York are the ones, "who never fell out of young, difficult love..." with it. We have chosen to stay with our narcissistic, Prom King boyfriend -- it's not "fun," but he's the king. In essence, to stay in New York is to say yes to a certain amount of misery.
Rereading Friedman's piece, it strikes me that the root of the perpetual New York misery is not that New York is inherently miserable or that dissatisfied new New Yorkers are just in a relationship with the wrong city -- it's that we're trying to have the wrong relationship with New York. We actually really have invested in the fantasy of a perfect city romance, and when it doesn't come true (due to the inescapable reality that -- per Friedman -- "Your early twenties are going to suck no matter what,") we internalize it and feel like failures.
You could say we put the building in bildungsroman. We arrive with a narrative in mind: New Person comes to the City to begin their Real Life and things will Work Out. And the city's not just a setting, it's a character in the story -- much like the comic-relief sidekick or love interest -- usually waiting in the wings until we're about to cash it all in. Then, the city presents itself in the form of a stellar view or an improbable coincidence, validating our existence. "You belong here, you have a destiny here," the glinting Chrysler Building/ homeless man singing Sinatra/crumpled Phantom program in the gutter seems to say. And, like that, our faith is renewed, and we continue on our Journey.
My own iteration is temptingly romantic -- a job at a New York literary agency whisked me out of Baltimore and the wreckage of a breakup with such precise timing it was only rational to attribute it to fate. This city and I were "meant to be." Moving here, I reveled in the anonymity and cultivated what I felt was an aura of mystery that in retrospect was a little misguided, like feeling sexy because your voice is hoarse from a cold. Didn't stop me, though. I was 22 and _________. I was no one. Get at me, wind.
Of course, things evolved as they must and eventually, I was ready to cease our mutual LIGIS, but it turns out New York isn't actually a person, it's a group of buildings. I was walking along absorbed in the soundtrack of mystery when suddenly, I hit an invisible wall and the music came to an abrupt halt. Off clattered the headphones of youthful naiveté and self-absorption (previously unnoticed by me), and suddenly I was like baby Man of Steele -- raw and reeling against the overwhelming crush of humanity. I wasn't in a story at all, I was in the East Village and that smell was pee.
This wall, The Big Indifference, is the negative space that permeates this city, the force towards nothing that creates invisible canyons between strangers crammed together inside elevators, subways and on streets. The point of impact -- the moment of recognition that you are just one small person, that nothing is decided, and that there is no destiny binding you to this city, or for that matter, anything -- is a crucial reckoning that must happen to some degree in any city on account of the sheer volume of people. But I would wager it comes crashing particularly hard in New York because velocity increases impact, and things just move so damn fast here.
Right -- so you're not special, there's no one way of going about things, and no one cares what you do. Now what? You could watch the delusion previously known as your comfort zone erode over months of lonely self exploration, leaving all the ways you protect yourself and stand in your own way exposed while the clutter of your personhood -- what you make yourself do from fear of failing or punishment, how you act because you want attention, what you fake to get or gain approval -- burns away, distilling you down to your true drives and wants, and then you can act on those. Or you could run head long into the frenetic who's-who and what's-what circuit, trading the Pokémon cards of your intellect -- band names, restaurant reviews, that janky piece in the New Yorker -- for a feeling of ownership. Or you could develop a pet hatred of the city and fondle that until you get bored or it drives you to leave. Or you could insulate yourself inside a group of transplants from your college or a new hobby or volunteer work or your job or your boyfriend. Options, all of them.
My experience has been that if you stay here long enough, and you are lucky and find decent friends who think your idiocy is endearing, you will get to the point where you manage to maintain a feeling of belonging even if you're not in love with the city and spend most of your waking hours making a study of things like losing gracefully, showing up somewhere again after you've been wretchedly humiliated, having disappointment and moving on, being nice to someone when you don't have a choice, knowing when to stay and when to go and not being constantly at war against the imperfection of your own understanding of basically everything.
Eventually, you may even start to have genuine romantic pangs about this city again -- it probably won't be the fraught John Williams orchestral swoons of yore, but once your identity detaches from whether or not you're meant to be here, you may find you actually like the city for what it is: a city where monsoon season is heralded by deluges of air conditioner condensation and the cardinal directions are up and down. A city where human behaviors are qualified as improvisational games or psychological disorders depending on what floor you're on. A city where life is a perpetual game of Slum Dog Millionaire, and the cosmic significance of your first Craigslist roommate being surprise-evicted is that you're familiar with renter's rights when your next landlords try to kick you out on a whim via text. It's a hell of a town.
Here's an alternative narrative: I live in New York, I am sheltered here, and the timing of moving was extremely fortuitous. Yeah, I'm not the hero of a glorious epic-of-one in this version, but that's fine. You don't need to have a crush on a city to be happy there. On your boyfriend, yes. On your city, no.
At the end of the day, it's less about being at home in the city and more about being at home in yourself. A city can protect you, but it can't tell you who you are. It doesn't know who you are and won't remember you when you're gone. That's silly -- like saying dogs can smile.
Ultimately, happiness doesn't come from what you do or how awesome the people you hang out with are or what group you belong to or where you live; it comes from how you live your life. And that is something you carry with you, no matter where you live.
ALSO ON HUFFPOST:
10 Things To Do, See And Eat In NYC This Fall
For sweet seekers -- and family travelers -- kid-friendly Sugar and Plumm hits the spot. These "purveyors of Yumm" offer up a dizzying spread of croissants, bars, macarons, tarts and cookies smack in the middle of the white and violet space. There's also a colorful dining area for digging into more savory options like pulled pork and waffles, Cobb wedge salad and NY strip. Park at the communal tables to enjoy a sundae -- plus free Wi-Fi. 377 Amsterdam Ave. sugarandplumm.com. 212.787.8778

The new Barclays Stadium, and soon-to-be home of the Brooklyn Nets, is sure to attract first-time visitors to Brooklyn, but it's the borough's bustling food scene that'll keep them coming back for more. Aside from its clever name, the Pork Slope (located in Park Slope) has plenty to offer to the casual diner. While swine is the main attraction, the BBQ joint offers a number of alternatives, like Chicago-styled hot dogs, tater tots, sandwiches and a plethora of cheap brews and craft ales. If '80s movies are your thing, then you'll appreciate the nod to Patrick Swayze's Road House, which can be found throughout the interior. Twenty bucks can get you pretty far at this 'hood joint, so you're bound to leave happy. 247 Fifth Ave. porkslopebrooklyn.com. 718.768.7675

Cove Lounge is a fresh uptown hotspot and the latest venture of Harlem resident and real estate heavyweight Alyah Horsford-Sidberry. Get your pre-game on in the leather-couched upstairs lounge with refreshing cocktails like the Cove Martini, a smooth blend of Van Gogh Peach Vodka, fresh lemon juice, mint leaves, and Prosecco that even the most vodka-phobic will enjoy sipping. The food, which Bobby Flay helped to create on the Food Network's "3 Days to Open," is the antithesis of "bar food" including creamy Blue Crab & Grits, Spiced Fries, and Lobster Mac 'n' Cheese. When you're ready to amp up the night, head downstairs to the lounge, where you'll dance the night away with Harlem's hip and sexy set. 325 Lenox Ave. coveloungenyc.com. 212.665.3455

New York is known for many things, but cheese isn't one of them. This, however, hasn't stopped the success of the renowned Murray's Cheese Shop. Now, owners of the decades old fromagerie are offering customers a cheesier experience just a few doors down. When you're done stocking up on Gruyère, take a stroll to the Cheese Bar. The simple sit-down eatery offers the same bountiful supply of cheese from around the globe served up in any way you can imagine. Dip it, fry it, spread it 'round - or pair it with any of the over 200 craft beers available at the bar. 264 Bleecker St. murrayscheesebar.com. 646.476.8882

Chef Alex Garcia's American and Latin roots are evenly reflected in his latest concept, A.G. Kitchen. Aside from the prominent location in the UWS, everything about the place is pretty lax, from its feel-good grilled cheese sandwiches and burgers to the Latin-infused tacos and paella. We may be on our way to fall, but the lingering summer weather is the perfect excuse to order a spiked milkshake or a butterscotch ice Cream sundae. Guests can escape the general dining-area crowd and head over to the lounge - better known as the Cabanas - for a more intimate ambiance. 269 Columbus Ave. agkitchen.com 212.873.9400

While most furniture stores on the Upper East Side feature pieces of a more traditional décor, brother-sister duo Louis Marra and Allison Julius have successfully prescribed a healthy dose of whimsy for Park Ave., Maison 24. Step inside the shop, which is more a furniture boutique than an impersonal furniture emporium, and you're instantly transported to the home of your dreams, where Lucite abounds and Louis XV chairs are given an update with leather studded seats and the message: "Love Hurts." Even if you're not in the market for new furniture or a collectible piece of art, you'll have a difficult time leaving Maison 24 empty-handed. From a French salad dressing to a Swarovski crystal-encrusted Pop Phone, Maison 24 has something for everyone. 470 Park Ave. maison24.com. 212.355.2414

Trekking through the city can take a toll on any beauty, but thanks to spas like The Donna Scott Secret Med Spa, it doesn't have to show. Celebrity skin-care expert and medical esthetician Donna Scott delivers a beauty oasis for women at her Park Ave location. Scott - who has treated Phaedra Parks of "The Real Housewives of Atlanta" - offers a combination of medical-grade glycolic peels and Phyto-C treatments, along with an arsenal that can tackle all types of tones, complexions, and conditions. We recommend checking the Donna Scott Collagen Serum, which uses skin science to help rebuild collagen in order to create firm and flawless skin. Scott may not have found the fountain of youth, but she's pretty darn close! 960 Park Ave. donnascottsecret.com 215.772.1222

Peruse your favorite designer duds and kicks from online retailer Piperlime's cute boutique, located in the heart of Downtown's fashion mecca. This marks the first retail store for the four year old Gap Inc. owned company trusted by savvy online shoppers interested in staying on-trend each season. Fashion forward brands such as Frye and Citizens of Humanity can be found throughout the store's shelves, and the 4,000 square foot space includes an assortment of their best products and price points. 121 Wooster St. piperlime.com. 212.343.4282

Download a voucher from smithsonian.com/museumday to receive two free tickets to one of 28 New York City museums and cultural centers, including big-name institutions like the Brooklyn Museum, which opens one of its major fall shows, "Mickalene Thomas: Origin of the Universe," on September 28. El Museo del Barrio and the Studio Museum in Harlem, two of the three museums hosting "Caribbean: Crossroads of the World," are another must-see.

Now through October 7th, jazz legends and protégés from across the globe will take the stage at the third annual Coca-Cola Generations in Jazz Festival. Jazz performers of all ages, from Brazil to Trinidad to New Orleans, will offer their unique tribute to music genre's rich history and cultural influence. Visit the Jazz at Lincoln Center website to purchase tickets online, or head to the box office located inside the Time Warner building.
Follow Emma Brodie on Twitter: www.twitter.com/emma_c_brodie