This morning our Senior Lifestyle Editor, Lori Fradkin, sent us all a fabulous photo ... of her still-in-mint-condition Beanie Baby collection. "They still live in my childhood bedroom," she wrote.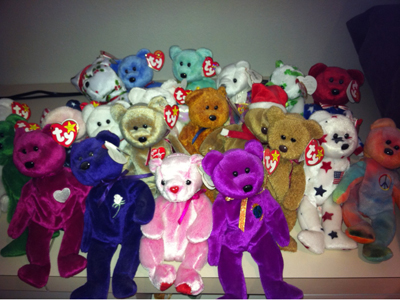 I, too, was home for Passover and working from my parents' house today, so I was able to respond with a photo of my own Beanie Baby bears collection -- my personal shrine to 90s consumption.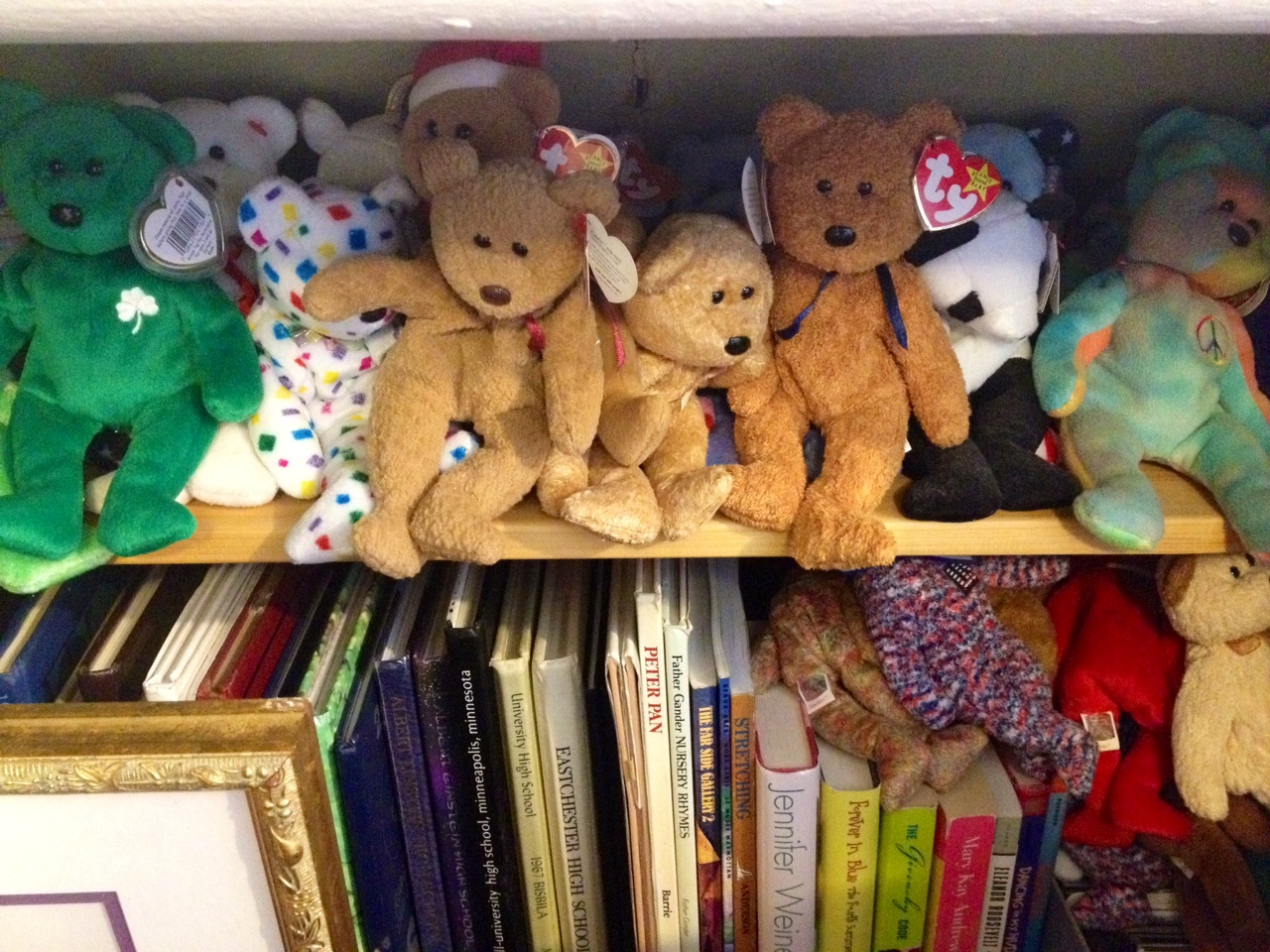 This exchange sparked the following Gchat conversation:
Emma: Love that you also had the Princess Diana Beanie Baby

Lori: Collector's item!

Emma: Pretty sure mine still has a tag protector on it

Lori: Um, my dad just came in and said, "so we're thinking of turning your room into a guest room"

Emma: My parents JUST took all my stuff of my walls and repainted the room. This visit is the first time I've seen it

Lori: When is this happening? Him: We're getting estimates. OK!

Emma: It's so sad. I kind of liked having my room as this weird relic. Luckily my Beanie Baby bears have been allowed to stay

Lori: I was like, "But where will all this stuff go?" And he says, "Do you want the Beanie Babies in NY?" Me: "No, I'm an adult! ... but don't get rid of them, OK?" Though currently there is a crib in here because of my younger cousins, which is already a little weird

Emma: I would be legitimately upset if my beanie babies were thrown away ... even though I never want them in my apartment

Lori: I know, I used to come home after school and call all the stores and ask if they got new shipments -- I was THAT girl

Emma: I was that girl too!

Lori: That's so funny

Emma: My best friend and I used to spend so much time on the TY website ... and felt really good about it

Lori: So wait, what's your room like now? Is it like a gym or something?

Emma: No, it's basically a guest room, but all of my photos/posters are off the walls. It's like half my room now

Lori: Do you have siblings?

Emma: I have a little brother, but he's still in college, so his room hasn't been touched

Lori: Yeah, my sister lives in LA and works, but it sounds like my room is the first target. Apparently there will be two twin beds that can be "pushed together like on a cruise ship"

Emma: Or like a 1950s sitcom?

Lori: Exactly
So now we're putting out the call to you, readers -- what relics of your childhood are still left in your old rooms?
If you're home for the holiday weekend, email us a photo of your room or an item in your room, along with a short description to women@huffingtonpost.com. We'll feature them all in a slideshow here.
PHOTO GALLERIES
Chlidhood Rooms