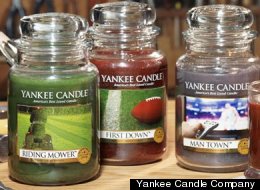 Yankee Candle Company has decided to follow the fragrance industry's formula for marketing to men: Change the packaging color and name of your product, say it's Manly and boom! -- dude customers galore. At least that seems to be what they hope will happen with their new line of "Man Candles" (yes that is the official name).

The Candle Association (a real organization) reports that 90 percent of candles are purchased by women. Yankee Candle Company is striving to defy these statistics. The scents of these "no girls allowed" candles include "Riding Mower," "First Down," "2x4" and "Man Town" (absolutely no idea what that last one could possibly smell like). The descriptions are also priceless. Take "2x4":
The warm, unmistakable scent of freshly planed wood and sawdust evokes a sense of confidence and quality.
Each of these enticing products is priced at $17.99 or $27.99 -- depending on how many hours of "fragrance" the customer desires. Because obviously, all any man wants is 110-150 hours of freshly cut grass and sawdust scents wafting around his home. If the line takes off, don't be surprised if your man friends' apartments start smelling like a "masculine blend of spices, woods and musk."
RELATED ON HUFFPOST WOMEN: More "For Men Only" Marketing
"Hey ladies. Enjoying the film? Of course not. Because this is our movie and this is our soda," a man says as he runs through a jungle avoiding various mishaps. He successfully lands on an all-terrain vehicle and continues, "You can keep the romantic comedies and lady drinks. We're good."

When a man asks for a light beer but doesn't care which one it is, the woman bartender gives him a beer and says, "Just take off your skirt and I'll give you a Miller Lite." As the man moves away embarrassed and wearing a skirt, a deep manly voice tells him to "man up!" Another "Man Up!" ad features a female bartender telling the man to "put down his purse."

Ex-NFL player Isaiah Mustafa addresses women with boyfriends who "sadly, aren't him" because they smell like a woman.

L'Oreal Men Expert is so exclusive to men that if the cream even touches a woman's face it turns her into a frog.

The E*TRADE Baby's girlfriend is mad at him for not calling but he tells her he was busy "diversifying his portfolio." His girlfriend, who apparently isn't interested in trading, gets confused by the trade jargon.

The video features a group of men walking in a field in their underpants singing, "I wear no pants." The ad poster for "Wear The Pants" included phrases such as "Somewhere along the way, the world decided it no longer needed men," and, "but today, there are questions our genderless society has no answers for...We need men to put down the plastic fork, step away from the salad bar and unite the world from the tracks of complacency."

In the video, a woman has to convince a store clerk that she is a man in order to buy a Yorkie bar. She passes every test but she gives away her identity when she can't resist a compliment. Andrew Harrison, who was Nestle's marketing director at the time, spoke with The Guardian in 2002 about the ad campaign: "We felt that we needed to take a stand for the British bloke and reclaim some things in his life, starting with his chocolate."
Follow Emma Gray on Twitter: www.twitter.com/emmaladyrose