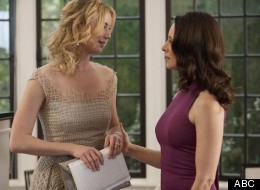 "Revenge," the soapy melodrama that has captured my heart -- and an unfortunate amount of my time -- over the last year came to the end of its first season last night. If you're someone who's resisted watching this gem of a television show all year long, now is the time to give up and give in.
Since the series premiered in September, ABC has treated viewers to months of Hamptons billionaires throwing fabulous society events, double-crossing each other, cheating on each other, falling in love and even committing a murder or two. After 22 episodes (and a truly OMG finale) fans are deeply engrossed in the ever-complicated affairs of Emily Thorne, Nolan Ross and The Graysons -- me and some of my co-workers included. (Nothing like a heated midday discussion about why The Stowaway is the only place that anyone in The Hamptons seems to hang out.)
I've already openly expressed my not-so-guilty love for "Revenge." It's a show that knows exactly what it is (a nighttime soap opera full of beautiful people, escapist plotlines and pithy one-liners) and embraces that wholeheartedly. It's brought us one of television's best characters in Nolan Ross, protagonist Emily's frenemy and sexually ambiguous protector. And to boot, "Revenge" really is all about the women (and some badass women at that).
At HuffPost Women, we're all about using the summertime to do all those things you just didn't let yourself get to during the year -- even if those things are silly like watching really frothy television programming. So here are nine reasons that you should use the next three months to binge on "Revenge."
LOOK: 9 Reasons To Watch (Or Re-Watch) "Revenge" This Summer
9 Reasons You Should Watch "Revenge" This Summer
Who wouldn't want to watch a TV show that begins with a Confucius quote? The opening will satisfy your cravings for low-brow entertainment while still assuring you that "Revenge" has more substance than "Real Housewives of Orange County."

There's no better time to watch a TV show about a glamorous summer than during the summer. (Bonus points if you watch it while you're actually in the Hamptons. Also, good luck with that.) While I've loved watching it in real time, there's been something sort of odd about watching Emily and Nolan trudge through the snow in Montauk while it's 75 degrees outside my window.

If looks could kill... Full clip here.

Enough said. Full clip here.

Emily van Camp (Emily Thorne) and Josh Bowman (Daniel Grayson) are a real-life couple -- as well as duplicitous fiancees on the show. They started dating while filming "Revenge."

Some Examples: --"This is getting kinkier and creepier by the moment." (Nolan) --"It doesn't get much simpler than a clambake." (Victoria) --"You ever notice how whenever you want girlfriend to leave she keeps popping up like the homicidal stripper version of whack-a-mole but whenever you need to find her she vanishes?" (Nolan) --"You look like a demonic succubus." (Conrad) --"The guy was feeding him shots like a frat boy to a freshman." (Nolan) --"Destruction is in my DNA. Take it up with Darwin." (Emily)

"I'm a three on the Kinsey Scale" Nolan Ross not only has a way with words and computers, but he also has a serious sense of style. Lots of pastels, brightly patterned argyle sweaters, bowties, color coordinated pocket protectors and white before Labor Day.

Almost all of the actors in "Revenge" have been on other shows or in films, but none (besides Emily Van Camp and Madeleine Stowe) were widely known. Keep an eye out for Betty's lover from season 2 of "Mad Men" (Nolan Ross), Serena's little brother on "Gossip Girl" (Declan Porter), the sheriff's son from "Roswell" (Jack Porter) and young Jennifer Garner from "13 Going On 30" (Charlotte Grayson).

Summertime is all about letting loose. The characters in "Revenge" understand how to let their baser instincts take over sometimes. They go on benders, propose impetuously, slash their husbands' pricey artwork, install hidden cameras in each other's homes, pop pills, burn down houses, have affairs ... you get the idea. And because it's fictional, there are very few consequences. Sometimes it's just really fun to watch characters (literally) get away with murder. So go forth, be merry ... and indulge yourself this summer with some not-so-high-quality television.
Follow Emma Gray on Twitter: www.twitter.com/emmaladyrose