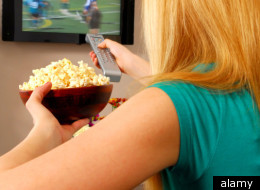 Oh, the plight of the Super Bowl viewer who watches mainly for the commercials. As many of us have learned, this is a hit-or-miss approach to the big day. For every creative and adorable ad that runs (think last year's Volkswagen spot featuring mini Darth Vader), there are about five to which the only reasonable response is "what were they thinking???"
This year, the outlook isn't so great (well, except for that David Beckham ad). Between spots for Budweiser and Chevy, we may be in for graphic pro-life ads that anti-abortion activist Randall Terry has promised to run in 40 local markets. (The ads won't be aired on the national level, but since Terry has announced his candidacy in the 2012 presidential race, TV stations located in states holding a primary election within 45 days of the Super Bowl are required to run them by law. So far, only NBC Chicago and Colorado NBC affiliate KKCO have pushed back.)
Jezebel has already called a "party foul" on "Terry's crusade to ruin hot wings and bean dip permanently for everyone." But ads like these aren't the only commercials the Super Bowl could do without. There are the boring variations on the theme "Beer -- Worship It," the 18 talking animal ads, and let's not forget 2010's slew of commercials depicting men as helpless losers.
Slate's Kerry Howley described these sad former "Beer Guys":
This guy maybe used to be Beer Guy until he started dating some horrible shrew who makes him carry her lip gloss. Now he's just resentful. Beer Guy was hovering in between the joyful, beer-soaked depths of his animality and the banality of civilization. This new guy, he of the Flo TV and Dodge Charger ads, has tipped over into civilization and feels oppressed.
What would happen if Super Bowl advertisers skipped the abortion debate and the sad dudes and opted instead for some ads that don't demean anyone and keep things festive? Here are some commercials we'd love to see on February 5th.
SLIDESHOW: The 12 Super Bowl Commercials We'd Love To See
12 Superbowl Commercials We Want To See This Year
What wouldn't you buy from this man?

Two days in the British bogs, where servants toil away in the basement and you wear crinolines. Arranged marriage not included. Period costume definitely included.

"Hey girl. The Super Bowl is pretty great ... wanna be my half-time show?" via Feminist Ryan Gosling

If that means red dots, as in this Always print ad, then so be it.

These little tikes probably have some genius insights on the book. "Did you read that Barack cut off a friend who disagreed with his staffing decisions?" "But he's still madly in love with his wife! FLOTUS -- what a lady."

... for the sole purpose of having it say 'One Fewer.' We'd love to see FEWER women develop cervical cancer.

Men aren't the only ones who enjoy a cold one that doesn't taste like barley-flavored seltzer.

Dove's "Campaign for Real Beauty" was a good start, but those sort of ads should be the norm -- not the rare exception. (And Whitney Thompson of ANTM-fame's rejected commercial doesn't count.)

This little girl is our hero. We'd probably buy just about anything from her.

A girl can dream, right?

... equipped with slimming panels. Or perhaps even built-in Spanx.

A new study just showed that women are better at parking than men are. We'd like to see the authority on all things car insurance admit it.
Follow Emma Gray on Twitter: www.twitter.com/emmaladyrose