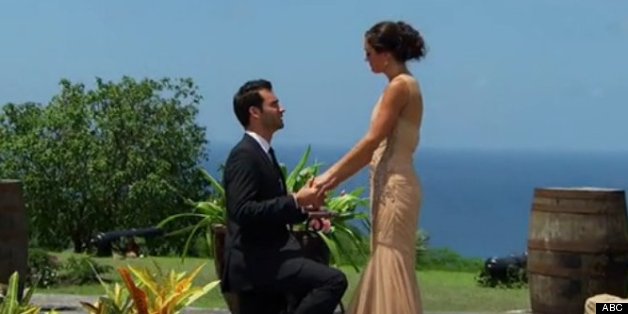 It's a bad sign when the last five minutes of "After the Final Rose" are the most compelling and entertaining part of a three-hour "Bachelorette" finale, right? But I'm getting ahead of myself. Our multi-hour season 9 finale begins where we left off. "Last time we saw Des she was crying on the end of a dock in Antigua," reminds Chris Harrison, live in LA. Aaaand we're off. Let's all just give thanks that this season has finally come to "dramatic" close.
After The Sad Dock Cry
Des stares pensively off a balcony and looks sad. She still feels blindsided by Brooks' hasty exit. Chris Harrison arrives for a heart-to-heart full of tears and Des saying things like "I just wanna go home." Therapist Chris Harrison reminds Des that she still has two dudes left vying for her affections -- Chris and Drew -- both of whom have said they love her. "My spirit hasn't been broken," says a weepy Desiree, determined to move on to the next rose ceremony. I start wondering how they are possibly going to fill three hours and whether we will be subjected to Desiree's tears for the entirety of those hours.
The Most Useless Rose Ceremony In "Bachelorette" History
While Des "gathers her thoughts," Drew and Chris arrive in separate cars. Chris Harrison points out the obvious -- Brooks is missing -- and cryptically says to the remaining men: "There is a lot you don't know but it's not my place to tell you." (Way to build up the tension, CH.) Des finally appears, and everyone pauses for an uncomfortably long time before she gives them the short version of the Brooks exit story. Des says that she's been taking every relationship individually and wants to still give them the roses, but subsequently bursts into tears. Both Chris and Drew obviously accept the roses and they all toast to "staying hopeful," but no one looks happy. "I'll never leave Desiree," says Drew ominously, reaching new levels of creepy intense. Back at the live show, Chris Harrison polls random members of the studio audience on whether Brooks ruined Des' chances for love and happiness forever and says things like, "We don't check grammar here on 'The Bachelor.'" (Oh Chris Harrison, everyone watching is PAINFULLY aware of that fact.)
Ride A Pony, Sob On The Beach
From the moment Des "wakes up" and immediately starts journaling in bed, we know this date can't end well. She puts on one of her signature crop tops and heads out to ride a pony and meet up with Drew. Although Drew is confident as ever in his undying love for Des, it's immediately clear that Des needs to dump this dude ASAP. As the saying goes, "(S)he's just not that into you," Drew.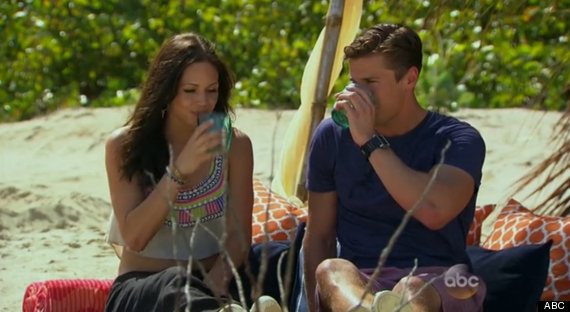 They sit down on the beach, take a sip of champagne and then Des -- steeled by the bubbly booze -- launches into her "I need to talk to you" speech. She says she doesn't see their futures together and starts crying, and somehow Drew ends up comforting her and assuring her she doesn't need to be sorry that she's not in love with him. Basically he's super nice about the whole thing, and somehow looks like an even better-looking Ken doll when he gets all sad and stoic. "I'm crushed and confused," Drew says as he and his pretty face walk off in the sand. "He's stupid good-looking," says my coworker Carolyn.
Ups, Downs And Abs
Des continues to be unable to locate a shirt in Antigua, so she settles for a bandeau bra and goes to meet Chris (not Harrison) for a date. They go riding on a catamaran, and it's clear that she like likes Chris way more than she did Drew. (Side note: Drew and Chris wore nearly identical outfits complete with pale purple shorts on these dates. Coincidence?) Chris tells Des that it was really hard to see her cry at the rose ceremony and that he's serious about their relationship even though Brooks wasn't. He says some more nice things during the boat ride, but I'm more distracted by both Chris and Desiree's abs. So many abs. It's a nice alternative to tears. Chris and Des jump off the boat, and Des decides that it feels like "a new day."
During the second half of the date, Des and Chris meet up at Chris' Antigua bungalow for a chat. They say things like "sometimes life is hard to accept," (oh so deep) and Chris says that he'd like to meet Desiree's family. Des wasn't sure she wanted anyone to meet her parents -- and her angry, angry bro -- but now she wants Chris to. Also, Chris has brought her a journal wrapped in twine, in which he has written all of the poems we've been subjected to this season. Luckily we don't have to hear a new one. Des starts crying during her camera confessional because she's never had someone love her as much as she loves them. Cut to commercial break...
Killing Time, Chris Harrison-Style
Because we still have god only knows how much time left in this fin-ahh-le, Chris Harrison decides that we should survey the totally relevant opinions of past "Bachelor/Bachelorette" contestants. We learn that Sean and Catherine are still together but aren't announcing a wedding date yet, Jackie thinks Chris and Des "look good together," Lesley has a better vocabulary than anyone else on this show and Lindsay will support Des no matter what. OK, glad that's over.
Meeting The Parents (And Bro)
Chris arrives to meet Desiree's parents with flowers in hand, ready to face Desiree's (super sweet) mom and dad, and her (less than sweet) brother, Nate. Nate is shockingly well-behaved. He grills Chris an appropriate amount but refrains from insulting him like he did Sean. Des' dad pulls Chris aside to chit-chat about his intentions and how he fell for Des. After they bond, Chris asks Desiree's dad's permission for Desiree's hand in marriage. Her dad obviously says yes, despite the fact that his daughter has only known this dude for two and a half months. After everyone says their goodbyes, Desiree has some one-on-one time with her brother. Nate likes Chris but doesn't want Des to settle -- he also throws in a Brooks comment just to shake things up. Remember everyone? Des was heartbroken like 2.5 seconds ago.
A Very Happy Ending?
Back in Antigua, Chris looks pensive while shirtless in his hotel room, and Des looks pensive with a shirt on, staring off her balcony. Chris makes a quick pit stop to meet with Neil Lane and picks out a monstrosity of a sparkly engagement ring. Then he changes into his skinny tie and suit (lookin' good, Chris!) and heads off to propose. He also still has no idea he's the only dude left. And by this time everyone who thought Brooks might come back (myself included) is realizing that this second-choice proposal might actually happen.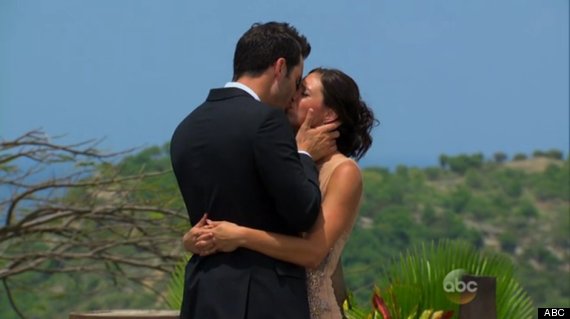 Chris gets out of the limo looking nervous and approaches Des who is totally decked out in her gown and sparkly jewelry. He launches into his "I love you" speech and is about to get on one knee when Desiree stops him. There is a moment in which I think Des might be the first "Bachelorette" to say, "Hey, I like you but maybe we should put a pause on this whole engagement thing and just hang out for a while and see where things go," but obviously that's just wishful thinking. Desiree tells Chris that he's the only one there, that she was "blindsided" by Brooks leaving since she loved him, but really he just prevented her from seeing that Chris was the one she needed all along. I know we're all supposed to think "awww," but going from so much buildup about Brooks to this just feels very very weird. Then Chris does get down on one knee, says he wants to be Desiree's "first and last" and asks her to marry him. She says "yes, a thousand times!" And everyone watching doesn't know whether to clap or cringe in horror as ABC plays a montage of Chris and Des to make us think this whole thing ISN'T super weird.
After The Final Rose
I've already written far too much about this slog of a "Bachelorette" finale, so I'm going to go with the Cliffs Notes version of "After The Final Rose":
--Desiree: Wearing a bodycon, white sparkly dress; always planned to stay open; not nervous to see Brooks.
--Brooks: Lookin' hot and scruffy, but got a haircut; found it hard to watch his breakup with Des on national TV; was as honest as he could be; Chris Harrison hopes his next relationship goes better; sounds stunningly sane through the interview; is happy Des found love with Chris -- and isn't all that surprised.
--Drew: Looks dapper in a three-piece suit; isn't resentful or angry or still in love with Des; asks Des a few questions; says "I will always be in your corner" to Des; Chris Harrison thinks he'll be "just fine."
::Pause for obnoxious ABC plug for "Betrayal"::
--Chris (and Des 4Eva or at least three months): Still rocking a skinny tie; couldn't be happier; knew Des was the one after dodgeball; re-watches the proposal with America; he can totally 100 percent trust his love.
We also learn that Desiree is moving to Seattle this weekend -- to a brand new apartment. And just as we thought we escaped poem-free, Chris pulls out a framed poem complete with dried rose petals called "My Girl." (Apparently he was unaware that a very sad '90s film starring Anna Chlumsky bears the same name, not to mention the 1964 Temptations hit to which the movie alluded.) Chris Harrison wishes the happy couple the best.
Saving The Best For Last
After a truly painful three hours, Chris Harrison knows he has to give the audience what they want .... JUAN PABLO IS THE NEXT "BACHELOR"! They play a little bio video of Juan Pablo and his adorable daughter, and then they bring the man out. He is also wearing a skinny tie, and apparently it's his birthday! Why wasn't this whole thing just a birthday special for Juan Pablo?
In conclusion: I'm glad Des got her not-so-fairytale (but still happy) ending, but I'm even more glad we can forget this season and move on to Juan Pablo. I look down at my phone and see a text from my fellow "Bachelorette"-watching friend, Laura: "Let the season of sex begin," it reads. Indeed.
LOOK: The Best Tweets About "The Bachelorette" Finale And "After The Final Rose"
Tweets About "The Bachelorette" Season 9 Finale & "After The Final Rose"