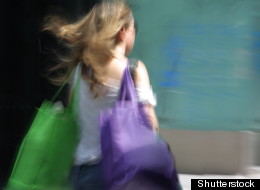 I'm pretty sure I was born stressed out. When I was a kid I was able quell my worries by making sure to turn in all of my homework assignments on time and quickly resolving any fights I got into with friends. But as I got older and began facing somewhat more serious challenges, dealing with the stress and anxiety that came along with those things became more difficult.
Your 20s are defined by change and transition: new apartments, new cities, new jobs, new financial responsibilities, new friends, new loves -- and lots of new things to stress about. Although I can't pretend to be an expert on eliminating these worries from your life, I have realized a few things over the last half a decade.
"Just breathe" really is a helpful suggestion. When dealing with a pile-on of stressful situations, I've found that going back to slightly New-Agey basics actually helps. When I feel overwhelmed by my list of "to dos," I've started putting both of my feet on the floor, closing my eyes and breathing in and out for 10 seconds. Something that simple can reset your body chemistry and let you look at your day with a rational mind -- instead of spiraling into a meltdown because you are physically unable.
Some stress is actually positive. I truly don't believe that I'd get through a day at work without a healthy level of anxiety. Sometimes you need a looming deadline or an upcoming date to motivate you to use your time and energy wisely. After I finished college a semester early, I was lucky enough to have the financial support of my parents for a couple of months while i was looking for a job. I had a lot of extra time to do yoga, go to museums, see friends and relax. But honestly, without a major stressor like school or work propelling me forward, I was pretty miserable. I've found that being a bit stressed out in a structured way actually makes me happier person.
It's important to acknowledge those things that unnecessarily stress you out. Some worries simply aren't worth the energy they consume. And during your 20s, those silly stressors become more clear. In the last few years, I've decided to let go of my stress about things like styling my hair on a daily basis, perpetually running 5-10 minutes late, being the shortest person in the room when I wear flats and not cooking as much as I'd like to.
It's also important to acknowledge that you don't have control over everything. While some stressors are worth ditching because they're silly, others aren't worth worrying about because you simply have zero control over them. After several people closely connected to me passed away a few years ago, I used to spend a ridiculous amount of time trying to visualize my own final moments, which nearly always sent me straight into a panic. Eventually I realized that some things are better left unthought about -- especially those realities that are going to occur whether or not you waste time being afraid of them. I've since applied this lesson to other, less existential worries, like whether or not someone will text me back or the stress of being forced to move apartments a few months earlier than intended.
Learn to let go. Often stressful things pile up to the point where you feel as though there simply aren't enough hours in the day to do it all. (In fact I feel this way nearly every day.) First of all, accept that you can't do everything all of the time. Second, pick a few things that need to happen and focus on those. Not answering every email right away or waiting to finish a work assignment that's less pressing or skipping out on those after-work drinks once in awhile is not the end of the world. Accept that adult life means prioritizing more carefully than you used to.
You need to schedule in "me time." Whether that means finding a therapist who is covered under your health insurance plan to speak with on a weekly basis or just carving out an hour now and then to go to a yoga class, having some mental health breaks built into your week is important and necessary. Unless you treat these things as vital parts of your life, you won't follow through with them. And it's so important that you do. Setting aside one night a week to go to therapy for the past two years has given me the ability to handle emotional challenges and stressors in a productive way that I genuinely couldn't before. But I had to get myself there first.
"De-stressing" doesn't mean that stress is going to disappear. Here at HuffPost we talk about stress and how to reduce it a lot, which is awesome. But I found myself feeling guilty that despite working in an office that values stressing less, I was still stressed. It's important to be kind to yourself when it comes to your mental health -- and to realize that dealing with stress is an ongoing process. There's no one right solution and feeling stressed about the fact that you're feeling stressed really helps nothing.
Most importantly, remember to enjoy. I know that there are a million and one stressful things I have yet to encounter -- after all, I'm only in my 20s. But I anticipate being able to deal with these future worries by constantly reminding myself to enjoy the little things, like leaving work 30 minutes early or walking around Washington Square Park during a sunset or experiencing the heart flip that comes along with a really excellent first date. In life, the good far outweighs the bad. I'd rather not waste too much time stressing.
ALSO ON HUFFPOST:
A recent study in the International Journal of Workplace Health Management showed that bringing your dog to work could help to lower office stress and boost employee satisfaction. "Pet presence may serve as a low-cost, wellness intervention readily available to many organizations and may enhance organizational satisfaction and perceptions of support," study researcher Randolph T. Barker, Ph.D., a professor of management at Virginia Commonwealth University, said in a statement. "Of course, it is important to have policies in place to ensure only friendly, clean and well-behaved pets are present in the workplace." The study, which looked at the pet-friendly company Replacements, Ltd., showed that employees who brought their dogs in to work experienced decreases in stress throughout the work day. Meanwhile, self-reported stress increased for people who didn't bring their dogs, and for those who don't have dogs.

If you're feeling particularly stressed, perhaps it's time to take a quick YouTube break. A small 1989 study in the American Journal of the Medical Sciences showed that "mirthful laughter" is linked with lower blood levels of the stress hormone cortisol. The Mayo Clinic reported that laughter also promotes endorphin release in the brain and relaxes the muscles, which are all key for stress relief.

Caregiving is extremely stressful, but a 2008 survey showed that gardening may help to reduce stress among caregivers. The survey, by BHG.com, showed that 60 percent of caregivers feel relaxed when they garden, the Alzheimer's Association reported. And, Health.com reported on a Netherlands study, suggesting that gardening can help to lower cortisol levels and boost mood among people who had just finished a stressful task. That's because doing something that requires "involuntary attention" -- like sitting back and enjoying nature -- helps to replenish ourselves, Health.com reported.

Just six minutes of reading is enough to help you de-stress, the Telegraph reported. The study, which was sponsored by Galaxy chocolate, suggested that reading was linked with a slower heart rate and muscle relaxation. Drinking tea or coffee, listening to music and taking a walk also seemed to help lower stress, according to the Telegraph.

Even if she's not there in person, a call to mom can help lower stress. Scientific American reported on a study in the journal Proceedings of the Royal Society B showing that young girls who talked to their mothers on the phone after completing stressful tasks had decreased cortisol (the stress hormone) in their saliva, and increased oxytocin levels (the bonding hormone). The girls who talked to their mothers on the phone had decreased cortisol and increased oxytocin levels compared with young girls who weren't allowed to contact their mothers at all, Scientific American reported -- girls who hugged their moms in person had a similar reaction to the phone group.

Dark chocolate doesn't only have health benefits for the heart -- eating it can also help to lower stress. LiveScience reported on a study illustrating that eating 1.4 ounces of dark chocolate a day for a two-week period is linked with decreased levels of the stress hormone cortisol. That study was published in 2009 in the journal Proteome Research. (But of course, chocolate still contains sugar and lots of calories, so make sure you're eating the chocolate in moderation!)

Gossip may not be viewed as socially "good," but it might have benefits in relieving stress. Researchers from the University of California, Berkeley, found that gossiping can actually lower stress, stop exploitation of others and police others' bad behavior. "Spreading information about the person whom they had seen behave badly tended to make people feel better, quieting the frustration that drove their gossip," study researcher Robb Willer, a social psychologist at UC Berkeley, said in a statement. Willer's research was published this year in the Journal of Personality and Social Psychology. So if something's bothering you, go ahead and gab -- but just make sure you move on so you don't dwell on the negative emotions!
Follow Emma Gray on Twitter: www.twitter.com/emmaladyrose