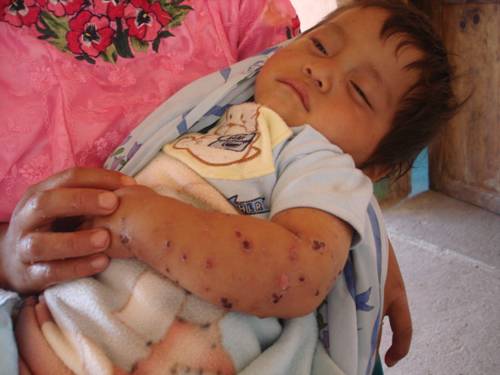 A young child exposed to water near the Marlin mine, run by Canada's Goldcorp, in Guatemala
Canadian mining giant, Goldcorp, has been ordered to suspend mining operations in Guatemala. The Inter-American Commission on Human Rights found evidence that a mine in an indigenous region outside of Guatemala City was poisoning the water supply essential to agricultural development and human survival in the region.

But the Guatemalan government is ignoring the ruling.
The Inter-American Commission is an international body relying on voluntary nation participation. Its rulings are supposed to be binding on member countries, but in reality, compliance is more about political will than international legal obligations. Guatemala has an investment agreement with Goldcorp that is lucrative for the country. The mine employs over 2000 people in a generally poor area of Guatemala. In the face of immediate financial consequences, long term environmental concerns are taking a back seat.
This is not the first time Goldcorp has run into trouble in Guatemala. Veteran news reporter, CTV's Paula Todd, spent two weeks in Guatemala last month reporting on the human rights abuses inflicted by the company upon the rural community. These abuses include allegations that Goldcorp and/or the Guatemalan government murdered a local activist because of his objection to the environmental destruction caused by the mining operation. The International Labour Organization has already called on the Guatemalan government to close the Goldcorp operation because of human rights abuses in the area. Even Goldcorp's own Human Rights Impact Assessment called for a halt to mining activities because of serious human rights abuses at the mine.
Still, the Guatemalan government has not supported the international community's call to suspend Goldcorp's operations while further investigations are conducted.
The disaster of BP should be a lesson to the world: stop environmental abuses before they escalate to unmanageable levels. Predictions of environmental disaster in the Gulf were not only possible, they were inevitably 100% accurate. Spills in the past meant spills in the future and there was no movement to change drilling practices substantially so that risks would be eliminated. In other industries, the same inevitable environmental destruction must be avoided.
Decisions like the Inter-American Commission on Human Rights ruling to suspend mining operations in rural Guatemala are an attempt to do just that. When mining has, in the past, contaminated essential water supplies and there is evidence that it is continuing to contaminate, the operations must be suspended. Without this kind of pre-emptive action, disaster grows, swells to unmanageable levels and wildlife and human life is severely threatened.
Both the Canadian Prime Minister and the Guatemalan Prime Minister need to step up and enforce the ruling. The protection of essential water supplies depends on them.

SUBSCRIBE TO & FOLLOW THE MORNING EMAIL
The Morning Email helps you start your workday with everything you need to know: breaking news, entertainment and a dash of fun. Learn more