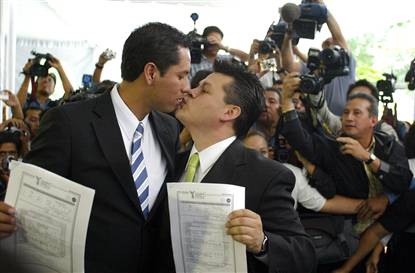 A Federal Court Judge in California has ruled that Proposition 8 violates the due process and equal protection clauses of the Fourteenth Amendment. The decision is important not only because it reaffirms the fact that marriage discrimination is illegal, but it does so under the Federal Constitution.
Seems like a no brainer after years of state decisions supporting gay marriage, but the struggle to bring a Federal Constitutional challenge to marriage discrimination has been long and hard.
As a movement, the LGBT community has always seen legal strategies as a central part of the march towards equality. Many organizations, including Lambda Legal, have spent decades building positive precedents on gay issues in State and Federal courts around the country. But their strategy has been one of incremental change: move individual laws towards equal protection and eventually, real equal protection will be a winnable issue. This is why, for example, state cases were brought in places like Iowa, rather than an across the board challenge against LGBT legal discrimination.
So imagine the uproar when two star lawyers, both straight white men, marched into the Proposition 8 controversy with little prior experience with LGBT struggles and announces a federal challenge to marriage discrimination. They were going after the holy grail: equal rights for LGBT people under the fourteenth amendment, and they were going after it, with or without the LGBT movement's approval.
What resulted was an internal struggle between incremental change and bold gestures for equality.
Today, bold gestures certainly seems to be winning the struggle.
The Federal Court not only found that discriminating against gays and lesbians was unconstitutional because it denies them due process, it found that discriminating against gays and lesbians was legally equivalent to discriminating on the basis of sex -- a constitutional no-no from way back. It found that there was no credible evidence suggesting that marriage discrimination served any legitimate state interest and that the only plausible intent behind Prop 8 was pure hatred and discrimination. Piece by piece, the 138 page decision tears apart the logic of the traditional marriage movement and exposes it as the offensive and homophobic club it really is.
The case will be appealed and a stay issued by the judge will likely avoid a marriage flood in California before the case gets to the Ninth Circuit Appeals Court. The appeal, a step before the Supreme Court, will be a very important indicator regarding the success of this strategy. But with one win under their belt, even a loss in the Appeals Court could pave the way to success in the Supreme Court.
The slow build strategy adopted by the LGBT movement has been highly effective. Without it, there is little chance that the bold federal challenge to Prop 8 would have seen any success. But the fear that a Supreme Court case will create a bad federal constitutional precedent if brought too early still paralyzes many LGBT legal strategists.
I'm not sure they're wrong.
What I do know is something that was articulated well by the Federal Court today:
Plaintiffs presented evidence at trial sufficient to rebut any claim that marriage for same-sex couples amounts to a sweeping social change. Instead, the evidence shows beyond debate that allowing same-sex couples to marry has at least a neutral, if not a positive, effect on the institution of marriage and that same-sex couples' marriages would benefit the state. Moreover, the evidence shows that the rights of those opposed to homosexuality or same-sex couples will remain unaffected if the state ceases to enforce Proposition 8 (pp. 125-126).
Gay rights are no longer an outlandish concept that stretches the boundaries of community standards. Sure, the majority of Californians were, at one time, against same-sex marriage. But permitting marriages in spite of their objections will not "rock their world." Instead, their world will continue spinning with the same velocity and tenor as before.
This fact, and this fact alone, might save the bold legal strategy launched in this federal challenge. The Supreme Court likely does not have a majority of judges who believe in gay rights. It might, however, have a majority of judges who understand that ruling explicitly against the rights of LGBT people in America is so antithetical to the current political and social climate, it is simply not worth the heroics required to reason discrimination into the Constitution.
Let's hope this is true. Because whether you support an incremental or bold strategy for achieving equality in America, the bold train has left the station, and it is certainly gathering steam.

SUBSCRIBE TO & FOLLOW TRUMP'S FIRST 100 DAYS
How will Donald Trump's first 100 days impact YOU? Subscribe, choose the community that you most identify with or want to learn more about and we'll send you the news that matters most once a week throughout Trump's first 100 days in office. Learn more