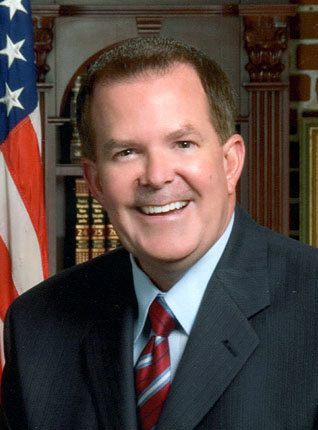 California State Senator Roy Ashburn told a local radio station this week that he is gay. In a heartfelt admission, he explained that coming out had been a struggle for a long time and now that his personal life had put others at risk, he needed to face who he was.
First of all, let's let it slide that Ashburn has linked driving under the influence with attending a gay bar. Many of us have spent nights in gay drinking establishments and managed to not also become drunk drivers. But that is beside the point.
Ashburn insists that being gay will not hinder his ability to do his job.
It's a phrase that sounds familiar and the automatic response is to agree with him. In fact, the Human Rights Campaign has issued words of support and encouragement for Ashburn as he embarks on the difficult process of coming out. I understand the supportive stance. We've been there and when you see someone else struggle with their sexuality, you want to be caring and kind and all the things many people weren't for you.
But do we really think that Ashburn can do his job now that we know he is gay?
This is a man who has consistently voted against his own rights. He does not believe in eliminating discrimination based on sexual orientation. He does not believe in honoring gay historical figures. He does not believe in gay marriage. While admitting he is gay, he maintains his commitment to the undermining of gay rights. Even Log Cabin Republicans -- advocates of change from within -- don't go this far.
Ashburn's explanation for this ridiculous voting strategy is that his votes represent the opinions of his constituents.
If we take that argument at face value, the man is disingenuous, without principles and swayed easily by the whims of a narrow majority. If the people in his district wanted to burn books, he'd sign on to that too.
So, while it does not sound like a generous and kind position, I do believe that Senator Ashburn has two choices: he can either change his voting pattern drastically and immediately or he can step down.
What is clear is that his identity as a gay man most certainly hinders his ability to continue the particular legislative role he has inhabited thus far.
FOLLOW HUFFPOST