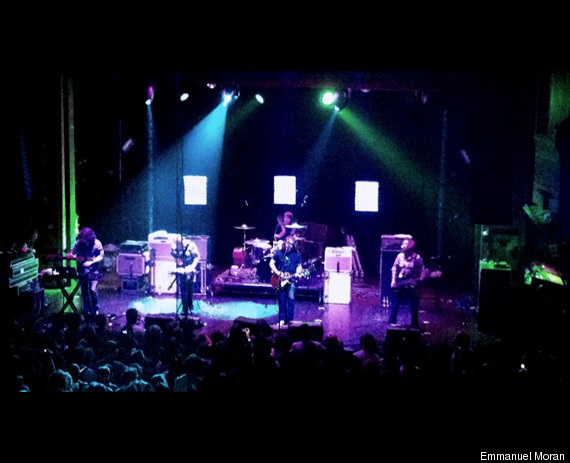 "No you're the best, no you are," said the front man of Everest, the opening act for Minus the
Bear last night at Webster Hall. The night felt almost conversational, as Minus the Bear played to a crowd of friends, exchanging back and forth from the first minute of their set.
With the crowd calling out for old favorites, the band successfully maintained a balance between fan requests from their catalog and new material from their latest album, Omni. From the lingering power of "Drilling" to the hand-wave inspiring "Into the Mirror," the night demonstrated the band's progressive and sonic chops, as well as how in touch they are with their fans. The Seattle-based group began the night with the precise level of musicianship they are known for, but it was the intensity of their no-frills performance that kept the crowd in constant movement all night.

With crowd pleasing favorites through out the night, it was the presentation of Omni, their latest album, that took the sweltering heat of Webster Hall into the ice-cool center of planet of ice. Bass player, Cory Murchy's soft spoken bass lines kept the night's groove on point with lead man Jake Snider's love oppresed lyrics. The crowd of recent college graduates and devoted fans were kept high all night by keyboardist Alex Rose's energy.
The night demonstrated the band's evolution from simple melodies to intricate, sonic compositions. Not only as musicians, but as intergalactic sonic ambassadors, Minus the Bear delivered a refreshing and progressive take on songwriting. With guitar riffs that could easily induce a trance-like state when staring at their stage lights, Minus the Bear's high-energy performance is demonstrative of the very qualities that have set them apart from the indie rock scene over the past few years.
Minus the Bear has created a pocket of sound that is powerfully delivered on record and on stage. Their performance last night demonstrated the band's musical maturity and no-frills attitude.
Setlist:
1. Drilling
2. Throwin' Shapes
3. Knights
4. My Time
5. Summer Angel
6. When We Escape
7. Secret Country
8. Get Me Naked 2: Electric Boogaloo
9. Fine + 2 Pts
10. Ice Monster
11. The Thief
12. Hold Me Down
13. Spritz!!! Spritz!!!
14. Pachuca Sunrise
15. Dayglow Vista Rd.
Encore:
16. The Fix
17. Into the Mirror
18. Absinthe Party at the Fly Honey Warehouse
SUBSCRIBE AND FOLLOW
Get top stories and blog posts emailed to me each day. Newsletters may offer personalized content or advertisements.
Learn more