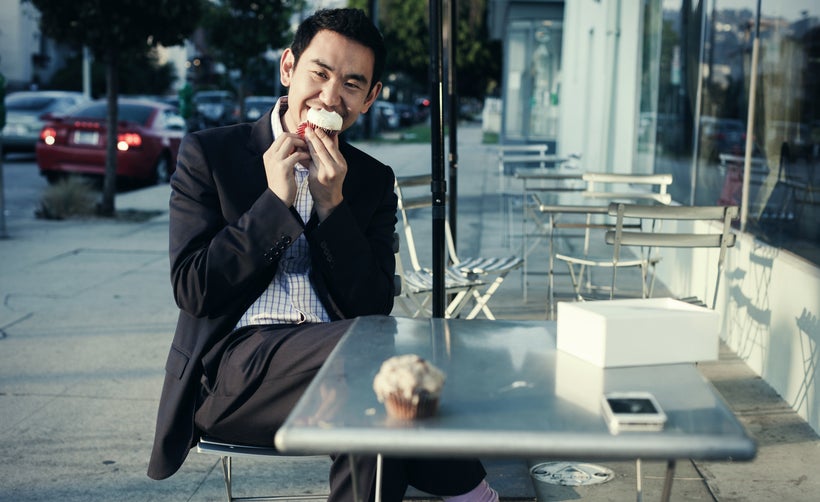 This post is hosted on the Huffington Post's Contributor platform. Contributors control their own work and post freely to our site. If you need to flag this entry as abusive,
send us an email
.
Embracing failure sounds like a load of touchy, feely bullcrap. I mean, who wants to give their all to accomplishing a much beloved dream, only to not achieve it? It doesn't sound very enticing. But failure can often push us into new career paths and life experiences we otherwise wouldn't have stumbled upon.
It's a concept personal branding guru Leonard Kim promotes strongly. Leonard went from broke, depressed and living with his Grandmother 5 years ago, to now co-founding a successful business and inspiring millions through his articles on Huffington Post, Inc, Entrepreneur, Forbes, and GQ to name a few. Leonard also boasts over 100,000 Twitter followers.
When I spoke with Leonard a few weeks ago I wasn't at all nervous. I mean, sure, he's done well for himself. But his website portrays him as a loveable guy who frequently sports a bow-tie and really, really loves cupcakes. Adorable, right? But in real life, Leonard Kim is quite confident, at ease and sophisticated. The word 'suave' actually comes to mind; and I never use that word.
"Well I am overdue for a website update," Leonard laughs when I mention his presence is much stronger in person. "But I'm still not overly great at doing videos..."
Leonard hasn't always been quite so cheery. Before achieving his seemingly 'overnight' success, he faced setback after setback.
"I tried starting my own business in 2007 and failed. I worked in real estate in 2008, just prior to the stock market crash. I then worked on a promising startup in 2009 which failed. I ended up with part-time job fundraising for $10 an hour, and couldn't pay my rent or electricity bills. I received an eviction notice and no choice but to move in with my Grandmother."
At the same time, Leonard's personal life fell to bits.
"I was in love with the same woman for over a decade. When she left me, I lost a part of myself. I spent years trying to get her back. My whole world fell apart, and it felt like I had nothing left to live for. I felt like giving up."
Understandably, Leonard spent the next few months feeling sorry for himself. Who wouldn't? But after getting drunk and breaking his ankle, he was stuck at home, and was forced to spend some time to reflecting on his life.
"My thoughts returned to my Grandfather. His final years were difficult because he had Alzheimer's and had forgotten who he was. At the same time, it seemed I had forgotten who I was. I decided that I needed to live the way he raised me. I decided not to give up.
"I started making smart decisions to get some stability before trying to 'make it big'. I got a job that would pay the bills, and lived minimally. I let the idea of my girlfriend go, and once I did a new (much nicer) girlfriend came into my life. I started writing, and amazingly, people responded to it."
Leonard also and found himself a mentor. Not in real-life, but through the written words of best-selling author and serial entrepreneur James Altucher.
"I was really inspired by some of James Altucher's books. He was so honest and had overcome so many failures. I looked up to him quite a bit, and was thrilled when I eventually got to meet him."
So why exactly should we embrace failure?
"Failure is part of the journey. The important thing is not to let it define you, and just keep going. I could have easily given up. I mean, I'd failed enough times that it would have been an understandable choice, really. But I refused to let that be how my story ended. If I feared failure, where would I be now?"
SUBSCRIBE TO & FOLLOW THE MORNING EMAIL
The Morning Email helps you start your workday with everything you need to know: breaking news, entertainment and a dash of fun. Learn more