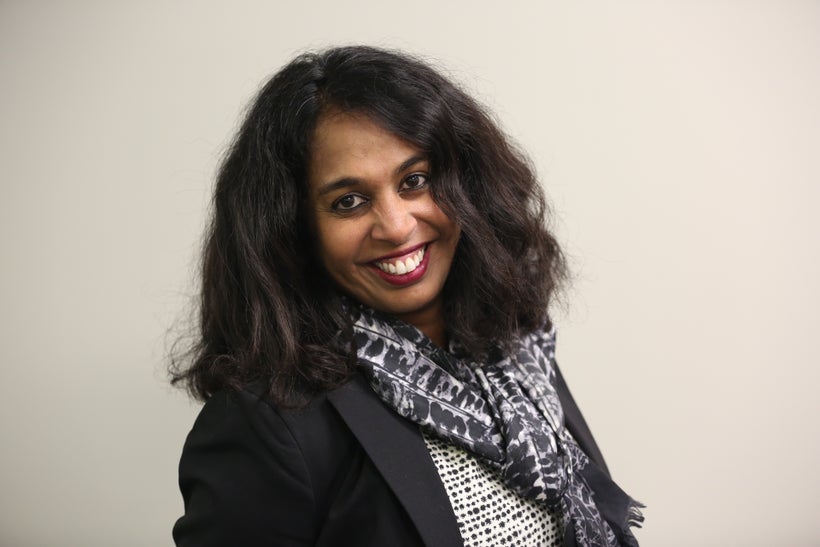 This post is hosted on the Huffington Post's Contributor platform. Contributors control their own work and post freely to our site. If you need to flag this entry as abusive,
send us an email
.
Sree Menon is the Head of Parts and Accessories at eBay Motors, responsible for leading the planning and execution of the vertical's strategy, customer needs, marketing, product, sales, and customer experience. Menon joined eBay in early 2014. Prior to eBay Motors, Menon was the E-Commerce and Online Director for Dell in the Americas.
How has your life experience made you the leader you are today?
I'm fortunate that I've been deeply influenced by a number of people in my life. I was born and raised in Northern India where access to education for young girls was limited. Growing up, my parents were my biggest mentors and supporters. They encouraged me to work hard and embraced my love for continual learning, which helped propel me to opportunities that have shaped who I am today.
I've also learned a great deal from my many managers and colleagues, who have played a significant role shaping my leadership style. I think back to when I was 25 years old, and I was managing a team comprised entirely of men, all of whom happened to be 20 years my senior. At the time, I had a fantastic mentor who offered this pearl of wisdom: "to gain acceptance you need to work alongside your team. Roll up your sleeves and see first-hand what they are going through." I took that advice to heart and it helped me gain acceptance and respect from my colleagues.
In fact, I've actually found that advice to be surprisingly helpful outside of work as well. It's a guiding principle that I use every day. Many people don't realize that career success isn't about graduating from a top tier school, or being a genius; rather, it's largely dependent on fostering good relationships. At the end of the day, we're all human.
How has your previous employment experience aided your tenure at eBay?
My first job in my twenties was managing an older, male-dominated team at JL Morrison PVT, which definitely helped develop my initial leadership skills. After that, I worked at GE and later at Dell; and, through those various positions I learned the importance of being confident, persistent, and open-minded. My work experience, as well as my personal value for constant communication, helped me to work with a wide-variety of people.
What have the highlights and challenges been during your tenure at eBay?
A definite highlight has been the impact of technology on the automotive industry, and how it's transforming the industry. The automotive market hasn't been immune to change. In fact, we're embracing it.
We're taking key learnings from general consumer shopping habits – it needs to be personal! Today, the average consumer wants to buy a car or an auto part or accessory like they'd buy shoes or a handbag – prioritizing convenience, free shipping, warranties, easy returns, and peace of mind. eBay Motors is able to couple both new and used inventory of vehicles and parts and accessories, something that is rare in the auto industry; yet, it has allowed us to provide a curated experience for our customers based on their needs.
As for challenges, I'd say the biggest is trying to anticipate how technology will continue to evolve and shopping. Take vehicle shopping as an example, it's radically changed in recent years. The Tesla's of the world have re-defined a car showroom. Millennials are voicing the need for more Electric Vehicle (EV) options or preference for car sharing options.
Times have changed. In my youth, it was a cool luxury in Northern India to own and drive a car (to this day, I will always hold a place in my heart for the spacious Hindustan Ambassador that my Dad owned). Whereas today, consumers are often looking at vehicles as just a mode of transportation. This is an important factor that automotive marketplaces must take into consideration as the landscape continues to evolve.
What advice can you offer to women who want a career in your industry?
Working in e-commerce and technology, I encourage women to not only learn about the elements of the business, but learn about your customers and their specific needs.
Be open to listening and learning, follow industry players and maintain an external view.
For me, I'm passionate about customer experience, which is why I love engaging with our sellers so often. When I joined the eBay team, I hit the ground running and invested time in building relationships with the team to showcase my strengths. The team was very receptive to me "showing my cards," which empowered others to share theirs.
What is the most important lesson you've learned in your career to date?
Another pearl of wisdom I received from a previous manager was: "the moment you become a leader, it ceases to be about you." This phrase has guided me through many difficult days and challenges. Leadership is a lot like parenting, you put your needs behind those of your employees. This is extremely hard to live by daily, and sometimes you'll fail, but if you work at it every day and accomplish this the majority of the time, then you know you are on the right track.
How do you maintain a work/life balance?
Obviously, as a mother and wife, maintaining a work/life balance is a constant challenge. Personally, I find that clear communication and accepting outside support when needed is key both with my husband and my team. Asking for help can allow me to focus on the bigger picture, whether it be an upcoming campaign or an important soccer game. Of course, prioritization is also crucial.
Today, I'm happy to see more women are empowered to learn and work. I've noticed there's also more of a general understanding that women can excel at their career, while having a family. We no longer live in a world where women need to quit their jobs after having kids, or where fathers never participate in parenting and housework. Today, many families share child care responsibilities and work. This rings true in both my household and at eBay.
What do you think is the biggest issue for women in the workplace?
Women have made large strides in the auto and tech industries. For example, we've seen Marry Barra become the first female CEO at a major global automaker, General Motors. But there's still a lot of progress that needs to be made. I think retaining and attracting female talent and providing access to the proper networks and mentors is crucial in closing the gender gap.
Through my experience globally, including living and working in India, I know firsthand there are significant barriers facing women; such as access to capital, education, and technology, as well as deep rooted cultural views. Personally, my move to the U.S. was significant, coming from a culture where the norm for a woman abroad was usually marriage and not a career choice. I'm so proud of my journey, as it's gotten me to where I am today, at a leading company where every day I have the opportunity to engage with passionate people.
How has mentorship made a difference in your professional and personal life?
Mentorship, networking, and community have been crucial in my journey. As mentioned earlier, the guidance from my parents ensured me access to education, which had a significant impact in shaping who I am today. And as I've talked about, I've had several amazing managers and coworkers who have inspired me professionally, and helped me become a prominent leader at eBay.
Which other female leaders do you admire and why?
There are a large number of Women leaders in business, politics and life that are admirable. I am fascinated by female politicians & activists like Rosa Parks, Golda Meir, Indira Gandhi, Benazir Bhutto, Margaret Thatcher who contributed so much to the world in difficult times and when acceptance of women in leadership was low.
In today's business world, I admire Sheryl Sandberg. She has taken the conversation of women in leadership to a different level. For years, the progress has become stagnated and she has been instrumental in getting the world to acknowledge -  and hopefully change - the game. I love that she advocates being authentic and true to yourself and not having to be like a man to be successful. With the recent passing of her husband, she is also showing that it's ok to be human, vulnerable and open to relooking at her concepts in a new light. That is the mark of a true leader and I commend her for what she is doing.
What do you want eBay to accomplish in the next year?  
My focus at eBay right now is to offer consumers the best choices and most relevant options when shopping on eBay; and, to provide our sellers with the most powerful tools to be successful. As it relates to Motors, our team is focused on these goals and leveraging new technology to help develop and provide this personalized, trusted experience for both our buyers and sellers.
SUBSCRIBE TO & FOLLOW THE MORNING EMAIL
The Morning Email helps you start your workday with everything you need to know: breaking news, entertainment and a dash of fun. Learn more