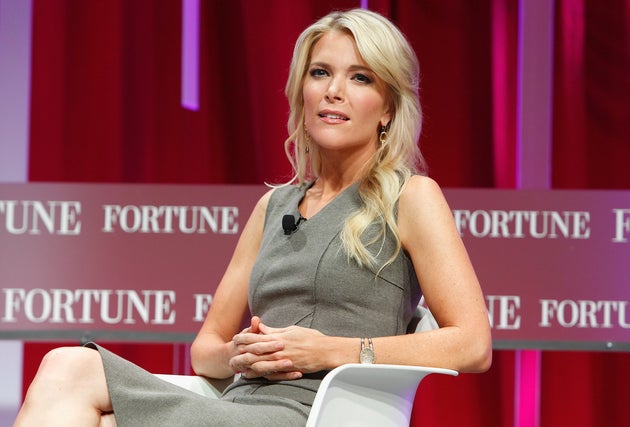 Paul Morigi via Getty Images
In the wake of Donald Trump's announcement that he would not participate in the Jan. 28 GOP debate because Megyn Kelly is moderating, Kelly has been subjected to a barrage of misogynistic abuse online.
It's disgusting and depressing, but not at all surprising, for two reasons: Because many people (read: trolls) feel empowered to talk to women online in a degrading, abusive way, and because Trump's campaign is built on misogyny. Trump has trolled Kelly since August, and now his supporters are following his lead.
A Vocativ analysis of 80,000 tweets directed at Kelly's Twitter handle over 24 hours found that the insults thrown her way were completely gendered. She was called a "bitch," a "dumb blonde," a "whore," a "bimbo," a "skank," a "hooker" and a "cunt."
It's hard to imagine a man receiving such personal, sexually charged ire. These words are reserved only for women.
On the morning of Jan. 28, Trump tweeted the below image of Kelly, quoting another Twitter user who called Kelly a bimbo. If Trump is going to call Kelly a bimbo -- and imply much worse -- why shouldn't his supporters?
The Internet, and Twitter specifically, is known for being a particularly unsupportive place for women to express their opinions. Abuse is frequent, and women who are in the public eye -- especially those who speak about women's issues or politics in general -- come to expect misogynist insults, death threats and rape threats. To make matters worse, companies and law enforcement institutions are ill-equipped to prevent or prosecute online abuse.
We see these realities playing out in Kelly's Twitter mentions, propped up by Trump's explicit attacks against her.
Despite Kelly's very-much conservative views, she has become a target of Trump's misogyny. (Perhaps for Trump, she represents the portion of the GOP base that has turned against him.) During a post-debate CNN interview in August that Kelly hosted, Trump surmised Kelly had "blood coming out of her wherever." (He later claimed he was referring to her nose.) He has also questioned her professional credibility, calling her a "lightweight" and "third-rate reporter," and has said explicitly that he does not respect her.
Trump claims to "cherish women" and has indeed hired women into positions of power over the years, but the truth is: He has always had a streak of misogyny in his public persona. He has commented on the importance of "a young and beautiful piece of ass"; he has called a breastfeeding woman "disgusting"; he has suggested that sexual assault is a natural byproduct of putting men and women together in the military.
His presidential campaign has also been littered by gender-based digs directed at Kelly and others. During an August GOP debate, he defended calling women "fat pigs," "dogs" and "disgusting animals" because he didn't "have time for total political correctness." He has suggested that people wouldn't vote for Carly Fiorina because of her face. He called Hillary Clinton's bathroom break "disgusting" and said she "got schlonged" in 2008.
If our next president can't respect a woman enough to let her do her job without behaving like a petulant child, how can we expect him to fight for the issues and policies that would improve the lives of women in this country at large?
The 2016 election has huge implications for American women. Calling Kelly a "bimbo" is just a symptom of a much larger -- and scarier -- problem. Because when misogyny is amplified at the highest levels of our political system, that misogyny is legitimized.
18 Real Things Donald Trump Has Said About Women
FOLLOW HUFFPOST