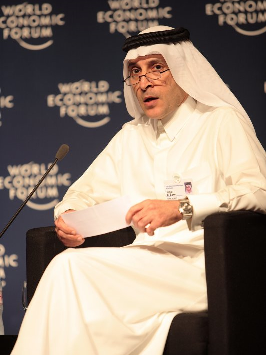 They call him His Excellency, but the CEO of Qatar Airways, Mr. Akbar Al Baker, seems anything but excellent. Three descriptors used this week were "misogynistic," "ageist," and "sexist," following a press conference in Dublin last week in which he called U.S. flight attendants "grandmothers," and U.S. airlines "crap," and boasted of the young ages of his own airline crew.
The outburst was just the latest in a series going back several years, which have included attacks on U.S. airline employees, as well as CEOs and other executives. These unseemly attacks seem to be part of Mr. Al Baker's response to charges that his airline and two others in the Gulf, Emirates and Etihad Airways, are violating the terms of the "Open Skies" agreements between the U.S. and both Qatar and the United Arab Emirates. Under the terms of these aviation trade deals, Gulf airlines enjoy unlimited, unrestricted access to the enormous U.S. market – the largest in the world.
The violation is clear: under Open Skies, carriers cannot be subsidized. U.S. airlines have proven that the government owners of these three airlines have given them more than $50 billion in cash subsidies and other unfair benefits since 2004. The Gulf carriers have in turn used these wheelbarrows of cash to expand rapidly, dumping seats in the U.S. and worldwide, without regard for passenger demand or profit – to them, those basics of business simply don't matter. They've succeeded in winning over customers with subsidized prices and subsidized amenities. Real airlines, owned by investors, can't do that. President Trump calls this sort of behavior trade cheating, and has vowed to stop it. For more detail on this issue, take a look at Delta Air Lines' compelling new, 15-minute video for employees, recently made public (there's also a 2-minute summary).
U.S. airline executives and trade unions were quick to condemn Mr. Al Baker's rhetoric. United CEO Oscar Munoz said, "At United, we stand with our world-class flight attendants and their colleagues across the industry. We cherish the contributions of all our employees, and we take great pride in the qualities they bring to our team: intelligence and integrity; experience and empathy; care for our customers and one another." Delta Air Lines Senior Vice President for In-Flight Service Allison Ausband remarked, "We won't let anyone demean our workforce with rude, misogynistic comments. We are proud of and honor the depth of diversity we have at Delta – and are grateful for it because it reflects the diversity of customers we serve around the globe." And American Airlines Vice President of Flight Service Jill Surdek said, "If you're like me, you found this incredibly offensive – it was both sexist and ageist at the same time. At American, our flight attendants are hired for their professionalism, dedication to safety, and commitment to our customers."
Mr. Al Baker's latest shriek comes a couple of weeks after airline finance experts were scratching their heads in disbelief about Qatar Airways' 2016-17 financial results. The carrier reported a "profit" of $540 million, after factoring in another government cash infusion of about the same amount, together with self-dealing and other accounting shenanigans that would violate U.S. and global accounting standards.
Although this trade dispute has mainly turned on the issue of illegal subsidies distorting competition, many fair-minded people, including this writer, abhor the cynical and inhumane labor practices of Qatar Airways, Etihad and Emirates. Their high quality/low cost business model not only depends on massive subsidy, but also on sourcing nearly all their labor from poor countries. As I wrote in 2015, the Gulf carriers' strategy for cabin crew and other staff is straightforward: hire young, attractive women from poor countries (90 percent of the workers at these airlines are migrants, far from home), give them a short, fixed-term contract, treat them badly, dismiss them easily, and then hire more. Given that the world is full of young woman keen to live a better life, indeed the promise of a glamorous life, this model is infinitely sustainable. In addition, trade unions are illegal in these countries, and workers have very little prospect of due process when a disagreement arises. So if you're a 21-year-old Thai woman working for Qatar Airways, you're likely to put up with almost anything.
Mr. Al Baker may be CEO of an airline, but I know personally what it's like to be a member of the cabin crew and inflight service: I've been flying for more than 50 years on over 130 airlines, in all classes of service, have been a flight attendant, and led American Airlines' food and beverage department. One thing I've learned from all that experience is that service quality and age are uncorrelated, despite popular perception and Mr. Al Baker's boasting about "his" (paternalistic, no?) cabin crew average age of 26 years.
Furthermore, experienced cabin crew can be a good thing. Take the celebrated case of U.S. Airways flight 1549, which two experienced pilots landed in the Hudson River on January 15, 2009 after losing power in both engines. The three flight attendants on board were 51, 57, and 58 years old, with an average of more than 30 years of flying service. When the plane landed in the water, they knew exactly how to evacuate the A320 safely, averting what could have been a tragedy. Although an extraordinary event, their skill was far from unique in our industry. And though we may take it for granted, safety is the ultimate metric of service quality.
This post is hosted on the Huffington Post's Contributor platform. Contributors control their own work and post freely to our site. If you need to flag this entry as abusive,
send us an email
.