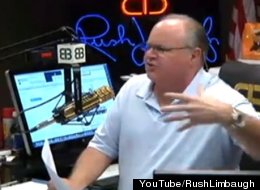 In Race-Baiter: How the Media Wields Dangerous Words to Divide a Nation, (Palgrave Macmillan, $28), I've outlined many different areas of media where prejudice and stereotypes are often used to draw audiences.
From the racial signaling favored by Fox News Channel and Andrew Breitbart to the struggle for fair representation in scripted TV series and so-called "reality TV" shows such as The Bachelor, too many corners of the ever-fragmenting media universe play to our worst instincts to get and keep our attention.

And one of the biggest stumbling blocks in our national conversation is deceptively simple: the words we use.

A single well-placed idea or thoughtless phrase can define the whole framework of debate, opening up new levels of conversation, or abruptly cutting it off. .
I still recall the day, while teaching a college course as an adjunct professor, when a female student informed me she wasn't a feminist. Turns out, she believed in virtually all of the ideals of feminism -- equal pay for women, freedom from over-sexualization in media, fair representation among elected officials -- but, as a fan of conservative talk radio star Rush Limbaugh, she had been turned off of the phrase by his criticism of it.
In wars of ideas, words are often the foot soldiers, paving the way to victory or defeat before the battle even begins.
Here's my list of the nine most dangerous words we use when talking about race, prejudice, politics and media -- and some suggestions for how we might redefine them to help dialog across race and defuse stereotypes.
Nine Dangerous Words When Talking About Race
A catch-all term that covers a number of government programs providing assistance to poor and needy people, the media has closely associated this word, in recent decades, with free handouts– frequently to black people. As I note in Race-Baiter, Martin Gilens, a professor at Princeton University, wrote a 1999 book on the subject, Why Americans Hate Welfare: Race, Media and the Politics of Antipoverty Policy. Gilens described how decades of poverty reporting, disproportionally focused on black people, convinced much of the public that "welfare" is shorthand for benefits given to African Americans who choose to live off the government. Understanding that some welfare programs, such as food stamps, are in fact used more by white people, can help decouple the racial implications from the word.

This is a goal often cited by those weary of racial strife: an America where racial divisions do not matter. But this concept is less comforting than unnerving to many people of color in America, who know they are often expected to subordinate their culture to a greater American ethos dominated by white culture. Critics also argue that the pursuit of a "colorblind society" can be used as a cover for institutional racism, dismantling Affirmative Action programs and other race-conscious initiatives without verifying if they are no longer needed. Much as we would like to believe America society offers and equal playing field for all races, the disproportionate levels of income, poverty, health and incarceration endured by non-white people strongly suggests otherwise.

Another well-meaning word which can cause trouble if misused. It suggests America can reach a point where racial preference, prejudice and discrimination no longer exist. In 2008, some even suggested the election of Barack Obama as the nation's first black president proved America had reached that point, though the backlash to his presidency, rooted in attempts to invalidate his success as a law student, organizer, political leader and even as a citizen, offers evidence to the contrary. As I note in the final chapter of my book Talking Across Difference, harmony is more likely to come from accepting and valuing differences in race and culture. The goal: to see racial differences not as a source of strife, but as a societal strength, instead of pretending race doesn't matter.

This is a hot topic, given the Supreme Court's recent attention to the matter in college admissions. But the phrase Affirmative Action has a broader meaning, referring to a range of techniques designed to increase ethnic diversity in employment, college admissions, and more. It's a mistake to equate "preferences" – strict quotas based on race – to Affirmative Action. Effective Affirmative Action programs often increase opportunity, as in the NFL's well-regarded "Rooney Rule" -- which requires a qualified person of color be interviewed whenever a top coaching or front office job is available, but includes no hiring requirement. Supporters argue the rule has brought important public attention to candidates of color, which has greatly benefited the league, without forcing an explicit quota.

In some circles, the word "diversity" is a pejorative – forever linked to allegedly unfair promotion of people of color over white people. But in today's culture, ideals of diversity stretch beyond race; as I note in my book's ninth chapter, "The Katrina Effect," the lack of poverty coverage in news media can create a false understanding of who actually is poor or why, which in turn affects public policy discussion. Class difference is often as big a problem in America as race difference, in part because race is so often used as a shorthand for class (many stereotypes about people of color, including laziness and stupidity, are also stereotypes about the poor.) The other subject many fear to consider is white privilege; the benefits which still accrue to white people, who can avoid institutional prejudice. Because white people are discouraged from seeing their culture as racially distinct from mainstream culture, many find it difficult to see white privilege and see little need to promote diversity.

Merriam-Webster's online dictionary defines this word as "an oversimplified opinion, prejudiced attitude, or uncritical judgment" of a group of people. The practiced eye will discover modern media is filled with these notions – from so-called "reality TV" shows centered on combative women of color and dysfunctional people from the South to political pundits making blanket statements about groups of people absent much proof. The mistake some people make in identifying prejudice is assuming the average person will always find such notions are always ugly and repellant. But many prejudices are attractive, because they simplify the world, offering others the chance feel superior. The primary challenge in deflating stereotypes is resisting those ideas we may find tempting ourselves.

The Free Dictionary defines this term as "one who is strongly partial to one's own group, religion, race, or politics and is intolerant of those who differ." Turns out, bigotry comes in lots of flavors, from homophobes who fear and hate homosexuals to segregationists who think different races should live separately, chauvinists who believe men are superior to women, or nativists who exalt their countrymen above all foreigners. Bigotry is the spark which justifies prejudices, stereotypes and racism. But, tempting as it is to expand the definition of bigotry, the word itself has become so toxic – virtually no one would admit to being a "bigot" today – that it should be used sparingly, in only the most extreme situations.

Another word which is frequently overused when discussing prejudice and stereotypes. Merriam-Webster calls racism "a belief that race is the primary determinant of human traits and capacities and that racial differences produce an inherent superiority of a particular race," but the fact is, there's lots of racially-insensitive behavior which doesn't fit that description. As I describe in my book's introduction, people who are not racist often fall prey to prejudices; in fact, thinking that people must be racist to act on prejudice is what makes it so difficult to root out such behavior. Better to save the r-word for the very worst examples of racial prejudice, so we all remember that anyone can make the mistake of acting on stereotypes or unfair assumptions.

Once used long ago to describe white people, especially politicians, who whipped up racial hatred for personal gain, this term has been twisted in modern times to criticize people of color who make groundless accusations of racism towards similar ends. And while some members of minority groups have doubtless been guilty of this, some critics delight in applying the terms "race-baiter" and "race card" to just about anyone who suggests that non-white people may still face prejudice or unequal treatment in America, denying white privilege yet again. The title of my book, Race-Baiter, comes from Fox News Channel star Bill O'Reilly, who gave me that designation in 2008, ostensibly because of my work with the National Association of Black Journalists in helping expose inaccurate and unfair news coverage of black people. Which only proves that sometimes, in the right circumstances, being called a race-baiter isn't such a bad thing, after all.
Follow Eric Deggans on Twitter: www.twitter.com/Deggans