Last week, ABC's "Good Morning America" ran a segment on teenage shapewear and "spankies," the mini versions of those suffocating, belly-flattening, imperfection-masking undergarments that adult women use under body-con dresses and the like.
According to the news, teens across America are using shapewear for the same reasons their moms do: to hide those so-called imperfections. Apart from the fact that this new trend is physically damaging to kids and can cause all kinds of problems from bladder infections to nerve damage, what is just as frightening is summed up in this comment from a teen: "You get the training bra and then you get the Spanx."
The idea that shapewear is increasingly seen as a necessity for girls is extremely disturbing. This suggests that young girls are internalizing the idea of a "perfect body" to such an extent that it's become a natural goal, i.e., when I grow up not only will I have breasts, but I will also have imperfections that need to be kept hidden.
I started wearing a training bra when I was three years old, not because I needed one or because I was self-conscious, but because I thought that bras were beautiful. I remember going to the department store with my mother and helping her pick out her bras, black ones, lacy ones, silky ones; they fascinated me.
I remember telling her that I wanted a bra and picking a sweet baby blue one that was lacy and too big for me. After all, I was only three years old. It was my camisole when I slept and I only really used it when I was five. I even wore it as a crop top (it was the 90s after all!).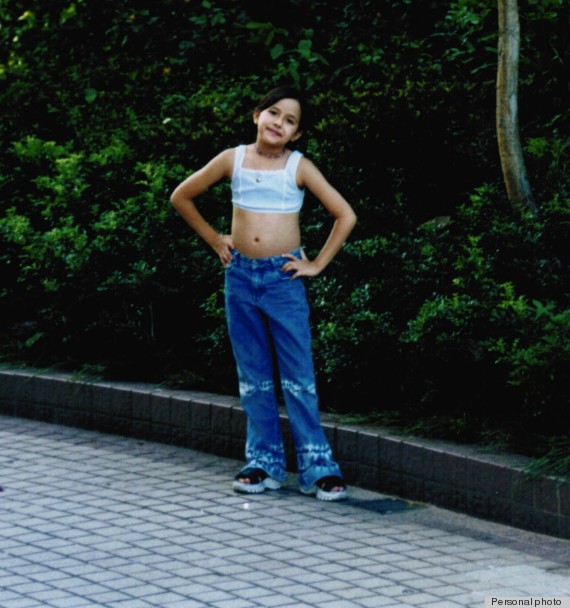 It's natural for little girls to want to copy their mothers, like that perennially cute image of the little girl in her mother's giant heels. My mom never forced me to wear a bra; I only wore it when I wanted to wear it. And like other little girls, I started wearing a real training bra when I was 11 or so.
The point is that I learned to see bras as articles of clothing that celebrate womanhood, but not as things that bound me to a particular image of what a woman should be. I don't think that being a woman means you have to wear a bra, but I do believe that bras are made for women (all kinds of women) and that's something to celebrate.
Most bras are made to support and add a certain level of comfort and security. Spanx are made to smooth out women's bodies and most women (at least the ones I know) utter a long sigh of relief once they go home and peel themselves out of them.
It's sad to see young girls thinking that they have to adhere to some kind of image of womanhood that is equivalent to perfection. I'm not saying that shapewear is bad. I'm saying that when girls think it is natural to wear shapewear (or bras for the matter) at such a young age, then childhood wonder turns into an internalization of what it means to be a woman, and that can be dangerous.See some of our team's childhood beauty secrets below, and add yours!
"This is me in a tracksuit."

"ATHLETE."

"Don't be afraid of a statement headpiece, whether you're practicing Thai dance or reading Frances the Badger books."

"1. Be a trendsetter... I was rocking all blue everything before Jay-Z wore all black everything. 2. Always match your barrettes with your background. 3. Never take a class picture without a manicure."

"You have little control over your parents mixing patterns when you are a child. Smile through it."

"Drive across the country for a month with just the dad and brother who couldn't give two sh**s about brushing hair or an outfit that works."

"I always wore pink!"

"Only strike a coy pose in pigtails and floral prints."

"Star Trek t-shirt and bright turquoise pajama pants."

"There's never a wrong time to wear a bucket hat."

"Learn the important Hollywood style standards nice and early..."

"You can dance...for inspiration!"

"A young Adam Goldberg, in awe of the world, wearing stylish overalls."

"Wearing furry boots in Brooklyn back when Williamsburg was a scary neighborhood."

Be memorable. "This is my dads favorite pic of me and it has hung above his work desk since it was taken."

"My must-have accessories? Scarf. Sunglasses. Done. Sadly, I had to sell the car when I moved to the city for rent money."

"Macramé sweater vests were a must."

"Southern California one piece black bathing suit style."

"Always buy a dress you can dance in ... and when in doubt go with the red (jelly) shoes."

"Always pair your bright red bandana with your bright purple fleece."

"Neon will NEVER go out of style."

"Always wear tiara. Never look at camera."

"Start your hat collection early, or you'll never have any hope of getting an invite to a royal wedding."

"#newenglandcasual"

"Nothing says patriotism like American flag Keds ... and nothing is more stylish than matching your shirt to your ottoman."

"A ruffle collar and Dorothy Hamill haircut was always a pageant favorite, especially in 1984."

"Same bangs. Same dress. Always."

"It was alllllll about the straight-across bangs."

It isn't a holiday dress without at least one petticoat, and there is no such thing as too poofy when it comes to sleeves. (Also, consider taking the wrapper off the chocolate before you try to eat it.)

Maintain family traditions. "This is a photo of myself around age two in a cowboy outfit (left) and my son, also around two years old, in the same outfit years later. He is 15 now."

"Acid-wash overalls, cat-print sweatshirt and neon accessories make a great combination. Ray gun and fierce expression optional."

"If I could rock a double-breasted suit and bow tie this well at one year old, then there's no reason for me to fear them at 25."

"Can't go wrong dressing up like the TMNT!"

"Peter Pan collars are always a good choice (as are cat pins, obviously)."

"Don't buy a dress unless it has a matching purse attached to it."

"It's OK to embrace your beer (or apple juice) belly."

"Add a belt to a shapeless dress to define your waist."

"White overalls are probably always a good decision. Also, this is definitely still how I feel about cotton candy."

"Nothing's changed from my Hall of Fame days."

"Stay consistant. This was back in my style phase of only wearing hugely oversized, sloganed T-shirts. That phase lasted for around 14 years. And that's my little brother, in classic understated black, napping on my shoulder."

"Always coordinate your hat to your outfit."

"What's a little drizzle? Not even rain could dampen my style."

"Cheese means 'Look up and smile. This could be shared with the Internet one day.'"

"It's always acceptable to spice up a floral romper with an oversized bow ... right?"

"Yee-haw!"

"Don't be afraid to mix bold patterns ... or carry wands around. Also, Converse high-tops are always a classic choice."

"Sportin' the winter vest and enjoying a Pabst Blue Ribbon with my twin brother and friend (who also enjoys winter vests)."

"Dressing up is always fun."

"When your outfit is bad, hide behind dad."

"The best way to sport a one-piece is by wearing a diaper underneath."

wredgranny814:Total feminine attitude!

wredgranny814:Off to the county Fair!

Cindy Pierson Carroll:Whoever said styles were cool in the fifties were WRONG!

im4it2:Can't beat two sisters...dressed to match and smile! Love my lil sister's watch...too much!

Joan Brizendine Wash:

Ruby Vasquez:Sitting in this chair is so fun! :)

"A lady never leaves home without a hat."

"Work it! Own it! And as for some practical advice....My mother always told me: 'Pretty is as pretty does!'"

"Know how to relax: Wear a robe, drink a Michelob (not really [OK, maybe])."

"Vogue."

"It's all about getting creative with your accessories."

"Dress to impress the ladies."

"I have since grown my hair out."

"Does the crocheted dress date me? Seriously, my mom actually did this herself."

"Live vicariously through Maverick in 'Top Gun.' Forever."

"Eating junk food with your sister is not setting a good example. Even with paper hats."

"You can wear white after Labor Day. Head to toe, in fact."

"One should always match their ensemble to their accessories. Like a stuffed rabbit named Bun-Bun."

"A smurf costume is so much better than a trashy nurse/cop/fill in the blank for Halloween."

"Studs are always in fashion."

"It's not a party dress unless there are poofy sleeves."

"Blunt bangs work on every face shape!"

"If you find yourself with a bowl haircut, there's no use crying about it! Rock it with floral dresses, pink bows and white tights. And when you're in doubt, a mother is always the best accessory."

"Some of the most powerful women in the world wear scrunchies, trust me."

"A flower garland is a festive touch!"

"A leotard makes for a great top."

"Never be afraid to mix prints."
Follow Erica Cheung on Twitter: www.twitter.com/nakedartichokes