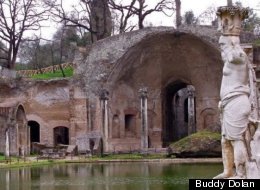 Long ago, in the latter part of the last century, my childhood games revolved around an imaginary playground of pyramids, gangs of cats and wide, empty fields with broken columns. I called it Rome, an amalgamation of left-over memories from our summer visits when my parents would let us run free across any ancient monument.
It was the 1970s and even as preschoolers we could do whatever we wanted, a kind of free-to-be-you-and-me vacation of no shoes, no locks, no gates. We played on the upper tiers of the Colosseum for hours chasing cats and the Forum was our shortcut through the city.
During one of the weeks of unadulterated freedom, my zio took us to to the largest farm I had ever seen in a town outside of Rome, where we picked olives straight from the tree and washed our feet in a pond. It wasn't until 25 years later when on a visit to Tivoli that I realized he had taken us to Villa Adriana (Hadrian's Villa), an amazing second-century AD imperial villa on over 250 acres of beautiful Laziale terrain.
Like many ancient sites in and around Rome, Villa Adriana is a hidden oasis of villas, theatres, domes, fountains, ponds and statuary, lost in the surrounding city of Tivoli, thanks to urban construction and confused street signage. In 1999, it became a UNESCO World Heritage site, and a few years later its neighbor Villa d'Este, Renaissance palace and gardens of busy fountains accompanied Villa Adriana on the World Heritage List.
In the years that I have lived in Rome, just 45 minutes from Tivoli, I've refreshed my memory several times by exploring Villa Adriana and Tivoli to find world-class travertine quarries, a Republican-age bridge Ponte Lucano, a temple to Hercules, chilly cascades and my very favorite restaurant in the Province of Rome, among its many other cultural sites. And of course I did what I never thought I'd intentionally do. I've attempted to repeat history and recreate my bucolic childhood walk through Villa Adriana with my daughter. Though her toddler patience has never gotten us far beyond the front entrance, she considers that grassy hill her personal playground.
But she may only get that far. In the upcoming days, the Italian government will decide whether or not Villa Adriana will have a new neighbor, a 21st-century landfill less than one mile away. Yep, 400 acres of garbage dump next to Villa Adriana and around the corner from Tivoli proper. I've been to there, now the question is "Will you get to go?"
Photos by Buddy Dolan/American Insitute for Roman Culture
Postards from Villa Adriana
Pull back the branches: the postcard perfect view of the Imperial residence at Hadrian's villa in Tivoli. It's almost impossible to find an unattractive spot for a photo, painting or walk.

The rolling Appenine hills are a beautiful backdrop for the "Philosopher's Hall" and "Maritime Theater."

Palazzo Maritima, Hadrian's private villa within the imperial villa.

The Greek theatre is surrounded by olive, cypress and pine trees. It is no wonder that Hadrian chose this location as setting for his imperial villa.

The domed Serapeum is an outdoor dining area at the end of the "Canopus," an ornamental fountain designed to recall the canals of Alexandria, Egypt.
Follow Erica Firpo on Twitter: www.twitter.com/moscerina