As a kid growing up on the south side of Chicago, one of my greatest memories was getting a chance to see Michael Jordan play for the Chicago Bulls.
As a little girl, I dreamed of being a Luvabull the same way most young men dream of being a Bull. Sadly, my aspirations of dancing on the United Center floor did not happen for me. But for one young kid from Hyde Park, his dream to play for the Chicago Bulls became a reality.
His name is Nazr Mohammed. Not only is he living his dream, he is creating ways for other young people in Chicago to reach their full potential by creating the Nazr Mohammed Foundation.
On Friday, August 9, 2013, Nazr Mohammed, will host the Nazr Foundation's 2nd Annual Fundraiser for charity at Pazzo's, 311 S. Wacker Drive, at 7PM.
The Nazr Mohammed Foundation's Fundraiser for charity is the organization's second event. Last year, Kenwood Academy was the sole beneficiary of the funds raised, while this year's event will benefit multiple charitable organizations and projects.
The event will feature an open bar -- hosted by various sponsors including St. Claire Green Tea Vodka and Courvoisier, raffle, music, and dancing. 100% of the proceeds will be donated to various Chicago-based, charitable organizations, and the raffle proceeds will benefit Mohammed's Alma Mater, Kenwood Academy.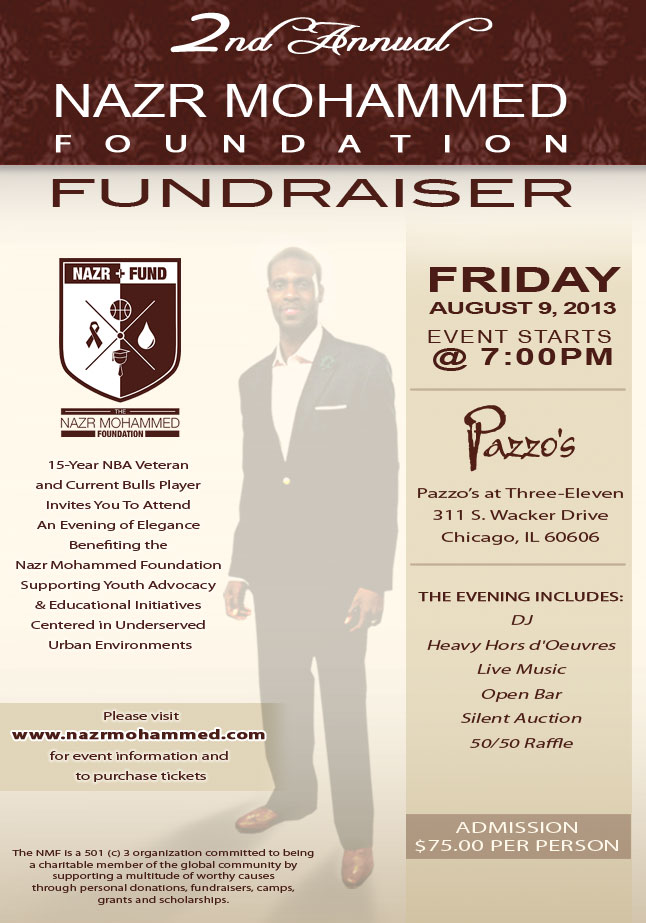 Chicago native and 16-year NBA veteran Mohammed re-signed to play back-up center with the NBA's Chicago Bulls on July 11, 2013. He was a member of the 2005 NBA World Champion San Antonio Spurs, and has also played with the Philadelphia 76er's, Atlanta Hawks, New York Knicks, Detroit Pistons, Charlotte Bobcats, and the Oklahoma City Thunder.
Mohammed developed his talent at Kenwood Academy in Chicago's Hyde Park neighborhood, where he graduated in 1995. He went on to play on the University of Kentucky's 1996 and 1998 championship teams before becoming a first-round draft pick in 1998.
"I'm happy to return to the Bulls, the city that raised me, and play in front of family, friends, and the great fans that supported me all season long. It is also my pleasure to give back philanthropically to this great city," said Mohammed.
One such project that will benefit was created by, and will be hosted by, the Nazr Mohammed Foundation. The project is a weekend academy designed to bring a diverse group of youth in the Chicagoland area together in order to explore and discuss a variety of topics relevant in their daily lives.
Youth who are selected to participate in the project's inaugural weekend will participate in a variety of workshops and seminars, as well as be a part of a town hall meeting and be exposed to a variety of presenters and inspirational speakers. Each workshop will be designed with the goal of challenging the youth to be the best they can be.
The Nazr Mohammed Foundation is committed to being a charitable member of the global community by supporting a multitude of worthy causes through personal donations, fundraisers, camps, grants, and scholarships. More information about the foundation and fundraiser can be found at www.NazrMohammed.com.
Tickets to the Nazr Mohammed Foundation's 2nd Annual Fundraiser for charity can be purchased at NazrMohammed.com.