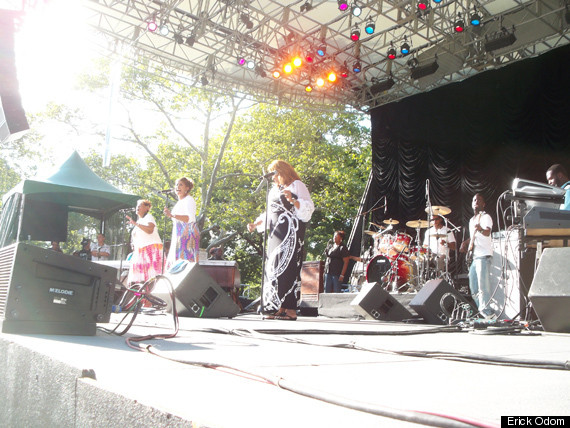 On Saturday, Central Park's free SummerStage concert series continued with an afternoon (into evening) gospel concert presented by MasterCard. This evening's concert was hosted my Liz Black from WLIB 1190 Praise & Inspiration radio station, featured popular DJ Dee Wiz and starred some of today's most popular gospel singers.
First to perform was Dr. Juanita Bynum, the self-proclaimed "prophetess" from Norcross, GA. Bynum, who has performed around the world, did more preaching than she did singing and the crowd felt every moment of it. Between breaths and pauses in the songs Bynum asked the crowd to praise the lord and to turn to one another and proclaim how blessed they were. The crowd obliged her every appeal and, with arms stretched, one would think they were at a televangelist special and not in Central Park.
Bynum sang three extended sets of some of her most popular songs and talked about how much the lord has blessed her over the past few years. Many in the audience knew that Bynum was referring to her rocky divorce from televangelist Thomas Weeks III in 2008, after Weeks beat her and later plead guilty to aggravated assault. Her story of perseverance brought both herself and some in the crowd to tears.
Next on stage was Kierra "KiKi" Sheard a well known gospel singer in her own right, but also the daughter of Karen Clark Sheard, a member of the evening's headlining group. Sheard (who, if you blinked, looked very much like an early Jennifer Hudson this evening) sang a longer set than Bynum but still managed to preach the word of the lord between her songs. Once again, you could hear punctuations of "yes" and "praise Jesus" throughout each song and the crowd yelled "KiKi!" every time she turned around.
Headlining the concert was the legendary, Grammy award winning gospel group The
Clark Sisters (lbernita "Twinkie" Clark-Terrell, Jacky Clark Chisholm, Dorinda Clark-Cole, and Karen Clark Sheard), with whom Kierra sang backup. Due to microphone problems, The Sisters got off to a rocky start. But, after taking a brief pause, they restarted their song and for the crowd it was almost as if they did not miss a beat. Karen Sheard used the opportunity as an example to say, "Even though the devil may throw obstacles in your way, you can still overcome," and they asked God to bless the sound guys and everyone there that night.
The ladies used the evening to encourage the audience to "remain positive" and to "stay blessed" in the crazy times we're living in. This message, which is the same in various churches around the country, appealed to the crowd as they continually turned around to talk to complete strangers around them. Chisholm even told the crowd that, "after tonight, many of you may not even go to church tomorrow because you've already got the [Lord's] word this weekend." The crowd assured them through their "no's" and "we'll be there" that they couldn't get enough and that they would be in attendance at church on Sunday.
Between sets Black kept the audience informed on upcoming events sponsored by WLIB, and DJ Dee Wiz played popular inspirational/spiritual songs by contemporary gospel artists like Yolanda Adams, Kirk Franklin, and CeCe Winans. SummerStage assistants handed out church style fans with upcoming tour dates printed on the to keep the audience cool and to further the gospel mood.
For the entire concert, the sense of community and togetherness permeated the crowd.
However, just like many churches across America, the afternoon wasn't without its share of church gossip. Many noticed that the promotional gift bags being handed out to the crowd were for Tina Knowles' (mother of Beyoncé) new Wal-Mart clothing line, coming out in October. It has been rumored that Bynum, who recently signed with Matthew Knowles' (father of Beyoncé) recording label, started dating Mr. Knowles a few months after Tina and Matthew divorced.
I Surrender All - a cappella version
Soul Cry
Can I Change My Mind
Why Me?
Love Like Crazy
Take Me
You Don't Know
Praise Him Now
Created to Worship You
No One Else can Touch my Heart Like You Do
Livin'
Something New
I've Got an Angel
Blessed and Highly Favored
Hallelujah (Praise the Lord)
Testimonial Melody
I'm Looking for a Miracle
Is my Living in Vain?
I Survive
SUBSCRIBE AND FOLLOW
Get top stories and blog posts emailed to me each day. Newsletters may offer personalized content or advertisements.
Learn more