On Meeting Stan Lee in 1975
I met the man once, in 1975, when he was promoting Sons of Origins of Marvel Comics, and my father, a journalist for The Minneapolis Tribune, interviewed him for what was then called the "Variety" section of the paper. The interview took place at a fancy restaurant in downtown Minneapolis and my brother and I, teenaged comic-collecting geeks, were allowed to leave school early to attend the back-end of it.
I think I was disappointed when I first saw him. He wore dark glasses in a dark restaurant and he had a moustache and a loud, brash manner. He seemed like a villain on a cop show. Not sure what I thought he'd look like. Reed Richards? Peter Parker? Me?
When staff photographer Mike Zerby started taking pictures, Lee immediately struck heroic poses, flexing the muscles beneath his courderoy jacket. I was embarrassed. I was a seventh grader so I was embarrassed by the breeze, and I was a Minnesotan so I thought circumspection was the norm. You scored a touchdown, you didn't spike the ball; you hit a homerun, you jogged the bases with your head down. You ran for president, you didn't win. That's how we did things in Minnesota.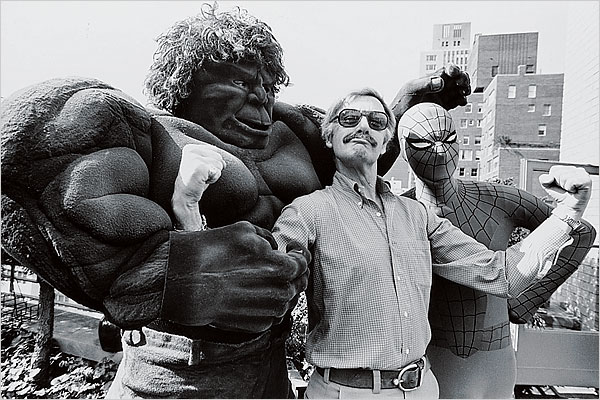 But Stan Lee turned out to be about the nicest famous person I've ever met. First, he let us sit in on the interview. Then when the interview was over, he didn't turn off. I don't know if he has an "off." He invited us over and brought us out. He drew a cartoonish Captain America holding a banner up to his nose -- like Kilroy -- and on the banner he wrote: "To Chris and Erik. Excelsior! Stan & Cap." Below, he added, in that great mix of irony and braggadaccio he had: "Another practically priceless Stan Lee original!"
He signed our books. He gave us nicknames in the Mighty Marvel Manner. "To Charismatic Chris," he wrote in my brother's Sons of Origins of Marvel Comics. "To Erudite Erik" he wrote in my copy of The Origins of Marvel Comics. The first thing I did when I got home was look up "erudite" in the dictionary. I wasn't disappointed.
I stopped collecting comics in the late '70s and I don't know what happened to my autographed Origins of Marvel Comics, but I still have that Captain America drawing.
My father's article on Stan Lee, by the way, wound up on the back page of the "Variety" section, where they put the unimportant stuff. That's how comics were viewed back then. Now, although actual sales are way down, the influence of comics is everywhere and Stan Lee's at the White House. Here's hoping he flexed his muscles.
SUBSCRIBE TO & FOLLOW ENTERTAINMENT
HuffPost Entertainment is your one-stop shop for celebrity news, hilarious late-night bits, industry and awards coverage and more — sent right to your inbox six days a week. Learn more