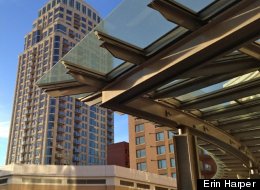 Utah's capital city is one of the last places where I would expect to run into America's favorite imaginary girlfriend crew -- at least until I attended the grand opening of City Creek Center, one of the nation's largest mixed-use downtown redevelopment projects, located in downtown Salt Lake City.
City Creek's retractable glass roof, pedestrian sky bridge, 18-foot waterfalls and specialty retailers create a unique urban-chic atmosphere for shoppers who can appreciate Salt Lake City's stunning natural landscape as much as New York's fashion week. And although Carrie Bradshaw and her fashionable counterparts were not by my side at the 700,000-square foot shopping center's inaugural gala and ribbon cutting, they would have certainly blended in with ease.
Complete with a Nordstrom flagship store and luxury jewelers Rolex and Tiffany & Co., the shopping center will eventually house 100 stores, 92 of which were open for business during the grand opening. Anthropologie, the whimsical women's clothing, accessories and home décor retailer, is scheduled to open this fall.
Before the 2002 Winter Olympic games, it was almost impossible to walk past a Main Street storefront that was not boarded-up. Today, thanks to City Creek and other Downtown Rising redevelopment initiatives, there are no boards in sight.
During the shopping center's ribbon cutting ceremony on Thursday, Utah Governor Gary Herbert said that he believes the development will help to transform and revitalize the "already vibrant city." Whether visiting Salt Lake for leisure or business, tourists can look to City Creek Center for a refreshing urban shopping experience unlike any other.
City Creek Center's Charity Gala and Grand Opening
City Creek Center, Salt Lake City's new mixed-use development, is a sustainably designed, urban community of residences, offices and retail stores spanning 23 acres.

City Creek Center's modern architecture, complete with a retractable glass roof, provides a unique shopping experience.

One-third of City Creek's retailers are unique to the center. Most of the retailers offer upper-moderate and better price points.

One of two 18-foot waterfalls inside City Creek Center.

The City Creek Center gala, held in celebration of the grand opening, raised $100,000 for local charities.

The Cheesecake Factory surprised gala attendees with complimentary slices of dulce de leche and red velvet cheesecake.

Ryan Innes, singer and songwriter, performs live as City Creek's first guests experience the center.

Hors d'oeuvres were served to customers while they shopped during Wednesday's sneak peek.

Papyrus pampered guests with delicious cupcakes from South Jordan's One Sweet Slice Custom Cake and Cupcake Shoppe.

Performance artists help to set the festive mood during Wednesday's sneak peek.

A cellist graces shoppers with classical sounds as they walked the pedestrian bridge during the grand opening gala.