Since coming in second (to his brother!) on season six of Top Chef in 2009, Bryan Voltaggio has been an honorary D.C. favorite son as he built a restaurant empire in so-close-yet-so-far Frederick, Md. Frederick Magazine named his flagship restaurant Volt the city's best overall dining spot, and he later opened more affordable options Lunchbox and Family Meal nearby.
Now the James Beard Award finalist finally expands south to D.C.'s Friendship Heights, where Range opened this week in Chevy Chase Pavilion. Its extensive, seasonally-inspired menu includes local meat and produce, hand-crafted cocktails, a raw bar (sourced from the Chesapeake Bay), charcuterie platters and an old-fashioned candy counter.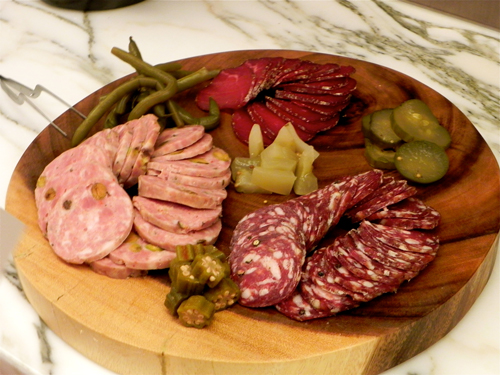 The cocktail list has fun unique drinks with you-have-to-try-this names. Check out Vegan Sacrifice (scotch, ginger, cayenne, beef ice), Mother-in-Law (bourbon, maraschino, bitters, curacao) and I'll Have A Chocolate Martini (cynar, almond, brandy, lime). Homemade sodas, already a standard feature at several D.C. bars, also make an appearance at Range in flavors like ginger beer, mango and cranberry.

A onetime protégé of steak great Charlie Palmer, Voltaggio embraces local meats at Range, bringing in lamb from Border Springs Farm and cows from Roseda Black Angus Farm to butcher whole on-site. Carnivores can chow down on veal heart, leg of lamb and a 36-day aged bone-in New York strip steak.
There's plenty for vegetarians, too. The primarily mid-Atlantic American menu take an eastern turn with savory kimchi linguini with scallops, then veers to Italy with a selection of pizzas and flatbreads. The most interesting side dish may be "everything" mashed potatoes -- take the essential elements of an everything bagel and mix them into mashed potatoes. If you're going to bulk up for winter hibernation, this is the dish to do it with.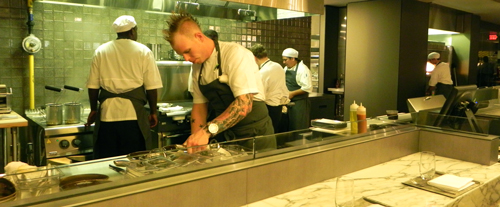 As more than one-third of D.C. residents don't own a car, trekking to Frederick to try Voltaggio's other restaurants can be somewhat of a challenge. Metro-accessible Range is a welcome addition to the city -- and Washingtonians aren't the only ones celebrating Voltaggio's expansion:
This is what we are toasting the opening of @volt_range to, thanks to @pigsispigs twitter.com/BryanVoltaggio...

— Bryan Voltaggio (@BryanVoltaggio) December 19, 2012