It appears family values beauty queen Carrie Prejean has been churning out sex tapes the way Krispy Kreme churns out honey glazed doughnuts. We are shocked, shocked we tell you. But that's only the beginning of the shocking news eSarcasm has uncovered.
Through a spokesperson*, Ms. Prejean said she deeply regrets making sex tapes two, three, six and seven, but really enjoyed nos. one, four and five, and was too blasted to remember much about sex tape number eight.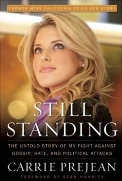 However, the spokesperson denied rumors that Ms. Prejean's new book, Still Standing, is being repackaged by her publishers as Still Laying on My Back Playing With My Hootchie.
No, I don't think there's anything wrong with getting breast implants as a Christian. I think it's a personal decision. I don't see anywhere in the Bible where it says you shouldn't get breast implants.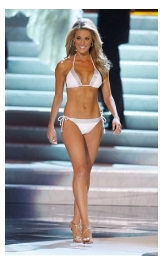 Ms. Prejean failed to add that though the Bible warns against succumbing to the curse of Onan and spilling one's seed upon the earth, the Good Book does not specifically prohibit pleasuring oneself with 9-inch vibrating dildo named "Mandingo."
*Which may have just been JR doing a fake accent
For more Geek Humor Gone Wild, please visit eSarcasm. There's at least a 72 percent chance you'll be glad you did.
SUBSCRIBE AND FOLLOW
Get top stories and blog posts emailed to me each day. Newsletters may offer personalized content or advertisements.
Learn more