"We've been building our business model on China's government strategy for years," Phil Schiller, Apple's senior vice president of worldwide product marketing, told reporters at a media event this week. "From secrecy to dissemination of misleading information and strong-handed control, the Chinese Communist Party has always been a real inspiration to us."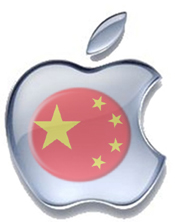 Most recently, Schiller says, Apple has structured its process of restricting content in its iPhone App Store on China's own censorship model: It makes rulings in order to protect its regime, then pretends the decisions are designed to benefit users.
"The strategy may seem obvious to everyone, but we never would've believed it'd actually work had it not been for China's shining example," Schiller noted.
As part of its deal to offer the iPhone in China, Apple will work closely with developers to create several custom apps for the country. Among the programs being planned:
iLove the Government: A mandatory app that runs semihourly, whether you activate it or not. Based on Apple's "iLove Steve Jobs" app, which will be built into the upcoming Snow Leopard release.
Guided Safari: A specialized version of the Safari browser that makes sure you don't encounter any objectionable content (or download any Guns N' Roses songs).
Tank 2.0: Based on the classic arcade game, this app lets you navigate tanks inside a virtual Tiananmen Square, literally squashing anyone that gets in your way.
Cultural Twitterlution: Innovative Twitter add-on encourages dissidents to express their anger at repressive government policies in 140 characters or less, after which they'll be assigned to re-education camps for 140 years or less.
Secret Police: App infiltrates proxy servers to identify anonymous online dissidents; also seeks out and deletes any apps using Google Voice.
The Little White Book: Inspirational work mixes wisdom from Chairman Mao with new aphorisms from Chairman Steve, such as "Only running dog imperialists use Windows" and "Power comes at the end of a user license agreement."
iMade This iPhone: Available for all surviving factory workers to express their

anguish

pride.
The Apple-controlled iPhone is expected to debut on the state-controlled China Unicom in the fourth quarter of this year.
For more Geek Humor Gone Wild, visit eSarcasm. You'll be glad you did.