Today, Wednesday, October 28, you can watch the education discussion on Breakthrough Learning in a Digital Age LIVE from speakers in privotal sectors. Join in by clicking on this link. All times listed are Pacific Daylight Times so make adjustments according to your time zone.
You can also participate with Google Moderator by sending in questions for the speakers.
Opening Remarks: Constance M. Yowell, Director of Education, MacArthur Foundation

8:45 am
Session I. The Next Revolution in Learning: How Digital Culture is Shaping Where and How Children Learn
Moderated by Brad Stone, New York Times
Gary E. Knell, President and CEO, Sesame Workshop
Mizuko Ito, Research Scientist, University of California, Irvine
James Steyer, CEO and Founder, Common Sense Media
Reed Hastings, CEO, Netflix
9:45 am
Session II. Literacy 2.0: Creative Strategies to Prepare 21st Century Learners Presentations
Moderated by Lisa Guernsey, Director, Early Education Initiative, New America Foundation
Nichole Pinkard, Program Founder, Director of Innovation, Urban Education Institute, University of Chicago
Benjamin Bederson, Associate Professor Computer Science, Institute of
Advanced Computer Studies and iSchool, University of Maryland and
Allison Druin, Director of the Human-Computer Interaction Lab and
Associate Professor, University of Maryland's College of Information Studies
Karen Cator, Director, Education Leadership and Advocacy, Apple
Marissa Mayer, Vice President, Search Products & User Experience, and
Daniel Russell, Research Scientist, Google
11:00 am
Session III. New Learning Designs: Scaling Innovation to Reverse the Dropout Crisis
Moderated by John Merrow, Education
Correspondent, NewsHour with Jim Lehrer
Jason Levy, Principal, New York City Intermediate School 339
Larry Rosenstock, Founder, High Tech High School Network
Katie Salen, Executive Director, Institute of Play, Professor of Design and
Technology, and Director of the Center for Transformative Media, Parsons the
New School for Design
Rey Ramsey, CEO, One Economy Corporation
12:15 pm
Fireside Chat: A discussion between Sergey Brin, Co-founder & President, Technology, Google and James Bennet, Editor-in-Chief, The Atlantic


1:30 pm
Session IV: Teachers for a Digital Age: New Strategies to Transform Practice
Moderated by John Merrow, Education Correspondent, NewsHour with Jim Lehrer
Anthony S. Bryk, President, Carnegie Foundation for the Advancement of Teaching
Elyse Eidman-Aadahl, Director, National Programs & Site Development, National Writing Project
Marshall (Mike) S. Smith, Senior Counselor, U.S. Department of Education
Ellen Moir, Executive Director, New Teacher Center
Esther Wojcicki, Chair of the Board, Creative Commons and Journalism/ English Teacher, Palo Alto High School
2:45 pm Closing Panel: Breakthrough Ideas to Drive Student Success: Action Steps for the Nation Moderated by James Bennet, Editor-in-Chief, The Atlantic Blair Levin, Executive Director of the Omnibus Broadband Initiative at the FCC Jim Shelton, Assistant Deputy Secretary, Innovation & Improvement, U.S. Department of Education Panel from the pivotal sectors Barbara Chow, Education Program Director, Hewlett Foundation Susan Gendron, Comissioner, Maine Department of Education Elliot Schrage, Vice President of Global Communications, Marketing and Public Policy, Facebook Kathy Hurley, Senior Vice President, Pearson K-12 Solutions and the Pearson Foundation, and Chair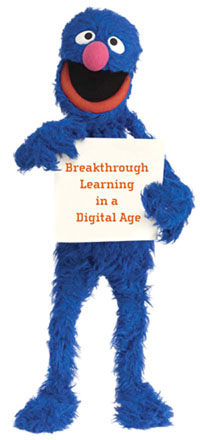 SUBSCRIBE AND FOLLOW
Get top stories and blog posts emailed to me each day. Newsletters may offer personalized content or advertisements.
Learn more