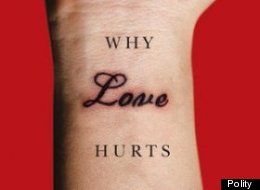 In Why Love Hurts, my aim is to do for love what Marx did for commodities: to show that it is shaped and produced by concrete social relations; to show that love circulates in a marketplace of unequal competing actors; and to argue that some people - principally men - command greater capacity to define the terms in which they are loved than others.

Below this top-level ambition, I explore the ways in which we experience love and its pains - how our sense of self is increasingly bound up with, even constituted by it; how the possibility of infinite choice makes choosing and committing more, not less difficult; and how irony has become a self-protective layer, the mode par excellence of knowingly expressing modern love and insulating oneself from disappointments.

In the book, I use evidence from great classics of nineteenth-century fiction - Jane Austen in particular - to help measure the distance we have travelled from pre-modern modes of loving. And, equally tellingly, I make use of the frank admissions of contemporary interview subjects to shed light on love as it is experienced today.
In Jane Austen's world, affairs of the heart did not belong to an independent realm, impervious to reason and morality: they were tightly entwined with both. Love, as Austen says in Emma, grew out of "attachment and habit." It was not a rupture in the pattern of existence, but something which developed over time, through familiarity with each other's families and daily lives. Emotional life was subordinate to the public, moral dimension, which is why Jane Austen's heroines strike us as not only uncannily self-possessed, but also strangely detached from the need to be "validated" by their suitors.

It's easy to laugh at the courtship manuals from the turn of the last century: they fret over such questions as whether a man should offer an unknown lady an umbrella and how a woman should ride a bicycle elegantly. A hundred years later, self-help books on dating are vastly different: the center of gravity is now firmly on our sense of self - how to win recognition and how to avoid insecurity. Our sense of self-worth is much more bound up with our romantic lives (and so much more fragile) than it was for our ancestors with their umbrellas and bicycles...

Irony has become the dominant cultural experience of our time. Unsurprisingly, it's the mode in which we discuss love. But irony is corrosive: it can't take seriously the belief which is central to love, its self-proclaimed claim to full belief and commitment. We've rationalized those qualities away by stressing love's biological, psychological, economic limits. German Romantic philosopher Schlegel saw this coming two centuries ago when he wrote of irony arising from "the feeling of finitude and one's own limitation and the apparent contradiction of these feelings with the concept of infinity inherent in all true love."

The Internet offers us a limitless choice of potential partners. So where's the catch? First, the more options we have, the harder the process of sifting, evaluating and deciding – we suffer information overload. Online, we make endless comparisons. In a word, we get picky. Instead of the holistic, intuitive assessment we make when we meet someone face to face, we break their profile down into a collection of attributes to be scored. The Internet makes us unwilling to settle for "good enough," because we forever hope that "best" is just a few more clicks away.

In the nineteenth century, male suitors were unafraid to express their masculinity through emotional dependability: their ability to make and keep promises. Modern men are able to – and therefore more likely to – withhold their feelings than demonstrate them. A psychologist told me: "Women want more love, more emotions, more sex, more commitment and men evade all of them. Men even want less sex, by which I mean they want a less demanding form of sex." This imbalance puts men in a position of power in which they can exert emotional domination.

Freudian culture tells us that our romantic misery is largely self-inflicted, the result of our flawed or damaged psyches. The self-help industry thrives on the notion that in our private emotional histories we can find both causes and cures for our unhappiness in love. But as Karl Marx said: "Human beings make their history themselves, but they do not do so voluntarily." What is wrong with contemporary relationships is not to be found in our dysfunctional childhoods and damaged psyches, but in the social and cultural tensions and contradictions that shape our modern identities. And at the heart of this is a fundamental inequality between the sexes: romantic love not only hides class and sex discrimination – it makes it possible.

Consumerist, capitalist societies invite us to make choices all the time. Our romantic lives are no exception. Choosing a partner before the twentieth century was tightly circumscribed by social rules: "character" counted, a moral category on which your family and entire social circle had a view. We now seek different qualities, prime among them emotional intimacy, psychological compatibility and – especially – sexiness. That is not to say that erotic attraction is not as old as time, but what's new in modernity is its explicit, pervasive and legitimate presence as a criterion for selecting a partner.

In the nineteenth century, beauty was only relevant to the extent that it reflected character. It certainly didn't contain any reference to sex or sexuality. The Victorians viewed cosmetics with suspicion because they were seen as an illegitimate substitute for "real" inner moral beauty. In the early twentieth century, however, perfumes, make-up, powders and cosmetics flooded onto the market. Advertisers successfully decoupled beauty from character: cosmetics, femininity, consumption and eroticism were all stirred together in a heady new brew.