When it comes to applying makeup, every woman is unique in her needs. In this series, Eve Pearl shares her Before and After makeover images, highlighting the individual considerations of Women of Color.
PHOTOS HAVE NOT BEEN RETOUCHED
With Letha, we want the focus to be on her flawless skin and beautiful features and not the discoloration that bothers her. Eve starts by applying a Priming Moisturizer with Astaxanthin.
Note: Astaxanthin is a key ingredient when it comes to skin care. It is a powerful anti-oxidant 500 times stronger than vitamin E, packed with Omega 3 and a natural sunscreen equivalent to SPF 20 without any chemicals. It also has anti-inflammatory properties to soothe, treat and protect against sun damage as it hydrates.
Using a Foundation brush and her Reverse Contouring method, Eve blends the foundation using her damp sponge. She then applies Salmon Concealer using a concealer brush on the areas that need extra coverage or have bluish undertones; under the eyes and around the mouth. Eve gently blends the concealer into the foundation using the damp sponge in a dabbing motion.
Eve sets the foundation using a Dual Pressed Powder with a Powder Puff, rolling it gently on the skin. To finish off the look, she applied a Blush Trio with a combination of peachy, pinky and brozer colors to the apples of Letha's cheeks using a Fan brush. The result gives us a flawless finish and the only thing you notice is Letha and her lovely features!
Karla Hirkaler for EVE PEARL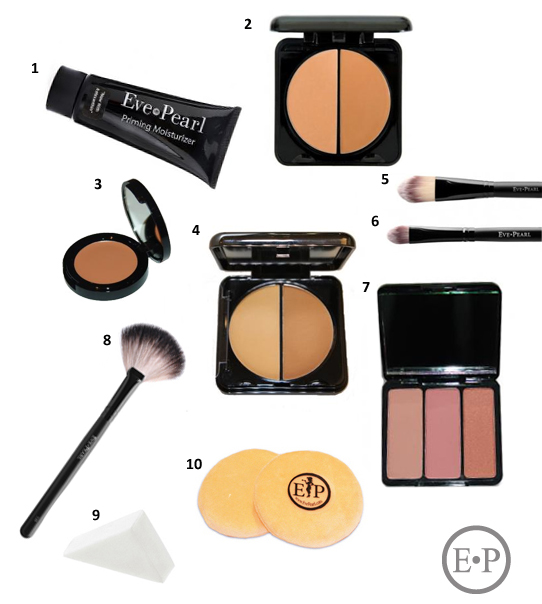 This Blogger's Books and Other Items from...
SUBSCRIBE AND FOLLOW
Get top stories and blog posts emailed to me each day. Newsletters may offer personalized content or advertisements.
Learn more