Everyone knew the government was composed of criminals but now it is official.
A 59-page UN inquiry determined that the junta leader of the West African nation of Guinea "had direct responsibility" for killings, rapes and other atrocities against peaceful protesters, committed mainly by his Presidential Guards, known as the Red Berets (bérets rouges).
It suggested he and others should be charged with crimes against humanity and that the International Criminal Court investigate the carnage.
The nightmarish scenes, beginning on September 28, and recorded on cell phone cameras and eyewitness testimony, shocked those world leaders who paid attention to the country of 10 million on Africa's Atlantic coastline.
The UN report, like an earlier one this month from Human Rights Watch, does not mince words on the abuses, describing beatings and rapes and victims barricaded, some suffocated, in a stadium. The military also locked up an unknown number of women and young girls, anywhere from three to five days, in the third floor of a military facility and other locations for mass rape.
The report, commissioned by Secretary-General Ban Ki-moon, was published in French, with a short English summary. It was submitted to the UN Security Council, which will consider it officially after it has been translated into English, Spanish, Russian, Chinese and Arabic. US Ambassador Susan Rice told reporters on Wednesday private consultations had begun.
Circulated on Monday, the report said it found "reasonable grounds" that the crimes "may constitute crimes against humanity."
These crimes took place as party of a widespread and systematic attach by the Presidential Guard, the gendarmes tasked with combating drug trafficking and banditry, and militia forces, among others against the civilian population. The Commission of Inquiry concludes as well that there are reasonable grounds to alleged individual criminal responsibility of certain individuals names in this report, either directly or based upon command or superior responsibility.
The leader of the junta, Captain Moussa Dadis Camara, was shot and wounded by one of his own henchmen, Aboubacar Cherif Diakite (known as "Toumba'), who has been out of sight since then. Diakite is also on the list of those responsible for the abuses along with a commander, Moussa Thegboro Camara, the minister tasked with combating drug trafficking and banditry, among several others.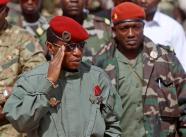 Junta leader in Oct. AP

Specifically, the report said it could identify 156 (not 56) people who were killed or disappeared. It says at least 109 women were victims of rape, sexual mutilation and other acts of sexual violence. Hundreds of others were abused and tens of others were arbitrarily arrested, many of them tortured.
The junta government has denied any responsibility although it acknowledged that 1,399 people were injured.
According to Corinne Dufka, senior West Africa researcher with Human Rights Watch, the abuses by the troops were different this time.
What was new about the sexual violence on Sept. 28 and in the days after has been the public nature of it -- the stripping of women, raping them, putting the barrels of guns inside their vaginas. This type of thing has been extremely shocking to Guineans -- a very, very conservative society that have simply never seen this type of thing before.
In response to the international outcry, the government created a Commission of Inquiry which the UN report said was "more likely to intimate witnesses."
What now?
The Africa Union and the European Union have imposed a variety of sanctions, including an arms embargo, a travel ban and a freezing of assets held outside the country. The United States has imposed a travel ban on military leaders. Guinea's is the world's top bauxite exporter and China has agreed to take over mining rights to bauxite reserves, and construct ports, railway lines, power plants in return.
UN peacekeepers are unlikely to be assigned to Guinea and a world embargo is also unlikely, given China's relations with Guinea, its veto power on the UN Security Council and its general distaste of sanctions. Isolation of Guinea in and out of Africa and a UN statement of condemnation is the likely scenario - for now.
The human rights of ordinary Guineans have been systematically undermined under the successive leaders, starting with Ahmed Sékou Touré, president from the time of independence from France in 1958 until 1984. Dadis Camara came to power in a bloodless coup in December 2008 by a group of military officers following the death of Guinea's long-time authoritarian president Lansana Conté. The coup government, calling itself the National Council for Democracy and Development, pledged to hold elections in 2009 and Dadis Camara said he and his cohorts would not run. He reversed himself and demonstrations began, in which women played a prominent role. The biggest was on September 28 that included a rally at the stadium that was the focus of the attacks.
SUBSCRIBE TO & FOLLOW WORLD POST