UNITED NATIONS - As Haitians without food, water and shelter grow frustrated and angry, the United Nations Security Council authorized another 2,000 peacekeeping troops and 1,500 additional U.N. police to guard relief supplies and help maintain public order.
"These are extraordinary times that call for extraordinary measures and extraordinary decisiveness," said UN Secretary-General Ban Ki-moon after the 15-0 Council vote. He ended the day bowing before a white-flowered wreath before leading staff outside for a candle light vigil.
But tensions mounted over who was in charge, who was coordinating aid efforts and how the United States was running Haiti's one-runway airport. France, Italy and Brazil had complained and two planeloads of supplies from the UN World Food Program were turned away over the weekend but have now arrived.
Susana Malcorra, the UN peacekeeping undersecretary-general for global field support, told reporters a unit of composed of major donors, the US and UN was now setting priorities and humanitarian flights were allowed in first. But the key Doctors Without Boarders group said on Wednesday that its third cargo flight of medical supplies had been turned away.
"I am sure we made mistakes," said John Holmes, the UN humanitarian coordinator, telling reporters there were "problems of delivery and logistics not lack of coordination." He said the UN World Food Program was the "master of logistics" and "if they are struggling you can see how difficult it is."
One problem is that the head has been cut off the United Nations with its two top officials killed, 48 others confirmed dead and 350 missing or unaccounted for among the 12,000 military and civilian staff. Communications are sporadic and computers were wrecked when the January 12 earthquake demolished UN headquarters at the Christopher Hotel in Port-au-Prince and left many without shelter, Malcorra said.
We have the people who have died or are injured, and that has meant incredible loss for the mission, starting with the leadership, and not only with the leadership. We have another group of people (who) have relatives under the rubble. We have many couples working in Port-au-Prince...and you can see people wandering around the buildings trying to find their beloved ones. And the ones who are holding the fort are in a total state of shock themselves.
Security Council members considered expanding the mandate of the UN operation, now at 9,000 troops and police, 3,400 of them in Port-au-Prince, to include the power to arrest and have more control over aid. But Alejandro Wolff, the deputy US ambassador, said it was unnecessary and UN officials agreed.
Alan Le Roy, the head of UN peacekeeping, said neighboring Dominican Republic has offered to send 800 troops immediately. (On Wednesday diplomats said Haiti's president had refused the offer) The mission also requested 100 corrections officers because the prison collapsed and 4,000 inmates escaped "some of them very dangerous people." Brazil, which is leading the UN military mission, is expected to send more soldiers and the European Union may contribute 1,500 police.
Still a week after the earthquake of January 12, too little aid has reached the needy and too few medical units with surgeons are able to save survivors. The gold standard was set by Israelis, who arrived Friday via the Dominican Republic. They organized a sophisticated field hospital with surgeons and state of the art equipment as well as search and rescue dogs.
So if the UN troops and police are in charge of law and order, the United States is to coordinate with the world body but not be under its jurisdiction.
The American operation is massive. On Tuesday 33 helicopters were on hand to drop supplies in a dozen locations. Some 11,000 military personnel were en route by sea and land. There are five Navy ships, five Coast Guard cutters supporting military air traffic control, 265 medical personnel, many of them at a Haitian orphanage, and the delivery of 89.800 pounds of supplies, to name a few. One ship is serving as a hospital
Edmond Mulet, the acting head of the UN mission, played down the thievery saying the incidents were isolated despite detailed press reports to the contrary. Food has been taken from supermarkets, which he said was normal in such situations. "But we have not seen at all any kind of violent actions or rampages or swarms of looters or people attacking or aggressive actions against anybody," he said adding: "I would say it's not more different than the situation we had before the earthquake."
Ban, who visited Haiti on Sunday, returned to New York in a plane carrying the bodies of the U.N. mission's chief, Hedi Annabi of Tunisia, and his deputy Luiz Carlos da Costa of Brazil. Canadian authorities flew home the remains of the UN police commissioner, Doug Coates. Britain announced the death of Frederick Alan Wooldridge, a senior political advisor, and France lost Marc Plum, in charge of UN election aid.
And the family Alexandra Duguay, a 31-year old spokeswoman, confirmed Tuesday that she had perished in the Christopher Hotel. Her many friends from Quebec and elsewhere had kept up a Facebook page, Hope for Alexandra.
The UN has estimated that three million Haitians--one-third of the country's population--were affected by the January 12 quake and two million require assistance. No one will ever be able to judge how many died, estimated at a minimum of 70,000 for Port-au-Prince alone, not to mention the southwestern cities, such as Jacmel where aid is even scarcer.
Why did all the buildings collapse so quickly? There were no building codes, said Mulet. A Canadian was asked by the Haitian government to recommend establishing one. He was in the Montana Hotel when it collapsed.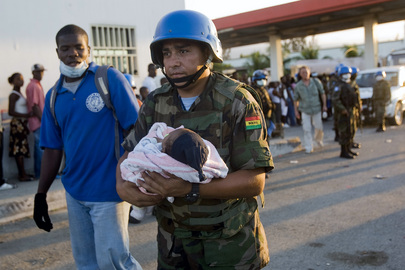 Bolivian UN peacekeeper carries a child

SUBSCRIBE TO & FOLLOW WORLD POST