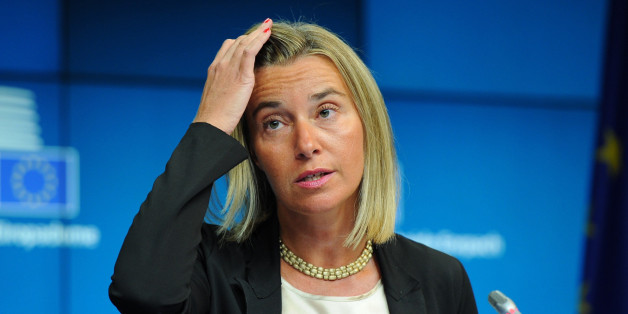 BERLIN -- Europe is surrounded by a ring of instability. With conflicts festering from Ukraine to Iraq to Libya, the perennially elusive question is what Europe stands for. How do its values, interests, and ambitions fit into an increasingly unruly world? The nomination of the new European foreign policy chief last weekend looks like yet another missed opportunity to provide an answer.
Federica Mogherini, the Italian foreign minister, has been appointed after strenuous opposition by some European governments and a majority of independent observers. The reasons are multiple: the 41-year-old appointee has occupied her current office only since February of this year. That's seen as too little to meet the unusually virulent challenges piling up on the desk of the High Representative for Foreign Affairs and Security Policy, as the post is officially called.
Mogherini has also had a hard time confounding critics because of Italy's traditionally close relations with Russia. The range of business ties between the two countries has led Italian officials to adopt a supposedly accommodating stance throughout the deteriorating crisis in Ukraine. Moscow has been quick to pick up on this to divide its European opponents.
"We welcome Italy's understanding that Russia and the EU should strengthen their strategic partnership," Russia's Ministry of Foreign Affairs tweeted a few weeks ago, above a picture of a smiling Mogherini sitting next to Russia's foreign minister.
#Lavrov: We welcome #Italy"s understanding that #Russia and the #EU should strengthen their strategic partnership pic.twitter.com/VH9Z40iyXI

-- MFA Russia (@mfa_russia) July 9, 2014
Perhaps not coincidentally, in the first pronouncement at the European Parliament after her nomination, Mogherini stated bluntly that the EU's strategic partnership with Russia is "clearly over."
Add to this the irony that in recent years Italy has not exactly shone on the path of fiscal and "moral" rectitude, as some commentators in Europe's north remarked over the weekend, and yet the country has been rewarded with two of the top posts at the EU's economic and political pinnacle (the other being the European Central Bank's presidency, occupied by Mario Draghi).
Regrettably, the recent nomination looks more like the rule than the exception. The current High Representative, Catherine Ashton, had been opposed on grounds very similar to those now being raised about her successor. What is worse, the selection of the EU's foreign policy chief has never been about foreign policy: hardly any discussion of substance has accompanied the selection, which was instead determined by considerations of gender balance and political affiliation.
These are no excuses for having low expectations, but they go to show that the rut is much deeper than personality; it concerns what Europe wants and what it wants the world to see. For that, style and charisma surely matter, but convictions should matter even more. Mogherini is neither a manager nor a diplomat, and she must rely on the qualification that suits her best -- that of a politician (full disclosure: this author first met Mogherini almost a decade ago while collaborating in an Italian general election campaign).
Italy has historically had an important role to play in many of Europe's hottest international dossiers, from the Mediterranean to Iran Mogherini should capitalize on these and select a handful of high-level priorities, where her voice can be distinctive. She will need to listen intently to all the actors that claim a place in European foreign policy, from member states to an ever more assertive European Parliament, to civil society. She should surround herself with advisors who are detached from the surreal bubble of Brussels' technocracy and punditry. And she should forge a narrative that translates in simple, resounding terms the often obscure groundwork carried by the some 6,000 staff employed around the world by the External Action Service, Europe's putative diplomatic corps.
Above all, a policymaker of Mogherini's generation should grasp the inescapable need of attuning foreign policy to the realities of a post-Western world. This is a less orderly, more competitive, unpredictable international environment, where the existing paradigms guiding transition to liberal democracy no longer apply. It is a world where Western living standards, our rule-based society, our way of life, continue to remain a magnet for millions the world over, as the boatloads of desperate migrants landing on Europe's shore remind us every week. But it is also a world where threats in faraway places -- be they terrorism or energy cut-offs -- can, in the blink of an eye, translate in dire consequences for our own citizens.
If there is one lesson from the ongoing upheavals in Europe's periphery, it's that Western foreign policy cannot be conducted in the way it used to be. But if we do nothing, the ring of instability will eventually close in on Europe itself.
PHOTO GALLERY
BEFORE YOU GO
2012 Nobel Peace Prize
PHOTO GALLERY
2012 Nobel Peace Prize