It was business as unusual on the first day of the week in Saudi Arabia, as millions of Saudis woke to the disturbing news of the passing of Prince Sultan bin Abdulaziz, long-time Defense Minister and heir to the throne since 2005.
Saudi state television carried a palace statement confirming the death of the Saudi Crown Prince, said to be around 86 years old. Prince Sultan died at a hospital in New York City, having been in the United States since mid-June for medical treatment.
The news was quick to spread on news-wires, social networks and Twitter feeds, naturally given prominence due to the Kingdom's weight religiously, being home to the holy shrines of Mecca and Medina, and economically as the country is the world's largest oil exporter.
Newspaper websites were also quick to update their main stories and follow up on the news. Under the pressure, some have mistakenly published the picture of the wrong prince.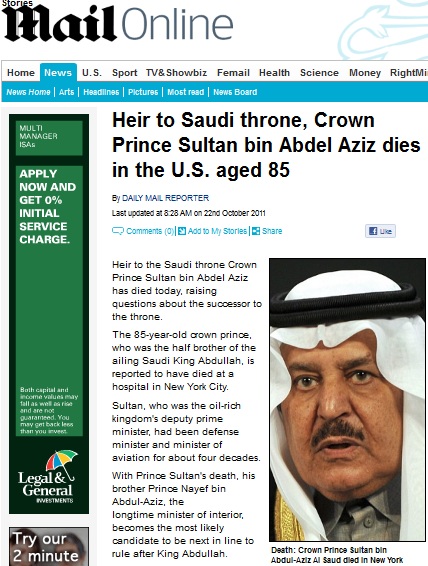 (Confused: The UK's Daily Mail publishes a picture of Prince Nayef instead of the late Prince Sultan)
Prince Sultan is expected to be buried on Tuesday whereas it yet to be confirmed who the next heir to the throne of Saudi Arabia will be. Many news agencies are naming Prince Nayef, the country's Interior Minister and half-brother of the current King, Abdullah bin Abdulaziz, as the most likely candidate.
However, under new protocols introduced by King Abdullah himself back in 2006, The Custodian of the Two Holy Mosques (a title which refers to the Saudi Monarch) will now have to name a candidate and present it to the Saudi Royal Family's Succession Committee.
As per the Succession Committee, which includes all living and able sons of the late King Abdulaziz -- founder of modern day Saudi Arabia -- or a representative of them, the Saudi Monarch nominates a candidate which can't be named Crown Prince until he has been granted the approval of the committee.
The Succession Committee doesn't have the right to change or introduce any laws nor does it have the right to dissolve the cabinet or the country's Shura Council (the appointed advisory board of the Kingdom).
Naturally, having only been formed in 2006, selected a new heir to the throne will be the first real challenge this Succession Committee faces.
In the meantime, Saudi King Abdullah was last seen receiving visitors last Wednesday following the success of a back surgery he undertook at a hospital in Riyadh, the country's capital city.
It remains unknown who will the next Crown Prince be and whether the Kingdom will abandon is long-standing horizontal succession tradition, whereby the Monarchy is handed over from brother to brother and elect a candidate from the younger generation of princes.
Saudi Arabia's population grew at 333% between 1975 and 2009, with the youth forming the bulk of the Kingdom's people.
SUBSCRIBE TO & FOLLOW WORLD POST