As the story is with most creative people's lives, there is always a special "moment of realization" where they discover their gift and passion for what they do. For Faisal Almalki, once an average marketing executive working with a Saudi investment company, that moment certainly took its time; but, it's dramatically changed his destiny ever since it "hit him" 5 years ago.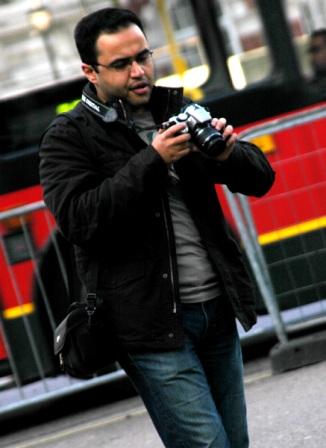 Faisal Almalki at work /p>
Almalki, now a celebrated Saudi photographer, says his gift is in his photography and the more time he dedicates to it, the more rewarding it becomes.
So much so that today, a few years and a dozen awards after the realization of his passion, he is giving up his "bread and butter" day job to live his dream.
What boosted this 30 year old, soft spoken and noticeably shy man's confidence is the overwhelming reaction to his work, which he himself admits had caught him by surprise. Almalki's shots have been published in esteemed industry publications such as Popular Photography, Digital Camera World, JPG Magazine and Fotoblur.
His achievements have also made headlines in his homeland of Saudi Arabia, thanks to his growing collection of trophies which include: "Photographer of the Year" at the Masters Cup in Los Angeles, the "Fine Art photographer of the Year" at the Lucies (New York City) in October 2008, and 1st prizes at the PX3 Awards in Paris and the Australian International circuit.
Almalki's family support played a vital role in encouraging him to go forward; however, he also credits a group of complete strangers who have had a tremendous impact on his photography.
In 2005, shortly after noticing how much he enjoys taking pictures during his travels, Almalki joined an online community of photographers on a website that became his sanctuary and source of tips and advice.
He regularly posted his pictures and constantly received positive feedback, only a few months after that he bought his first professional camera and was on his way to London for his first "shooting trip." The trip lasted 3 weeks and the result was a staggering 12,000 shots.
Almalki smiles and says that this huge number was probably a result of "a suppressed passion which was finally unleashed." He explains that he took pictures of "anything and everything," while adding "it was mostly experimental as I had to teach myself since I had no mentor,"
What is more challenging for Almalki is shooting in his homeland of Saudi Arabia. He particularly recalls participating in an international online competition under the theme
The eyes are the window to the soul," which he wanted to participate in using a shot of a woman in a burqa.
"Finding a female model to shoot in Riyadh was hard enough, can you imagine telling her that her picture would be posted online as well?" Almalki recalls sarcastically adding that he nearly lost hope. However, a few hours before the deadline for submission, he remembers that his 60 year old mother walked in to his room wearing a burqa and urged him to use her as a model; the result was "A Thousand Stories," a shot that won not only the online competition but several other awards after that.
However, despite the success that this particular image had, it caused a social backlash as many conservatives (who frown upon artistic portrayal of females) harshly criticized Almalki for disrespecting what they believe are local traditions and norms.

A Thousand Stories - Almalki's award winning shot
"There were hundreds of negative emails and postings on internet forums," says Almalki. However, he seems to have developed a thick skin and is carrying on with what he enjoys doing, particularly that the positive feedback seems to have greater weight.
At the moment, Almalki has a series of pre-booked shoots of Saudi Royals and Arab celebrities, while he is also preparing to launch his new website and join a roaming exhibition of Saudi art.

SUBSCRIBE TO & FOLLOW WORLD POST