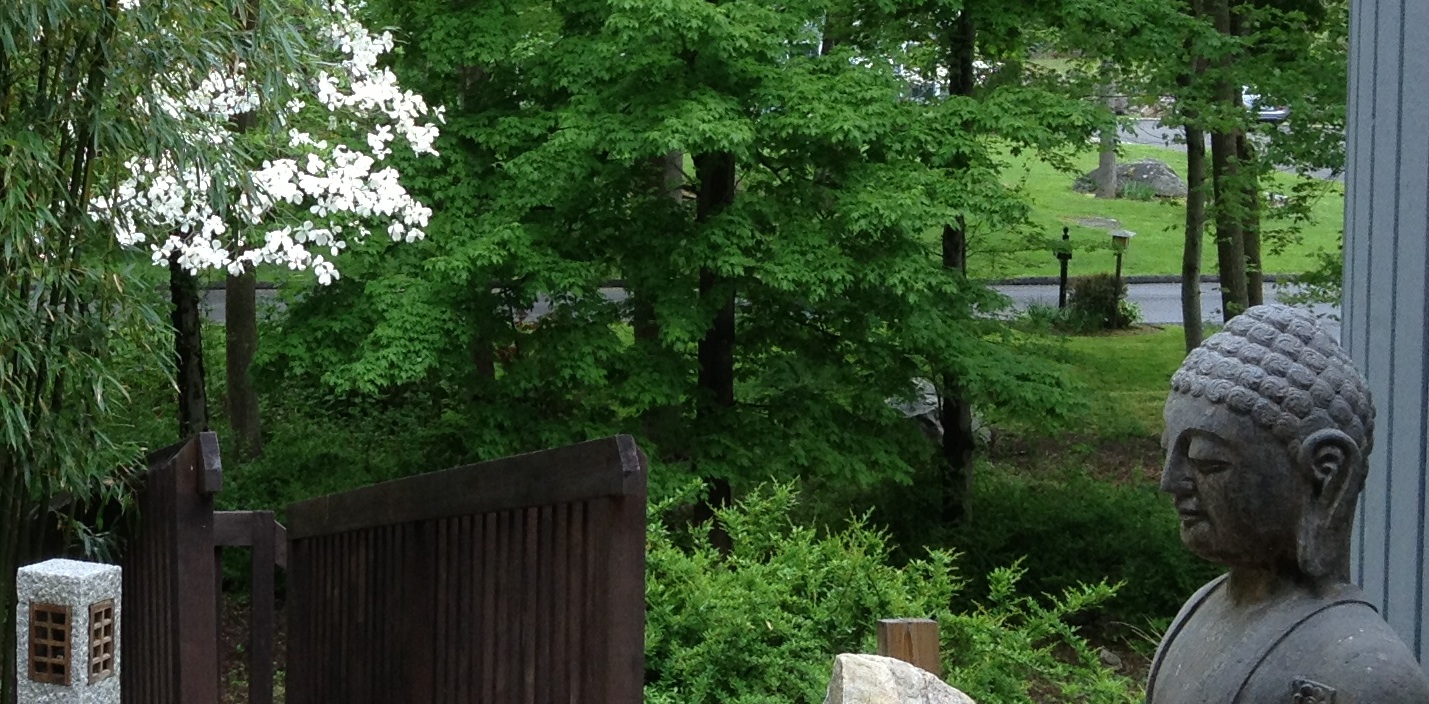 Spring Buddha and the Dogwood Tree
On this particular rainy spring Sunday, staring at the dogwood tree and the Buddha outside of my door, for a moment or two, I can feel the calmness of mother nature.
The beauty of the bright, wet dogwood flowers and Buddha's salutation to nature mesmerizes me. Somehow, time has frozen!
I can hear the dove's cry calling for serenity, for tranquility -- the tranquility in accepting my surroundings, my strengths and limitations, my spirit and soul, and my own journey.
Today is one of those days when I can sense the glory in letting go.
Today I decide to let the universe guide me with its eternal wisdom. Today I pray that I learn to let go -- even if it is just for a moment.
I pray that this one moment (of letting go) turns into an eternity.
"To "let go" does not mean to stop caring. It means I can't do it for someone else.

To "let go" is not to cut myself off. It's the realization that I can't control another.

To "let go" is to admit powerlessness, which means the outcome is not in my hands.

To "let go" is not to try to change or blame another. It's to make the most of myself.

To "let go" is not to care for, but to care about.

To "let go" is not to fix, but to be supportive.

To "let go" is not to judge, but to allow another to be a human being.

To "let go" is not to be in the middle, arranging all the outcomes, but to allow others to affect their own destinies.

To "let go" is not to deny, but to accept.

To "let go" is not to nag, scold, or argue, but instead to search out my own shortcomings and correct them.

To "let go" is not to adjust everything to my desires, but to take each day as it comes and cherish myself in it.

To "let go" is not to regret the past, but to grow and live for the future.

To "let go" is to fear less and to love more."
This Blogger's Books and Other Items from...
SUBSCRIBE AND FOLLOW
Get top stories and blog posts emailed to me each day. Newsletters may offer personalized content or advertisements.
Learn more