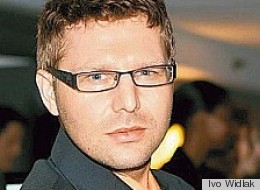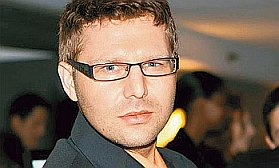 "I did not do anything wrong. I do not deserve to be punished. I do not deserve for my human rights to be violated." Ivo Widlak's voice breaks on the phone as he steps outside his home in cold, wintery Chicago to discuss his imminent deportation from the country and his wife of 10 years, a U.S. citizen.
Ivo is a respected international journalist of Polish descent who's made his home in Chicago, but after a particularly scathing report on the Polish consulate in Chicago, he says he was reported to the United States Citizenship and Immigration Services (USCIS) for being homosexual. Recently the Obama administration clarified guidelines that enforcement officers use to decide whether illegal immigrants will remain in this country. In September 2012, Homeland Security Secretary Janet Napolitano wrote that she had ordered her department to issue written instructions specifying that "family relationships" of immigrants also include "long-term same-sex partners." However, Ivo isn't in a long-term same-sex partnership. He's a bisexual man married to a bisexual woman. After hearing Ivo's story I wondered whether bisexuals run a higher risk of being deported than gays or straights.
The lack of understanding regarding bisexual relationships and marriages is often astounding. Recently, when actress Evan Rachel Wood married actor Jamie Bell, along with congratulatory tweets she received questions regarding her sexuality: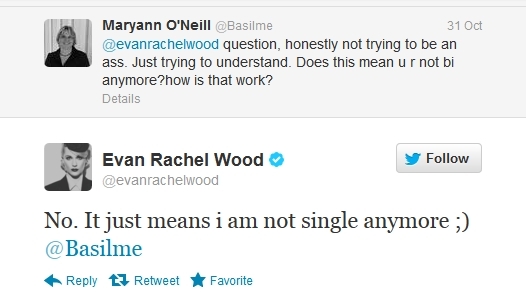 As author Shiri Eisner writes, bisexuals do not have the privilege of sexual identity acceptance independent of choice of relationships, partners and lifestyle. Like Evan Rachel Wood, I'm a bisexual woman married to a straight man, so when I disclose my identity, I am often met with curiosity and confusion. The usual question is why I would call myself bisexual when I am happily married to a man. Folks often incorrectly wonder whether I call myself bisexual to keep my options open or extend subtle invitations, but the truth is far simpler. I am bisexual and proud of my identity, my culture and my heritage as well as my past and present. I have never identified as straight and only briefly identified as a lesbian when it seemed like it might be easier (it wasn't). I often respond back to these queries, "Since you're currently single, are you still straight, or did you change orientation because you're not in a relationship?"
Unfortunately for Ivo and his wife Lale, ignorance regarding bisexuals may have contributed to his deportation hearings. Ivo tells me that he was interrogated by the United States Citizenship and Immigration Services on his sexual orientation as officers sought to prove his marriage valid since he had been reported as homosexual. The immediate question from a number of people has unfortunately been, "Do they have an open marriage?" or, "Are they truly monogamous?" For bisexual people these are regular questions we get asked when we're in relationships, because the stereotype remains that all bisexuals sleep around and cheat on their partners. Every day bisexuals are accused of cheating on one partner of a particular sex/gender with another person of another sex/gender. Despite a lack of statistics on multiple-orientation marriages, these devastating myths continue to plague bisexuals like Ivo and Lale Widlak.
Tom Plummer from Immigration Equality, a leading nonprofit working for equal immigration benefits for LGBT people, tells me, "There's no law that limits a bisexual citizen from sponsoring an opposite-sex non-citizen spouse." While unfamiliar with the details of Ivo's case, Tom finds the issues it raises interesting in light of ongoing efforts to get same-sex relationships recognized for immigration purposes. Tom also challenges my supposition that gays and straights have an easier time with immigration officials, saying, "There are certainly times when immigration officers doubt the "bona fides" or validity of a marriage between two opposite-sex partners who identify as straight. Meanwhile, spousal petitions between same-sex spouses are summarily denied despite extensive evidence the relationship is genuine. We look forward to a world after DOMA has fallen, when couples of all orientations will have equal opportunity to be grilled regarding the validity of their marriages."
Earlier this month in a Polish newspaper, Ivo's wife Lale also expressed her frustration over the fight to validate her 10-year marriage in the eyes of the government. "You can't tell me that our marriage is not consummated because we are bisexual," she told Chicago's Super Express. "Ivo always puts needs of others before his own; no matter what, Ivo finds the time." This sentiment is echoed by Ivo as he told me his story while smoking cigarette after cigarette and stamping his feet in the cold. "Lale, my wife, is going through hell because of me, and I can't do this to her. Right now I feel I am a burden to my wife. She is an extraordinary person, and she doesn't deserve to be treated like this."
Even as Ivo and Lale submit their marriage to review by authorities, the bisexual community has moved to embrace them, with plans for rallies, courtroom cheer sections and support across social media. Bisexual journalist Neal Boulton says, "America is the last great bastion of freedom on the planet, though if Ivo Widlak is deported -- a journalist who has used his freedom for the good of not only the United States but of democracy itself -- a dangerous precedent will be primed to injure other immigrants, not just of the LGBT community but of many other creeds, as well." Bisexual advocate Morgan Goode told me, "This case is a devastating reminder of the ways in which conversations around marriage equality have failed us with their simplicity, and of how bisexual people have been left behind by our fellow activists and advocates in the lesbian and gay community." She also said that "if lawmakers and the courts remain unaware of the realities of our lives, our relationships will be unrecognized, invalidated and, in instances of binational couples, ripped apart as the result of bi invisibility."
On this winter night, as I speak with Ivo, neither of us can guess whether his marriage will be found valid despite his orientation, and I ask him not to give up, because of what his case will mean for other bisexual people in binational relationships. I tell Ivo, "Your case can show people what it's like to be discriminated against, because even in different-sex relationships bisexuals still face adversity," but Ivo protests, saying he never intended to be a "bisexual activist." He's right; Ivo's a regular person who loves his wife and never set out to be a hero, just a husband. Let's hope he gets to be both this holiday season.
UPDATE: On Monday, Dec. 17, 2012, Ivo Widlak's case was extended until Dec. 12, 2013. The judge in Ivo's case has made no decisions, so the case will remain under investigation by USCIS. Ivo's attorney Ira Azulay says, "We (and I) believe that USCIS is far too restrictive in the way they interpret the immigration laws. Anytime we see people being badgered by the system, we believe that we can help them push back. The system for too long has counted on people giving up, and that just should not be the result."
Follow Faith Cheltenham on Twitter: www.twitter.com/thefayth