Yes, we may be coming up on the dog days of summer, even as the stores are filled with fall merchandise and the news is filled with question marks about the economy. But smart retailers are continuing to shake up the New York shopping scene, jumping into the competitive fray just as our economy is beginning to turn. In short, retail is reinventing itself yet again!
Crossing the Pond
European chains and designers, in particular, are taking advantage of better deals and locations while they're available: Commes des Garcon's MePa unit is signed for two years, and Pret A Manger continues to open around the city. Custo Barcelona has purchased 145 Spring Street for a U.S. headquarters and flagship. Escada Sport is finally progressing at 560 Broadway, while Swarovski is opening at 499 Broadway. Dublin mainstay for all things sweet Butler's Chocolate Café has opened in Paramus NJ. Madison Avenue has a big huge hot pink newcomer in Austrian-born, New York City-based Devi Kroell, who brings leather creations and brings it big.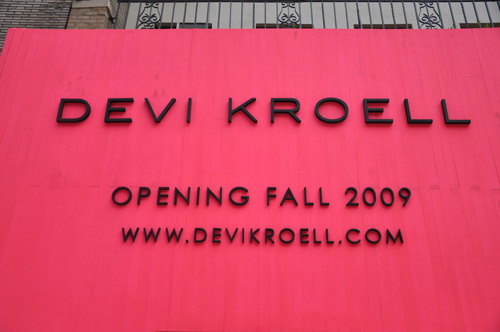 And further down the line, Britain's Liberty House has announced it's looking at possible international expansion - is New York a likely stop?

Admire the Rocks
New Yorkers haven't lost their love for bright, shiny baubles, and new designers are continuing to entice. Girrard Perrageaux, Jay Ahr, Mauboussin and Solange Azagury-Partridge are among the fine jewelers who have located on Magnificent Madison. Meanwhile, Marni expanded from its Soho outpost to Madison and 62nd Street.

Fancy Footwork

Shoe Woo at 750 Lexington Avenue is the future of footwear--a European concept of multiple brands like Iris in Meatpacking.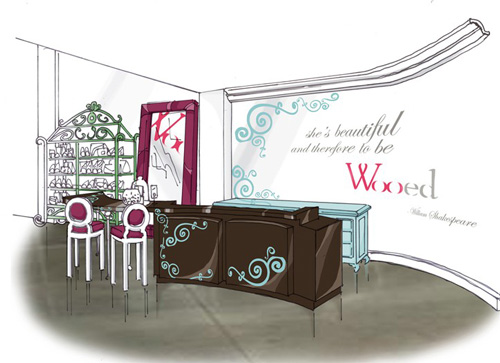 Camper shoes brings Spanish style to 59th Street and Madison.
The Big Names
It isn't just the boutiques looking for the new and exciting. What better place than Bloomie's Country, where the formidable flagship has busted out with a Harrod's-like collection of boutiques: Louis Vuitton at the corner, joined by Ralph Lauren and a renovated interior featuring British cosmetics nirvana Space NK.
Henri Bendel, also, is recreating its 1980s-era street of shops, focusing on au courant accessories and cosmetics, as well as a Miriam Haskell antique costume jewelry shop in shop.
As I've been predicting for years, Nordstrom will come to Union Square, though with its off-price Rack concept, not the full line store. This may be the smartest move of all balancing Nordstrom's name and luxury reputation with the value-goods and desire for cheap chic that predominates today. Even the wealthy like the thrill of the hunt, never more so when they're hunting for affordable luxury!

National Names
Not unlike Nordstrom, Coach is also a key example of "luxury at a lower price point" without devaluing its brand name, as it explodes with its new Poppy line.

Other national chains continue to find the best locations. Topping TopShop's headline-making New York debut, Hollister surfs into a four-level emporium on Broadway and Houston, once again reinventing lower Broadway as the most important shopping thoroughfare of Soho. Ricky's continues to open up around the city, too.

Yes, it's an interesting time right now, and one the smart retailer will take advantage of. We're all looking forward to the new New York!
SUBSCRIBE TO & FOLLOW THE MORNING EMAIL
Start your workday the right way with the news that matters most. Learn more