While I love my specialty boutiques, let's face it - New York is the quintessential department store city. From current greats Macy's, Bloomies, Saks and Nordstrom to the dearly departed legends such as Gimbel's, S Klein, Alexander's and B. Altman, there's just something about a massive building with escalators, elevators - and Santa Claus on a high floor in December.

Of course, each store has its own specialties - so below is my perfect department store, taking the best of each area from my favorites: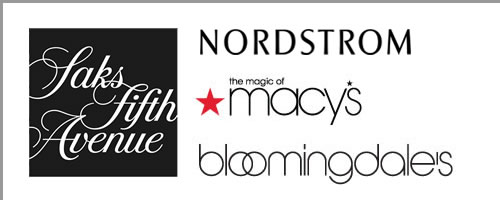 Ground Floor

Cosmetics:



Just replicate the Sephora on the Champs Elysees, with its dramatic prototype, splashes of irreverent design and a completely new level of energy. And an amazing perfume selection.
Accessories:



We need a bit of everything, including: gloves from Sermoneta, well crafted and reasonably priced; the stylish, functional handbags from Lana Marks (more than 150 designs in 100 colors of exotic leathers); more colorful day purses from Nancy Gonzalez; and the jeweled minaudieres and evening bags from Judith Leiber. Roberta Di Camerino provides Venetian flair. Plus, we need the classics -- Prada, Dior, Chanel, Gucci, Fendi, Salvatore Ferragamo, -- and of course, Louis Vuitton. Scarves and such will come, naturally, from Hermes.
Watches and Jewelry:



Come, respectively, from Tourneau, the world's largest and knowledgeable watch store, and the incomparable Tiffany & Co., where discriminating shoppers can buy everything from an affordable sterling pendant to a classic engagement ring to tiaras fit for royalty.
Menswear:



Here, we have a trio of purveyors who merit the store's best real estate: Mitchell's of Westport, CT, a third-generation retailer offering luxury men's clothing with incomparable service; Wilkes Bashford from San Francisco, also owned by the Mitchell family, with premier customer service and designers from Brioni to Michael Kors to Zegna; the new Louis Boston, which pairs classic menswear (Billy Reid Suits, JW Brine pants) with a hip young vibe, including a DJ; and Boyd's of Philadelphia, with fine men's designers and a staff of 50 European tailors offering free custom alterations.
Second Floor:
Women's Fine Apparel:



A duo here: Mitchell's sister store Richards of Greenwich, which highlights fine women's apparel in a stunning space; and Gorsuch Ltd. of Vail, CO, which offers times fashion by the world's top designers - and skis, too! No one edits runway fashion like Kirna Zabete. And some examples of stores I miss: Linda Dresner's eye for the up-and-coming designers is needed, as is Tracey Ross's LA style taste.
Third Floor:

Women's Couture Apparel: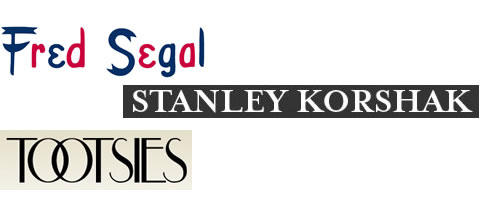 Here we need the fresh and exciting, as well as classic couture. For the former, Fred Segal Los Angeles does luxe with fun, offering fashion-forward designers (Alexander Wang, Helmut Lang). The more established fashionista will head elsewhere on the floor to our outpost of Stanley Korshak (Dallas), which has the best trunk shows, fashion analyses, and combination of established names and new talent, or to Tootsies (Houston), a pioneer in specialty store retailing with American and elite European designers. Alan Bilzerian brings a Boston sense to the floor with designers such as Alaia, Lanvin and Isabel Marant; Saks Jandel's high style and high fashion names from Washington, DC, round out the tour.
Fourth Floor:

SHOOOOES:



Jeffrey New York (aka Shoe Heaven) leads the way. Among the designers I'd want to see: Manolo Blahnik - no one makes your legs look sexier; Jimmy Choo - has the perfect shoe for every need - even sneakers and Uggs! Christian Louboutin -- high heels meet high design in signature red soles; Stuart Weitzman's array of all styles from jellies to red-carpet stunners; the feminine, finely crafted works of Casadei; Te Casan's collection of designers (including vegan shoes); Andrea Pfister's pain-free, feminine footwear; and Iris -- if it's hard to find, Iris has it. And so will our department store.
Fifth Floor:

Dining:



Harrod's offers every type of eating experience: Fine Dining at the Georgian Restaurant, Terrace bar, Caffe Florian, dei Frescobaldi, Veuve Clicquot Champagne Bar & Restaurant and Laduree; Easy Eateries including a Pizzeria, Rotisserie, East Dulwich Deli and Illy L'Espresso, caviar and more; Family Friendly restaurants for shoppers of all ages including Moe's Diner (they claim the best burgers and shakes in Knightsbridge), the Wonderland Cafe and Krispy Kreme; Harrods 102, a gourmet deli across the street offering world cuisine; and the justly legendary Food Hall, where I could graze forever.
But we must move on from London, so we need a touch of Tuscany, such as the Giorgio Armani Cafe, and a home-like setting, as found at the BG Cafe at Bergdorf Goodman.
Sixth Floor:
Furniture:



It isn't a department store without hard goods. I'd start with ABC Home, with its cutting-edge design combined with sustainable practices that results in an array of new vintage and antique furniture to express your personal style. Holly Hunt's selections from primitive to modern collections to everything in between adds another design element. Lastly, for fine materials, design and craftsmanship, Baker doesn't follow fashion, it creates it.
Seventh Floor:
Gifts/Luggage/Candy: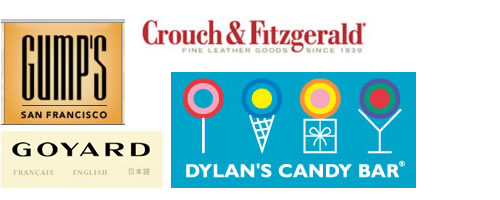 This is the fun floor, with something for everyone. I'd start with an East Coast edition of San Francisco's classic Gump's, an eclectic emporium of unique home décor and gifts, ranging from upholstered slippers to oils to jewelry. The luggage department should have a number of alternatives: Crouch & Fitzgerald's beautiful leather bags and finely crafted baggage, T Anthony's sophisticated and often colorful take on fine luggage and bags, and the ultimate in pedigree - Goyard's uniquely French take on luggage - dating from the 19th century.

Candy gifts can come from an outpost of Dylan's Candy Bar, which merges candy with fashion and fun. Just what you need as a pick-me-up in a large department store. For the classic kid in all of us, Hershey's, my all-time favorite.

Eighth Floor:
Santa, Baby---the Toy Department



We need a massive dose of Barbie, inspired by her new Shanghai flagship, a fantasy world that will train the fashionistas of the 21st century - products, spa, and dining meet here. For other toys, add in the American Girl subculture (more than just dolls, but books, newsletters and an entire community) -- and the interactivity of Build-A-Bear, which allows you to build your own teddy bear from stuffing to clothing. Adding in the massive selection of Toys R Us is critical, and the unique toys to be found at FAO Schwarz, and you'll have a wonderland for the young, and young at heart.

Basement Retail:



Most basement levels back in the day combined some dining with home goods, and my store is no exception. I'd create a deli/grocer par excellence, with unique Italian specialty items from Agata & Valentina; handcrafted artisanal foods and wines from Dean & DeLuca; the dairy, meats, cheese, produce and fun of Stew Leonard's; prepared foods from Balducci's; caviar, smoke fish and coffee from Zabar's; fresh seafood and prime aged meat from Citarella; and organic and natural foods from Fairway. To help my shoppers prepare the repast - and set a magnificent table, whether it's a picnic or elegant dinner for 20, I'd emulate Macy's Cellar (34th Street), a one-stop shop for the home. Whether you need kitchen goods, linens, china, crystal, or appliances - it's a city block of the best home accessories at all price points. Add in bedding, towels, curtains and bath accessories, and you have a complete home on one floor.

With all these names, this greatest department store in the universe will exist only in my imagination - and this blog. But a girl can dream ... Look around at what's new and classic and create your own favorite. Happy Shopping!

SUBSCRIBE TO & FOLLOW THE MORNING EMAIL
Start your workday the right way with the news that matters most. Learn more