If New York is the world headquarters of people looking to reinvent themselves, why should retail here be any different? I am all about retail revamps, new concepts and beautifying our shopping landscapes. And right now, we're seeing two very different styles of retail complex renovations (one uptown, one downtown), and a third continuing on the upswing. All are or will be worth a look...
The Underground Discovery of Glamour: The Plaza Retail Collection. Located beneath the iconic Plaza Hotel, this has had its fair share of bumps since it opened in summer 2008, right before the financial meltdown last fall. Some store closures (not unusual in any retail center's first year of operation, by the way), were followed by bad press. But its owners have opted to augment its luxury offerings (which include Anna Hu, the highly successful Seize Sur Vingt, and Warren Tricomi Salon) with a new addition, the "Food Hall." Given the lackluster state of affairs for quality quick dining anywhere in that part of the city, this could prove to be a terrific move.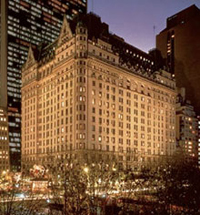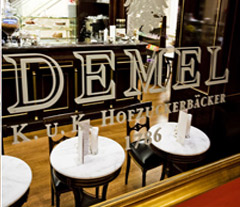 It's always difficult to draw people downstairs to a shop here, even to the former home of Eloise (unless it's attached to a subway station), but New Yorkers will venture anywhere for food! Case in point: the Whole Foods Market in the lower level of Time Warner Center, one of the great meeting places and one of the most successful retailers in the city. I can't wait to see what the Plaza's new additions do.
If I could wave my retail wand -- I would transform this potentially fantastic concept into a Harrods type of shopping mecca. Redesign the 58th Street side, just across from the famous Paris Cinema and Bergdorf, into an outdoor dining extravaganza. Reopen Payard Patisserie and Fauchon as the highlights of this entrance that leads into the Retail Collection and lure shoppers in. Imagine shopping at Apple, crossing the street to Bergdorf, grabbing lunch at the street café, going downstairs for some shopping and coming back out for a movie at the Paris. To assemble a "Dream Team" of shops, the lineup would feature a chocolatier, perhaps Jacques Torres or Teuscher, a multi-brand shoe empire (Gucci with limited editions especially for the Plaza?) and perhaps another Bottega Del Vino downstairs. On the Eloise subject, put a Dylan's Candy Bar and kid-posh shops, maybe Jacadi, Spring Flowers or resurrect Best & Co and La Layette et plus. We need some incentives for shoppers to venture below grade.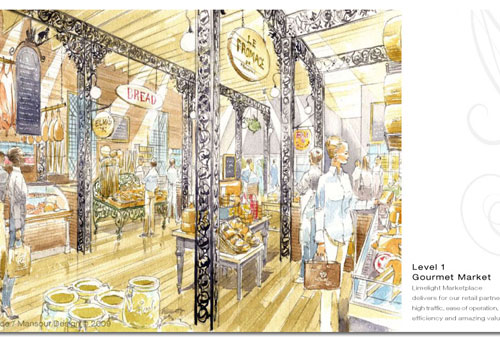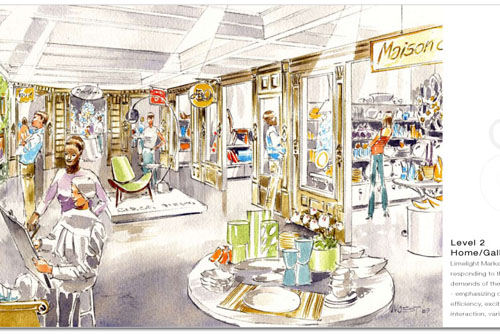 Downtown, yet another conversion is well under way: the infamous Limelight, the former church that became a notorious nightclub in 1983, and has been shuttered for years, is being transformed into an 80-shop mall called Limelight Marketplace. But don't look for your typical suburban fare when the project opens in March. Instead, picture a multi-level spin on the Chelsea Market. Level 1 will be a Specialty Food Market, Level 2 is the Apothecary, Sneaker Gallery and Home Gallery, and Level 3 is a Hair Salon, Music Shop and Fashion Hall. Lineup of tenants include Hunter Boots, Sabon, 92nd Street Optical, Caswell-Massey, J Sisters, Japanese skincare Gold Revitalizer, Mari's Brownies of Balthazar fame, and LittleMissMatched.
Chelsea Market, 75 9th Avenue, is an enclosed shopping fair and urban food mecca in the center of the city. In bloom are Gramercy Park Flower Shop and Jacques Torres debuting new boutiques across from Lobster Place. In addition to the retail concourse east of 10th Avenue, it also provides standard office space for tenants, including media and broadcasting companies such as Oxygen Network, Food Network, Mr Youth, MLB.com, EMI Music Publishing and NY1. Anchor stores include Chelsea Market Baskets, Manhattan Fruit Exchange, 202 by Nicole Farhi, Amy's Bread, and a restaurant called Buddakan. There are also the Fat Witch Bakery, Ruth's Bakery, Eleni's Bakery, The Lobster Place, Frank's Meat, and Chelsea Thai. A delicious detail: Chelsea Market was built within the former Nabisco factory complex where the Oreo cookie was invented and produced.

Each destination is responding to its very own neighborhood while meeting the challenges of unusual, iconic locations. The Plaza is (pun intended) catering to the affluent visitors who stay in the hotel and nearby office tenants (including my own staff), who are seeking dining options a few notches above delis and fast food outlets, but more casual than a restaurant. The builders of Limelight are taking advantage of a unique location, at the corner of 20th Street and 6th Avenue, to provide innovative retailers and dining to its own neighborhood and beyond. Chelsea Market continues to blossom and is its own haute hypermarket.
What all share is a willingness to embrace the new, despite New York's mixed reviews with urban malls over the years. Some have worked, some not. But the renovations/rehabs mentioned above are part of a continuing effort by landlords and tenants to maintain the vitality of the city. Good luck to them -- innovative ideas, off main street, is what shopping in New York is all about ... to Shop, Wine and Dine with the Best of the Best!

By Faith Hope Consolo, Chairman
Prudential Douglas Elliman's Retail Leasing, Marketing & Sales Division