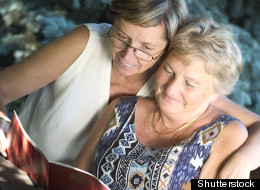 I was so in love with my college roommate that when my boyfriend called to see if I would go out on Friday night, I would cover the receiver and whisper to her, "Did you want to see that movie at the Biograph with me?" If she said yes, I'd tell him I was busy. She was my #1.
She was Louise to my Thelma, and as in the movie "Julia," she was Julia (Vanessa Redgrave) to my Lillian (as in Hellman played by Jane Fonda). She actually resembles both Susan Sarandon and Vanessa in her coloring and legginess. We met hanging out at the student café. It was the end of my junior year, her sophomore year. She was a language major in the "Ling-Lang school" -- I was an IR major at the Foreign Service school. She stood out in a crowd, statuesque at 5 foot 10 with the most amazing French accent. Her dad was French -- no wonder. I was missing my French boyfriend -- she was missing hers too.
Both our parents were divorced, she had two sisters, I had three. Both of us had charismatic, larger-than-life dads who were crazy about us, and involved with their new wives, and moms we were constantly trying to "figure out."
We decided after a few hours in that university café we would live together. As transfer students, neither of us had landed in the best living situation. That very day, we set off to check out her friend's apartment on "M" street above an Italian restaurant. Her friend was graduating and said she could take over the lease. It had two living rooms -- or two bedrooms depending on your perspective. We took it -- bought two pull-out couches and had the year of our lives.
That year our friendship was cemented forever. We renamed ourselves by adopting half of each other's names -- she was Verafel and I was Felovere -- each of us was only half alone but together we were whole -- forever intertwined.
When we graduated her dad gave us both jobs at his real estate company in Edmonton, Alberta. We set off on a magical, marathon road trip from D.C. to Alberta with her brother in their old Mustang convertible, driving through the nights -- taking turns sleeping in the back seat covered in blankets with the top down and the 8-track grinding out James Taylor, Carole King and Bruuuuuce of course.
We worked together, lived together and partied together. Never any tension, just constant discovery in our days as we learned about income statements and rental agreements. Summer nights of dancing, meeting new friends and hosting parties at her dad's amazing pool. Happy and tanned, we were inseparable. Until ... a Man entered our lives; a dashing playboy type, his smile could melt your heart. When we first spoke I felt like a fish hooked on a lure, and I wanted to be reeled in. My friend felt exactly the same way. We would both talk about him late into the night and secretly imagine he was ours. He was playing us both. Did I mention he looked like Richard Gere? For me, he was a full-on crush; to her, he was the man she wanted to live with forever.
It turned out he was truly a playboy. After a long first kiss in the pool one night, I sadly told him I could not go out with him because my best friend was crazy for him. His eyes lit up, thrilled with delight. He drifted away from me and into her arms. That night, they began their relationship, which was to end in marriage that very year. She was 22, he was 26.
Saddened and empty, I believed I lost my best friend to a man that summer. How could this deep, all encompassing friendship be wiped away by an interloper? But that's what it felt like. We promised to love each other always -- that's what we said -- and then I left Canada and she stayed. I went back to D.C., and got my first real job, and we tried to stay in touch. It was harder to do then. Long distance calls to Canada were a fortune, so we relied on letters. The years passed. She divorced and came "home."
It turns out time has been our best friend. As the years passed and we became mothers dealing with our own personal challenges and responsibilities we recognized how sacred our friendship was. Through sickness, divorce, death, crisis and life events we would find relief and comfort with each other. When we now meet we feel transported to our original bond. We trust our souls with each other. We ask each other's advice, willing to face the truths -- to be seen and to share easily -- we both feel the unconditional love.
So now as we sit down for our dinner, the spotlight falls on our table and the background fades to black -- we are complete in the moment. Our love fills the space and there is no room for anyone in the middle.
Read more from Better After 50:
When Your Friend Is An Alcoholic
An Invitation to Dinner in Madame's Boudoir
In Defense of Girl Cliques
All My Exes Are My Vexes
Earlier on Huff/Post50:
7 Ways To Make Friends Post 50
What you want is someone to hang with near where you live. Approach this scientifically. Having a friend who lives an hour's drive away will mean you won't see them as much as the person who lives closer. So think global, but stay local. That means your local coffee shop, the local branch of the public library, they local chapter of the Sierra Club, or the local college that offers evening courses.

If you play tennis, join a club or take a few lessons at the community center. If you like to throw parties, volunteer to run the annual fund-raiser at your synagogue or church; when the board thanks you publicly at the dinner, everyone will learn your name. If you hike, join the Sierra Club. If you bicycle, join a biking group or enter a race in your age category. Here's the one caveat about following your interests: Nobody ever met anyone while watching "American Idol" from the couch.

Be open to the idea that it's OK to have friends who are older or younger. The fact that they are in different stages in life just means they bring a different perspective to the table. While a 14-year-old won't be interested in socializing with a toddler, that 10-year age gap dissipates when they get older. Why not say yes to the 30-somethings who invite you to join them for drinks after work? Invite them over for dinner with their families and get to know their kids. Their views on the world may not match yours precisely, but variety is the spice of life.

If you are post 50 and uncoupled, you might find that traveling isn't as much fun. Call it the Noah's Ark theory, but in general, we like to go places paired up. There are services that will help you find a travel room-mate. Not only does this give you someone to talk to over dinner, it cuts down those single supplements that some tours and cruises charge. Friendly Planet runs one such pairing-up service. Road Scholar offers many active adult adventure vacations here -- offers to find you a roommate if you want. Their programs and generally educationally based and draw a well-heeled and educated crowd. Cruise ships do a pretty good job of making sure solo travelers find people to hang out with; group dining arrangements go a long way toward conversational icebreaking.

Even if you've never been a joiner, now may be the time to get yourself out there. Got a new puppy or an old dog who needs some new tricks? Find a community dog-training class. If you like to cook, take a cooking class. Participate in the 5K run for charity, even if you walk the final three.

Keep your smart phone with you and ask for numbers. Sure it may feel a little awkward to say to someone you just met "Hey, I really enjoyed talking to you on this Sierra Club hike but the next one isn't for two months. Would you like to get together for a hike before that?" Worst they can say is no.

With Skype and apps like FaceTime, it's easier than ever to have face-to-face visits. Don't assume your old friends are too busy to talk to you on the phone. Most cellphone plans include free long-distance calls and for those that don't, there's Skype. Invite friends who live a great distance to come and stay with you. Show them your city. Friendships are like gardens; it's often easier to tend to an existing one than grow a new one from seeds.
Follow Felice Shapiro on Twitter: www.twitter.com/betterafter50