From the recycled glass vessels with handcrafted copper crowns that house soy wax candles, to the vibrant patterns that conjure art and fabrics from the Spanish Renaissance to Moroccan tapestries that adorn their packaging, Altru, the upscale interior fragrance collection of candles, fragrance oils, incense sticks, and incense accessories, at first glance appears to be another haute fragrance line, but there is something more auspicious at work. Proceeds from the sale of Altru candles, fragrance oils, incense sticks, and incense accessories go toward In A Perfect World, a national non-profit organization that Manuela Testolini founded in 2005. IAPW works with community-based organizations to inspire and empower children to become compassionate, socially conscious and responsible leaders. IAPW has begun establishing strong partnerships with other charitable organizations, such as Free Arts Minnesota.
Can you tell us more about IAPW?
MT: I launched IAPW in 2005 and our mission is to inspire and empower children to be compassionate, socially conscious, responsible leaders. We do this in a variety of ways:
•by providing opportunities for children to express themselves artistically about issues that impact their lives;
•by supporting existing community-based organizations whose programs address these needs and issues, and develop the type leadership in children consistent with our mission;
•by bringing together community, corporate, and thought leaders, educators, and researchers to heighten the awareness of children's views and seek their support to provide sustainable solutions to achieve this mission;
•and by recognizing extraordinary youth leaders for their contribution to positive change in their community.
I believe that when we give children the platform to allow their dreams, ideas, and thoughts to be heard, their innate desire for 'a perfect world' can significantly change the outlook of the future!
Through studying law and sociology in college, becoming actively involved in volunteer programs, and championing many youth-focused and women-empowerment organizations you've witnessed firsthand the need to help struggling families and community organizations that are direly under-funded, and sometimes ignored. What was the impetus from working as a program director at a leading non-profit to establishing IAPW?
MT: Working for another non-profit opened my eyes to the lack of dialogue between the administrators & residents of various facilities (transitional housing, for instance). Often times, the dialogue occurs between administrators, whose focus tended to be the needs of the facility versus the needs of the individuals residing there. Meanwhile, adult residents focus on the day to day of getting by, getting on their feet, and understandably so. Therefore, this isn't much dialogue with the children living in these facilities. So long as their immediate needs of food, shelter, and clothing were met, the administrators had done their job.
I began to initiate a dialogue with the children by asking them to finish the sentence "In a perfect world..." The answers I received were amazing! There were such simple requests and desires that were not being met. One particular incident that resonated with me was when a 4-year-old boy told me that in a perfect world... he'd have a blue crayon. I couldn't understand why, if given the opportunity to ask for anything at all, he would ask for something so simple. I later learned that he & his mother had left a domestic abuse situation in the middle of the night, and while mom grabbed as many of his belongings as she could, she left behind his favorite blue crayon. So for this young boy, the blue crayon represented a terrible experience & a void that had yet to be filled. I took from this experience 2 things: first, that no one was listening to the children, hearing their voices, and second, that given the opportunity, children will tell you what they want their "perfect world" to look like & that those wants & desires are not always insurmountable.
That little boy was the catalyst for me to start IAPW with a focus on working directly with children, encouraging them to talk to us, whether verbally or artistically, and empowering them to make their own world a little more 'perfect'.
Youth Ambassadors are one of your leading signature programs, where skilled volunteers ages 16-21 encourage volunteer work and community involvement. Why was it important for you to mobilize today's youth?
MT: I was very active myself as a teen, working on various issues from the environment to racism. I am grateful to have had caring teachers & mentors to help guide me towards being an active member of society. Having worked with youth now, I am forever amazed at their ability to see a problem, devise a solution, and tackle it with 100% effort and determination. As youth, they are less jaded about the issues they face. When I speak with adults about certain issues like the environment, the prevailing attitude is that we can't make a difference because we could never have a great enough impact to create lasting change. Youth seem to understand that if they take care of their own backyard, they can influence their peers, the adults around them, and even act as mentors to younger kids who may look up to them, and have an even greater impact than they first intended.
If one wanted to donate or volunteer, how could one get involved with IAPW?
MT: If folks would like to get involved, they can always visit our website for the latest volunteer opportunities. Donations can also be made directly via our site.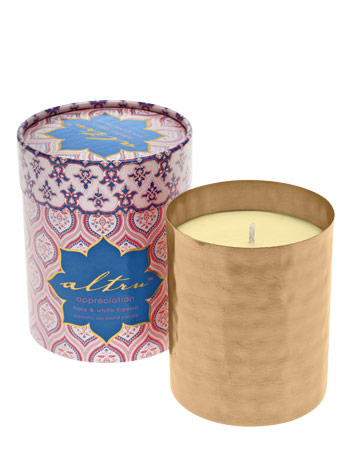 Your Altru line is clearly a labor of love as well as a celebration of cultural beauty. Can you elaborate on the line and how you came to conceive of each fragrance - from scent to packaging?
MT: As I began the work of designing the Altru collection, I drew inspiration from my own personal passions - culture, art, history, language, textiles, and of course, fragrance! Having grown up in a multicultural family, and in a multicultural city, I have always had an appreciation for other cultures. I expressed that in the packaging for the collection - drawing on everything from Moroccan architecture to Spanish embroidery, Iznik tiles to Persian rugs. I also chose to house the candles in hammered copper rather than traditional glass to emphasize my love for things that are old-world and artisanal.
For the fragrances, I sought inspiration from many sources. I drew on my garden, developing fragrances such as Grapefruit & Italian Rosemary and White clove & Wild Ginger. I also drew on my travels and created a few fragrances based on places that I've been & cultures I've interacted with, such as Tanenashi Persimmon (a Japanese citrus fruit), and Persian Lilac & Bamboo. In developing the fragrances it was also important to me that each of them was a unique experience, combining scents that are not often paired, such as Burmese Woods & Honey or Dark Amber & Indonesian Clove, so as to make each of them as distinct as the packaging.
What advice would you give women who are embarking to launch their own business or non-profit organization?
MT: Do not be afraid to ask for help! I am big believer in mentors. But you can't expect a mentor to just show up on your doorstep. Seek them out, be specific in your requests, and once you have a mentor, do not take that relationship for granted. One of my mentors taught me to stay true to your "core". Do not let trends (whether in the for-profit or non-profit sector), politics or people steer you away from your original purpose.
More specific to the non-profit sector, do not be disheartened by its competitive nature. Work with other organizations that share your mission, passion and vision, and do so in a way that enables you to learn from their mistakes, and to elevate both your organization and theirs to a higher level. There are over 1.5 million non-profit organizations in the US, many of which share the same goals. It is a shame that more organizations do not help one another, pool their resources, and create a more powerful force serving more people more effectively.
Lastly, as women, we must remember that femininity is powerful. Women in business and in other leadership roles often try to out man the men. However, we have to be mindful that our strength & wisdom is further enhanced by our ability to nurture, to empathize and to be flexible. It is indeed a delicate balance.