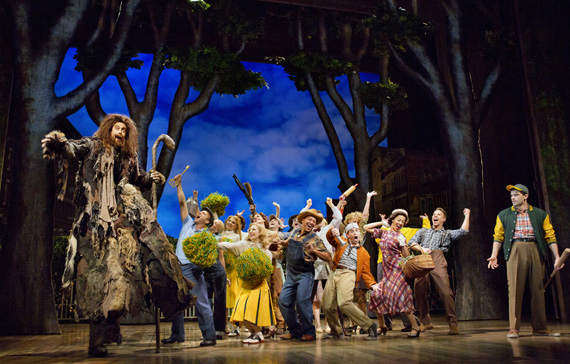 Norbert Leo Butz gets another meaty Broadway role in Big Fish, playing a narcissistic salesman eager to appear heroic to his son, since he's an absentee father in real life. Butz, who turned in award-winning performances in Dirty Rotten Scoundrels and Thou Shalt Not, is in his element as the charming rogue Edward Bloom, who tells tall tales to give his ordinary life extraordinary meaning.
Now at the Neil Simon, the music is adapted from the Tim Burton movie, based on Daniel Wallace's book. Bloom spins nearly mythic stories of mermaids, witches and giants. He is a loveable egoist and a trial to wife Sandra (Kate Baldwin), who has to navigate the emotional thicket between father and son.
Bloom's flights of fancy are underscored in his theme song, "Be a Hero." He is a master raconteur; his son is a reporter. One excels at fantasy; the other is firmly rooted in reality. Given his strained relationship with his father, Will (Bobby Steggert) is on a mission to discover who Edward really is before he dies.
Aside from Butz's robust performance, one of the big plusses is Susan Stroman's clever direction, which employs wonderful colorful projections by Benjamin Pearcy to bring magic to storytelling. An energetic cast makes the most out of Andrew Lippa's lively and touching score.
The film is darker and moodier, with deeper resonance. The entertaining musical, despite the occasional tears, is a love story that sticks to feel-good sentiments. It's splashy and breezing; and though it never dips below the surface, it's sure to reel you in.
Conversely, A Mind-Bending Evening of Beckett distills human experience to its most elemental: Life is pain. There is nothing superfluous here in the three well-crafted one-acts now at the Irish Repertory Theatre. All epitomize Beckett's famous quote: "I can't go on. I'll go on."
In Act Without Words, a strangely hypnotic work with expert puppetry, a lost soul is stranded on a desert island. He's living in an uncaring, malicious universe, enduring a series of disappointments, while Breath is a minute-long comment on the beginning and end of life. The longest act, Play, with Rachel Pickup, Sameerah Luqmaan-Harris and Paul Radki, is a romantic triangle told postmortem. All the speakers -- disembodied heads popping out of over-sized urns -- endlessly regurgitate their respective trauma. They cannot rest, eternally rerunning their emotional saga in a never-ending loop.
Beckett, the master of existential moments, echoes the sensibility of the poor: Life is a struggle, and it doesn't get easier. He is also utterly human, appreciating the sadness of existence, while ensuring that even in death, against all odds, a flawed humanity continues. For Beckett fans, A Mind-Bending Evening is spot-on.
By contrast, The Snow Geese, now at the Samuel J. Friedman, is problematic. It boasts a great cast, including Mary-Louise Parker, Danny Burstein and Victoria Clark, but the play lets them down. There are big themes discussed in this W.W.I-era drama -- class distinctions, sibling rivalry, xenophobia -- but the language is anachronistic and the tension badly timed.
The travails of the Gaesling family, once prosperous and now broke, should move us, but don't. Author Sharr White has tried to write an American version of a Chekov play, but failed to create complex characters. Neither Elizabeth (Mary-Louise Parker) nor Clarissa (Victoria Clark) are more than one-dimensional figures; it's left to German-born Max (Danny Burstein) to flesh out the humanity, and then only by extension: A German speaker, he's labeled the enemy in 1917 and, despite his decades in the U.S., treated as such.
Arnie (Brian Cross), the son who demands his mother face their financial woes, is busy battling with brother Duncan (Evan Jonigkeit), bred to be charming rather than productive. It's ironic that the family has gathered for a shoot; since all that dies is the play. Safe to say a work is in trouble when the set (John Lee Beatty) outshines the story. Snow Geese never manages to fly.
Photo: Paul Kolnik