Huck is a story of a mother, a father, a 12-year-old boy and his toy poodle. The set-up sounds ordinary -- but the events in their lives are not. Huck is one of those books that has you rooting for a happy ending. The tale is deceptively simple; the larger message is genuinely touching.
Young Michael has been begging for a dog for years, but his Upper East Side parents are against it, citing their demanding careers, a small apartment and the added responsibility. They have endless reasons to say no -- and only one to say yes. When Michael's mother, an editor at The New York Times, is diagnosed with cancer, she realizes he needs a warm, loving focus to offset his fear. She relents, and Huck, a reddish brown toy poodle, makes an auspicious debut.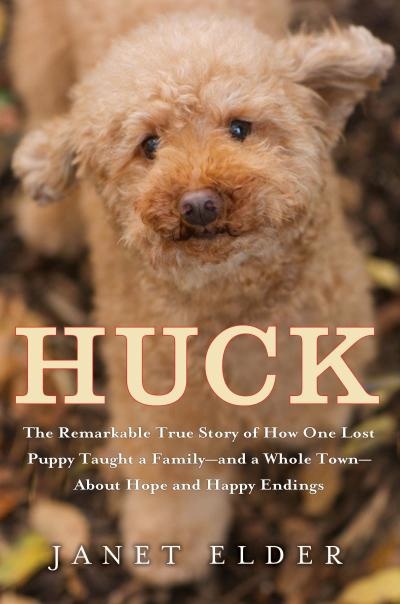 The first third of Huck is author Janet Elder's growing awareness that the needs of an animal-loving child cannot be ignored. Michael, who loves all creatures great and small, wages various campaigns to get a dog, including a PowerPoint presentation at age 10. What his parents hadn't anticipated is how much they would fall for Huck, a hugely affectionate puppy.
But Huck is also a reminder of the eerie parallels between parents and children. Elder recalls her own Connecticut childhood, the family dog and, like Michael, the toll her beloved father's illness took on his family. She is matter-of-fact about her own breast cancer; this is not a wrenching memoir about treatment and recovery. It's a story about a family that affirms life at every turn.
After a tough year, they head to Florida to watch the Yankee's spring training. Michael, a major fan, is thrilled -- his mom's in remission, he's got a new dog and a week of baseball ahead. Huck is left with Elder's sister in rural New Jersey. But their joy is short-lived. Just a day later, they get the call -- Huck has escaped. Frantic but determined, the family flies home. They marshal an extraordinary campaign to find Huck, enlisting the people of Ramsay, New Jersey, in their quest. And that explains the book's subtitle: "The remarkable true story of how one lost puppy taught a family--and a whole town--about hope and happy endings."
It sounds corny and quixotic, but it's not. The efforts Michael's parents go to are exhaustive -- one wishes the Feds would monitor Wall Street with this much attention -- but the results are amazing. The second half of Huck is an intimate adventure story, filled with people straight out of a Frank Capra movie. Elder gives everyone their due; and as the search for Huck mounts -- will he survive the cold and wild animals? -- she takes us on an unforgettable ride.
At once moving and exciting, Huck celebrates friendship, community and a family that refused to give up. Readers will fall in love with the story of a boy, his dog and their incredible journey home.
SUBSCRIBE TO & FOLLOW CULTURE SHIFT
Every Friday, HuffPost's Culture Shift newsletter helps you figure out which books you should read, art you should check out, movies you should watch and music should listen to. Learn more