The hotel room is tacky. The English seaside town is drenched in rain. And the two misfits desperate for a romantic escape reek of pathos. They also make for great theater. Kissing Sid James, part of 59E59 Theaters Brits Off-Broadway fest, is a sweet play that exposes the longings of two lost souls -- Eddie (Alan Drake), a salesman who won't shut up, and Crystal (Charlotte McKinney) a lonely croupier dressed like a hooker. They are clearly mismatched, which makes for a very entertaining production.
He promises her a "secluded" and "exclusive" getaway; telling, the champagne he orders never arrives. There is little to celebrate in this coupling, though their disconnects are funny, underscoring the miscues of male-female relationships. She longs to be swept off her feet; his idea of lovemaking is to announce the lineup for his favorite soccer team during sex.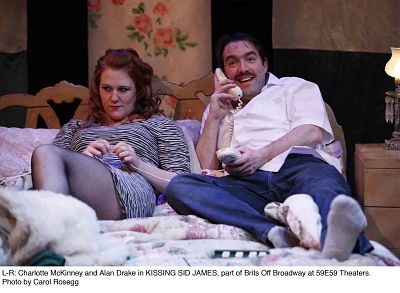 Eddie is clueless about relationships. Crystal knows what she wants -- and when she makes a brief detour into her past, the sadness is palpable. That's probably why she's so adept at fantasy -- scenes that provide some of the best laughs in this nicely paced play.
Conversely, Eddie, who chatters incessantly, is uncomfortable with silence. His attempts to connect are comic and heartbreaking in equal measure. Robert Farquahar's Kissing Sid James mines the secret desires of the human heart, while revealing the sadness that too often masquerades as cheer.
Jason Lawson's direction is surefooted, but the real props belong to McKinney and Drake. She has superb timing and delivers a layered performance, while Drake nails his character's glad-handing bathos expertly. Kissing Sid James showcases how intimate and insightful theater can be.
If only On A Clear Day You Can See Forever had taken a page out of their playbook: know your limits. Now at the St. James Theater, the production, headlined by Harry Connick, Jr., and reconceived and directed by Michael Mayer, is on tenuous ground.
Connick plays Dr. Bruckner, a psychiatrist who hypnotizes his mild-mannered patient, a gay florist (David Turner), only to discover he has a past life -- as a 1940s singer (the terrific Jessie Mueller). The doctor, in mourning for his late wife, is smitten by her. When he later describes the story as "my own psychoneurotic fantasy" -- given his penchant for dating dead people -- we can't help but agree.
Updated to 1974 (the original production took place in 1965), this version suffers from a confusing script and tacky costumes and sets, such as they are. The Seventies is not the most fashionable of decades -- there is enough flower power here to make audiences plant phobic.
As is, aside from the tuneful Lerner/Lane score, there is little to recommend this theatrical therapy. Connick is wooden, and despite good efforts by supporting players, the show is disjointed. Whoever decided this was worth reviving should have his head examined.

This Blogger's Books and Other Items from...
SUBSCRIBE TO & FOLLOW CULTURE SHIFT
Get top stories and blog posts emailed to me each day. Newsletters may offer personalized content or advertisements. Learn more