When Bernadette Peters steps on stage at the Walter Kerr, she imbues the sophisticated Stephen Sondheim-Hugh Wheeler musical with a playful, seductive air. Her Desiree, a successful actress and seasoned lover, is tiring of her fabled life, and she fills the role with warmth and understanding. Suddenly, A Little Night Music sparkles.
Unlike Catherine Zeta-Jones, whose façade was lovely, but performance unsure, Peters captures the follies of sex and love with humor and sly élan. The producers' fatal mistake was not casting her initially. Her rendition of the keynote number -- "Send in the Clowns" -- is a tour de force. She quietly exposes Desiree's vulnerability and regret -- and stops the show.
She's joined in upping Little Night's ante with Elaine Stritch as Madame Armfeldt, the world-weary former courtesan whose specialty is making any remark or word a sardonic one-liner -- as she does with "raisins" in "Liasons." Stritch is sassy and skillful, bringing a fierce ruefulness to her performance, previously played by Angela Lansbury. As a mother-daughter team, Stritch and Peters mine their moments as much by facial expressions as actual lines, exploring relationships from every angle -- commercial to emotional -- with verve. Peters' clever mugging during her lover's "You Must Meet My Wife" is priceless.
In fact, the story, set in late 19th-century Sweden, is a meditation on the vagaries of marriage, sex, love and infidelity. "Now," "Later," "Soon" opens the show, a reminder that relationships are fraught with uncertainty; the only rules that apply are those of the heart.
As various couples play out their affairs, we see passion as both humiliating and redemptive. From Desiree's married lover Fredrik (Alexander Hanson, who has real chemistry with Peters) to her boy-toy soldier count (Aaron Lazar), Fredrik's young wife (Ramona Mallory) to his religiously obsessed son (Hunter Ryan Herdlicka), love can be, as Sondheim notes, "a dirty business." Yet with pain comes pleasure, and the maid Petra (Leigh Ann Larkin) boasts a freewheeling sexuality that is refreshing. So is Erin Davie's surefooted rendering of the countess, who decides to exact her own revenge.
Since the play opened, the cast has become more assured; they work beautifully together. But the real triumph is in recasting the leads. Send in the clowns? Send back the Tony. It rightfully belongs on Peters' mantle.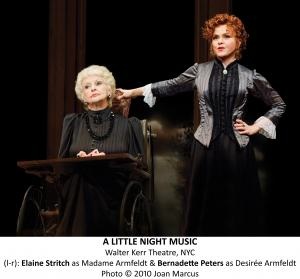 SUBSCRIBE TO & FOLLOW THE MORNING EMAIL
The Morning Email helps you start your workday with everything you need to know: breaking news, entertainment and a dash of fun. Learn more