If the famously troubled Broadway show was judged on set design alone, Spider-Man, Turn Off The Dark would be a winner. The visual spectacle, sleek Art Deco sets married to cinematic comic-book graphics, packs punch. Same for the colorful over-the-top costumes and nifty sound and lighting; in short, the technical aspects of the new, improved production, including the aerial stunts, are artistic, noteworthy and fun.
Granted, Spider-Man has suffered its share of bad press. Critics assailed it during an elongated preview, cast members were hurt and director Julie Taymor was fired. The official opening at the Foxwoods Theater, which has been re-hauled and, in Taymor's words "simplified," has to be taken on its own terms.
On the plus side: the technical expertise and a terrifically entertaining villain, Green Goblin (a perfect Patrick Page), whose celebration of New York's love of all things weird is neatly summed up in "A Freak Like Me Needs Company." In fact, his incarnation, the ultimate science experiment gone wrong, is one of the show's high points.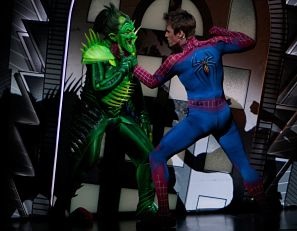 Admittedly, the choreography is lackluster -- save for the aerial wizardry -- and, given Bono and The Edge's participation, the music is the least memorable element. The overall experience is best summed up as superhero lite.

Spider-Man, who first appeared in Marvel Comics in 1962, is really kind, nerdy Peter Parker (a sweet Reeve Carney). The mean kids pick on him, until he visits a high-tech lab. Bitten by a genetically modified spider, he's suddenly imbued with strength, agility and the ability to fly. His girlfriend Mary Jane (a lovely Jennifer Damiano) marvels at how fast he travels from his apartment to hers.
Still, Spider-Man isn't as cheeky, irreverent, or even as dark, as some of his crime-fighting brethren. This is a G-rated show, devoid of adolescent angst. The lab's mad scientist has a sole mantra: "mutate or die." Spidey embraces that reality -- it's handy for catching bad guys in his web -- but the script never goes deeper than a cartoon. And that's why families will love it. It's got freaks, geeks and a masked man who flies.
To its credit, Spider-Man is willing to poke fun at its $70 million budget, along with a delicious dig at the New York Post. Summer is a perfect time for Spider-Man's debut. The first act is tame, but the second act soars. So suspend belief. Sit back, relax and enjoy the experience.
For parents who don't want to shell out big bucks on pyrotechnics for little kids, given their attention span, check out The Berenstain Bears -- Family Matters, The Musical, a new off-Broadway show at the Manhattan Movement & Arts Center Theater. An adaptation of three beloved books: The Berenstain Bears Learn About Strangers, The Berenstain Bears and Too Much Junk Food and The Berenstain Bears' Trouble at School, the live-action production is nicely timed at 55 minutes.
Popular as a PBS show, with an upcoming movie in the works, The Berenstain Bears promotes real family values in an easy, accessible way. This round, Sister Bear is getting a bit too chatty with village residents, Brother is falling behind in his grades and like many Americans, Papa is addicted to junk food. The musical is directed and choreographed by Dev Janki, who also did the choreography for Junie B. Jones. Playing Saturdays and Sundays June 25- Sept. 4, the show also tours nationwide in schools and local arts venues. For thousands of American kids, Bear County is a must-do destination.
Spider-Man photo credit: Jacob Cohl